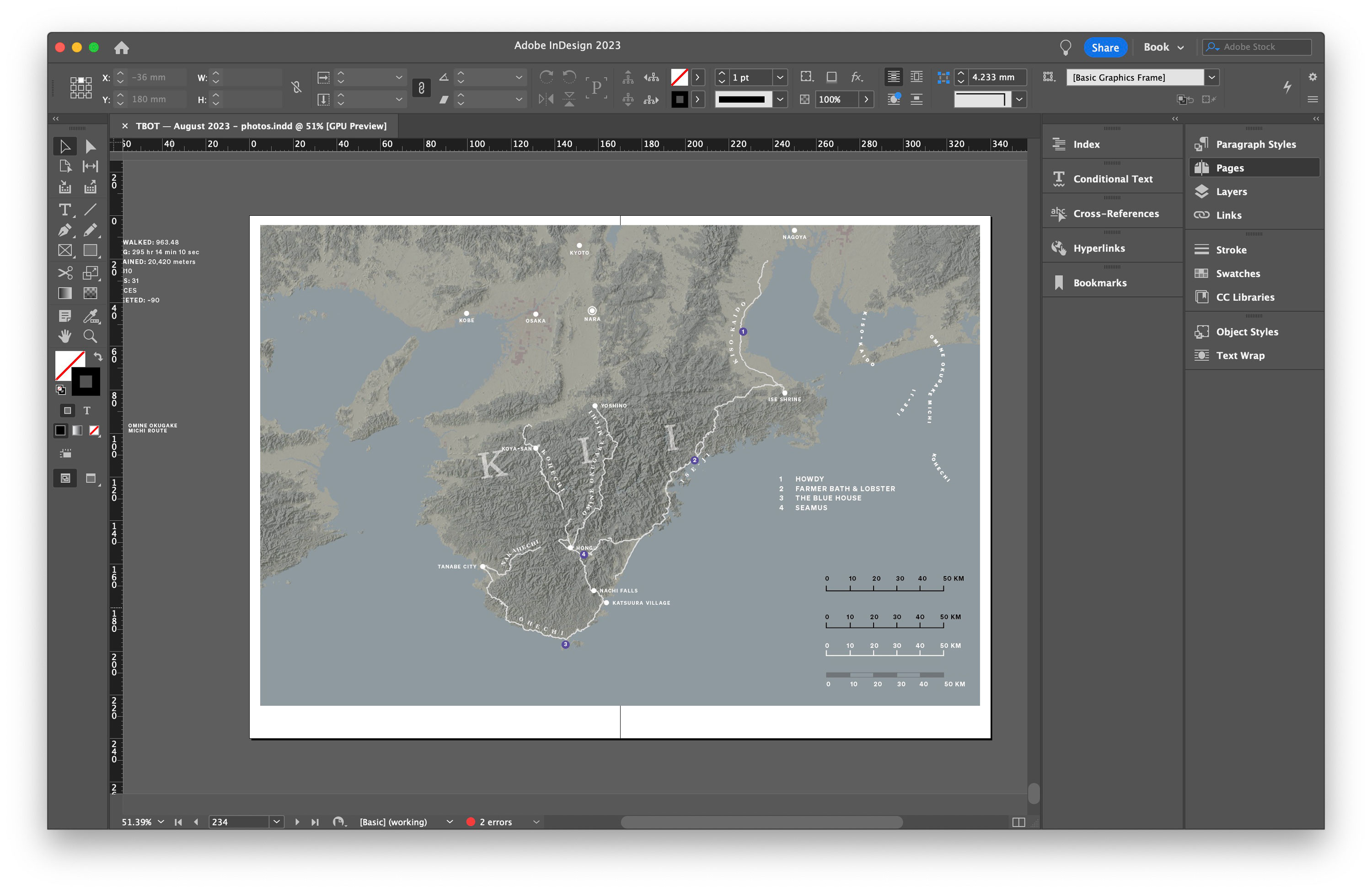 My Next Book: Things Become Other Things
Hello Ridgeliners!
I'm Craig Mod, and as you may have seen, I recently announced my next book: Things Become Other Things (TBOT).
It's a walking book, a book about a big walk around the Kii Peninsula, and picks up where Kissa by Kissa leaves off. (Reductively: It really is like an extremely leveled-up sequel.)
That photo above is from an in-progress InDesign spread — I'm trying to figure out a) what to put on the map, and b) how to style it.
---
TBOT is coming out in two forms:
Fine art photography + text edition ("Kissa by Kissa style"), via my SPECIAL PROJECTS membership / publishing imprint — November 2023.
Trade hardcover, via Random House — spring 2025.
(Yes, 18 months apart! And they will be starkly different in interesting ways.)
The November SP first edition will be limited in its run. If you would like to be notified the moment it's available for purchase, please add your email address to this (3 question, 30 second) survey:
I'm planning on offering signed copies, as well as special signed photo print(s) + book packages. TBOT going live for sale in November will be announced first to SPECIAL PROJECTS members, and then to the survey respondents, and then to these more general newsletters. As always, Yearly SPECIAL PROJECTS members will get big discounts (memberships enable all this work to happen, and my goal is, always, to try and return the full price of membership in discounts each year).
---
I outlined the details of the Random House deal in the latest Roden newsletter. And I announced on all the usual, dumb dumb social networks: Threads, Mastodon, Instagram, and with much reluctance, Xittar. (And even Linkedin, which people tell me has been having a moment, but I find engagement to flatline for anything I post.) 1
I plan on using Ridgeline as a little production diary as TBOT enters its final stages of refinement and production. Sort of like what I did with Kissa by Kissa some three years ago:
---
A walk and a walk and a walk
As I said, TBOT is a book about a walk. Many walks, actually. I've been walking the Kii Peninsula since July 2010, when I was first invited to Kōyasan. That trip knocked my socks off, and for the last 13+ years I've gone back, again and again, to walk and rewalk, and walk some more, the many historical routes of Kii.
Most people who know anything about Kii, know of the so-called "Kumano Kodō." I say so-called because it's a weird collection of routes, not one singular, linear path. And because of that, most folks think the "Kumano Kodō" is just the Nakahechi portion (basically: Tanabe to Hongū, and Hongū down to Nachi). But, technically, it's composed of the Nakahechi, the Kohechi (the route to Kōyasan), the Ōmine Okugake Michi (the ascetic rites route to Yoshino), the Ōhechi (the route around the southern / western portion of the peninsula up to Osaka), and the Ise-ji (the eastern route from Ise Shrine down to Shingu). With even more, smaller, interwoven routes, too.
I've walked them all. Many, multiple times. TBOT collimates some of the best moments of these walks through the lens of one particular walk: The walk I took in May / June 2021 during the Where are all the Nightingales? pop-up.
I've previously written about the Nakahechi and Kohechi a little bit in Koya Bound, and more extensively on the book's companion website. And I wrote about the Ise-ji on the Ise-ji: Walk With Me website.
---
The photography / fine art edition of Things Become Other Things is scheduled for a November release. We're deep in the production process now, going back and forth with the printer, finalizing materials and schedules.
Like I said: If you're interested in grabbing a copy, please fill out this survey. I've been working on TBOT for the last 30 months, and now have an amazing team backing me up, helping usher this next edition into the world. It's a big walk! A weird walk! And we can't wait to take you on it.
Thanks as always for all your support and kind words,
C
---
Noted
---
It's a good moment to remember that you shouldn't overly "invest" into a single platform you don't control. Twitter's fall has been precipitous! I'm glad I'm not dependent on it. I find my Instagram posts have high engagement ("Congrats!"!), but actual conversions to survey responses is quite low. Threads has been a surprising dark horse — more engagement than Twitter, where I have "5x" the followers. But in the end, I am most grateful for these newsletters. Spaces I've been cultivating / nurturing / growing for the last decade, and which feel, somehow, still fresh. Thank you all for trusting me with your inbox. Anyway, random geeky note — over and out! ↩︎
Not subscribed to Ridgeline?

(A weekly letter on walking in Japan)