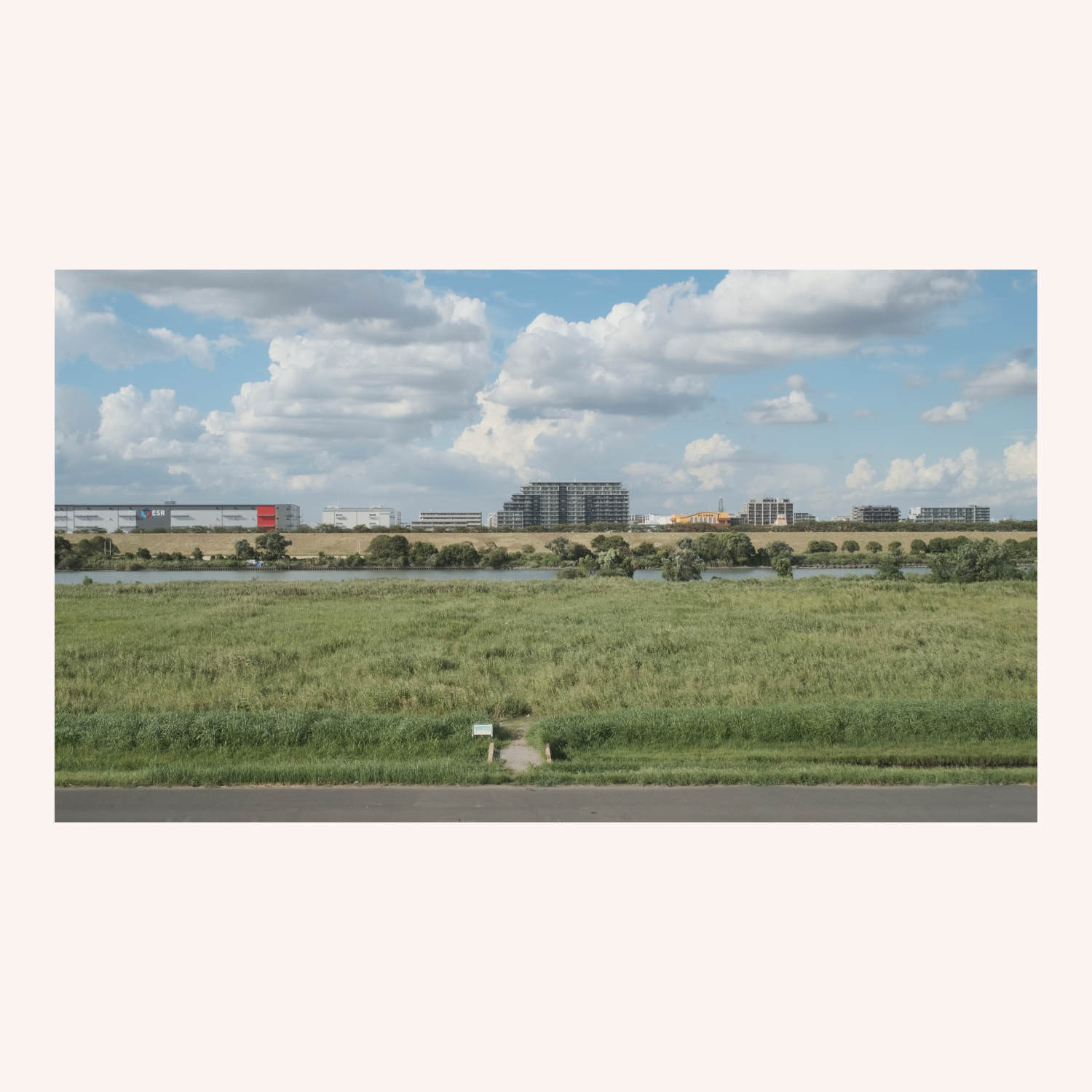 Hello Walk-Elevated Peoples of the World —
Craig Mod here. Another Ridgeline.
Production of the first edition of Kissa by Kissa is wrapping up. Books are presently drying (the glue, that is — which attaches the end pages to the cover). I sit down to whack out 1,000 signatures and stamp edition numbers next Wednesday. Then we wrap them. Then we ship them, hopefully, around the 24th or so. (Or at least start boxing; they may not all go out until the following week).
I've shot a somewhat absurd 200gb of footage of the various stages of how the book has been made. This week, some off-the-cuff photos.
---
Above, a still from a bit of 4k video, looking out over the Sumida River, right next to the bindery. A million years ago I biked past this very point. I expunged all mid-life-crisis road biking from my system in my mid-twenties. Half of the rides I couldn't see straight I was so hung over. But almost every weekend — another far off adventure. And the Sumida was a fine path to slam down. Further upstream, somewhere, there was a magical pizzeria in a kind of Goldilocks house. That used to be the destination — headwind to pizza, then a wild, reckless, tailwind home, 40, 50, 60 kilometers-per-hour along that smooth riverside path, yelping like idiots, trying not to crash.
Yesterday I stood atop the embankment, shooting video in the crushing late-summer sun.
Below, the machines, people, tools — the dirty jumble of cacophony that eject, somehow!, a pristine wooden nugget to be read. A little miracle operation, I'd say.
---
Until next week. Thanks for all your support.
C
---
Fellow Walkers
Soley and I have clocked an average of 8 miles per day since lockdown March. Nature's best hope for consciousness. Wildfires rage here and breathing is challenging despite mindful ocean breathing- tide out- tide in with images of shorebirds and sand dollars cracking. Simple slow meanders are upstream without the drama of civilization. At ease. At peace.
Starseed, probably Arcturian. I was ejected from a hollow suburban shell bouncing around the US unguided. Walking helped me find my footing here on the planet. (Beautiful but primitive and weird AF, right? From the early steps on Wisconsin's ice age trail in the 70's (sideburns included, although it was a barber's trick, I was 7) to sweaty, sticky, summer pre-storm weather along an old Roman road in the hinterland of the island of Cres in my adopted home of Croatia today. Still helps me cope, this planet is bizarre.
---
("Fellow Walkers" are short bios of the other folks subscribed to this newsletter. In Ridgeline 001 I asked: "What shell were you torn from?" and got hundreds of responses. We're working our way through them over the year. You're an amazing, diverse crew. Grateful to be walking with you all. Feel free to send one in if you haven't already.)
---
Not subscribed to Ridgeline?

(A weekly letter on walking in Japan)