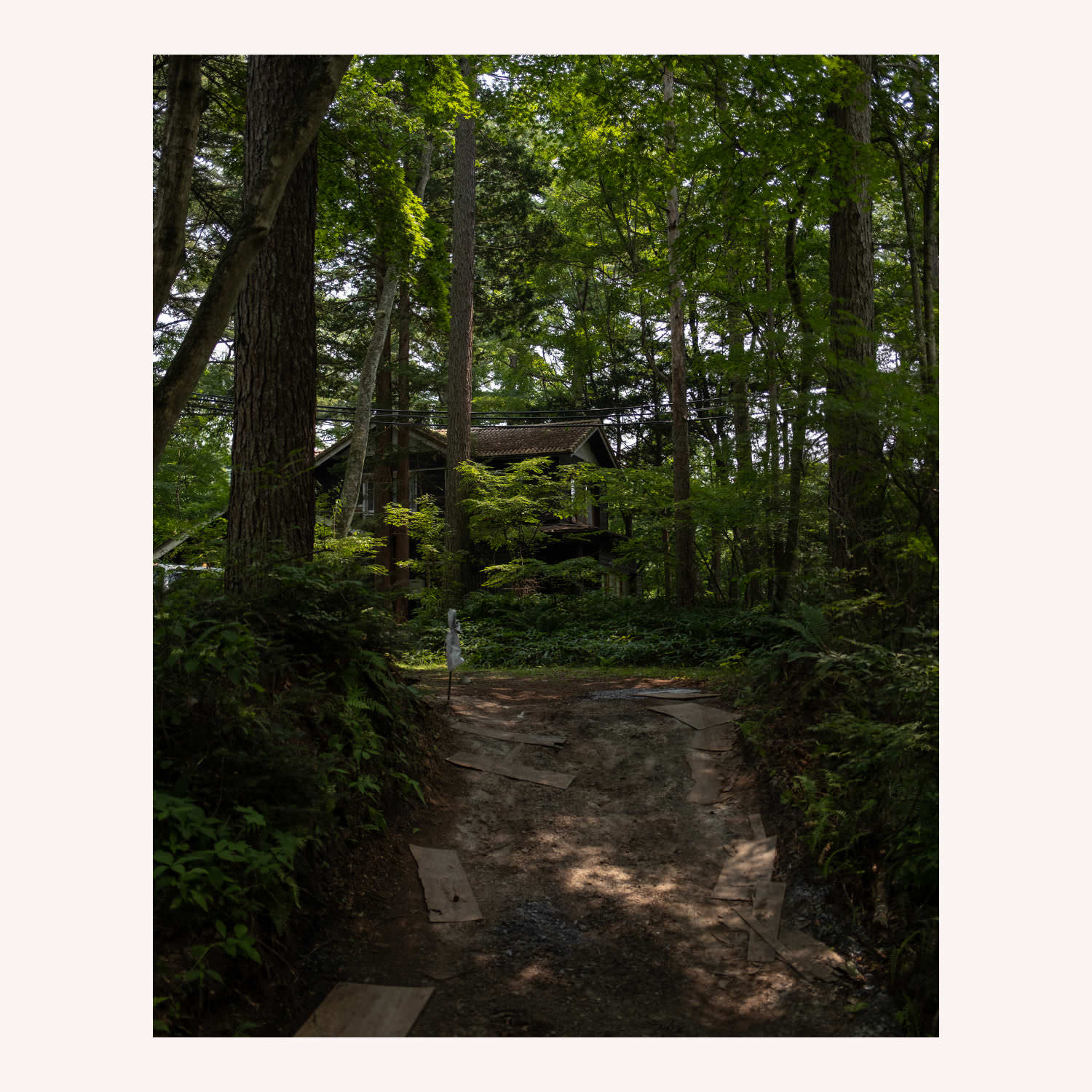 Walkers — This is Ridgeline and I'm Craig Mod and we're broadcasting from torrential downpour Karuizawa.
---
It was hitting 42℃+ in RealFeel™ temps (with 85%+ humidity) around my house last week and so I escaped north by invitation from a friend who had an empty room up here in the mountains. Easily cooler by ten or more degrees. And the humidity? Eminently bearable.
For the last two days it's been threatening rain — big, booming, rolling midwestern style bouts of thunder and lightning each afternoon — but failing to deliver.
And so today, although the skies looked suspicious, I took a chance and walked from my friend's place to the Manpei Hotel — about 15km through some of the back neighborhoods. It's a fascinating area, Karuizawa. A true mix. Known now as a second-home hideaway for the "1%" of Japan, but Japan doesn't really have a 1%, certainly not like the grotesqueries of socio-economic disparity in, say, the US — so you find less McMansions and more "normal" (or slightly elevated in design) family homes the likes of which you may see strolling … New Hampshire? It's truly surreal.
Squint and you'd think you're in Canada or New England. But this western feel is a post-Meiji transformation. Previously, Karuizawa was a "post town" during the Edo era (1603 - 1868) along the Nakasendō old highway connecting Kyoto and Tokyo. I passed through last year on my giant walk — making my way from Yokokawa (home to the oldest ekiben or station bento in Japan) up over the Usui Pass and down past into Old Karuizawa. I took a rest day here to catch up on writing. And then the day after, walked 47 kilometers in the biggest push of the whole walk.
From Yokokawa over the mountain and into Karuizawa, the old road is fantastic — lots of wooded walking. Though, it was devastated in a typhoon last November; I don't know what shape it's in right now. But it's one of my favorite single-day close-to-Tokyo hikes to do in the fall or winter.
The place today is bizarrely western. A shift that began towards the end of the 19th century as the post town village was first swamped by missionaries looking for summer respite (even 100 years ago, summers in Tokyo were tough), and then used to corral the neutral foreigners during World War II, and then post-war transmuted by developers into a mountain resort town. Today, the neighborhood associations of most of Karuizawa prohibit the building of any "Japanese style" homes, and further limit the percentage of land (as low as 20% in some areas) you're allowed to build on in the lots. Most Japanese suburbs around Tokyo are jam packed. Most homes have small yards, if any at all. Here, yards rule. Moss is everywhere. The forest is verdant and thick with a mix of oaks and beeches and maples. Homes tucked between trees. There's a tinge of northern California, a whiff of Mill Valley, a sprinkle of Old Palo Alto. It makes for some amazing neighborhood walking.
If the 'hoods veer overly western — modernist bungalows, updated Craftsmans — the Manpei Hotel is a kind of totem of post-Meiji mixing. The Japanese government is presently running a (slightly … ahem … contentious) "Go To" Travel campaign, and for folks who don't live in Tokyo, you're able to get about 40% off most hotels throughout Japan. (For folks in Tokyo, you're not supposed to be traveling.) The plan was unveiled a few months ago with the idea to revitalize the economy through incentivizing national tourism (no tourists from abroad are yet allowed back in). So I took advantage of this, and bagged a heavily discounted room 128 in the main building of Manpei, which was rebuilt in 1936.
The room is "western" but to my right is a tokonoma with a scroll, ceramic bowl, plastic phone, and Toshiba television. The furniture and lamps are all western-ish with classic Japanese patterns etched into the globes. The walls of the room are cream-colored and split using exposed wooden beams, approximating a modernist tatami room, but the beds are most definitely western style beds. There's no ranma up above but there is a half-wall splitting the room with kumiko-style latticework and truly funky mid-century frosted glass.
It's a vibe. Is it "comfy" to stay here — debatable. The beds feel about as old as the building, and while the walls are technically not shoji, sound travels through them as if they were made of paper. There's a clawfoot tub in the bathroom, but the shower is just bolted onto the wall and water gets everywhere. Everything is worn around the edges, peeling paint, sticky shutters. There's an odd little frosted glass window from the bathroom into the bedroom that looks like it might be from a prison or monastery or porno film. I assume not only conception but also childbirth has has transpired on this (many decades old) couch I'm currently writing to you from.
But — fun!
Tomorrow, the plan was to walk the Usui Pass back to Yokokawa (it's a breeze from this direction) and then head back home. But this rain! This thunder! It's wild. The sky finally split and heaved, just after I arrived. This rumble reminds me of summers back in Connecticut. The weather is so intense I had to double check to make sure Mt. Asama, a nearby active volcano, wasn't mid-eruption. So I suspect the trail will be a mess tomorrow, and the rain may not relent. The pass can be checked another time.
For now, I'm delighted to be ensconced in this strange bubble of east-meets-west, catching up on emails, reading and writing, listening to the rain and "bearing witness" to the crazy god-like weather echoing through the valley just beyond my window.
---
Three days ago I visited the factory silk screening the Kissa by Kissa covers, shot a bunch of 4k footage, and began teaching myself Premiere Pro and proxy ingesting. Realized I shot half the footage at the silk screener with a shutter speed that conflicted with the fluorescent lighting. Not sure it's usable. So learning about deflicker plugins. I suspect by the end of this all I'll be able to knock out some decent footage. Until then, it's a fun mess. Tuesday I'm shooting the main printing and back-cover deboss — a chance to get better.
Lots to do. Lots to do. But psyched to being doing it. Thanks for following along.
C
p.s.,
OK, OK — there are some funky places like this, too: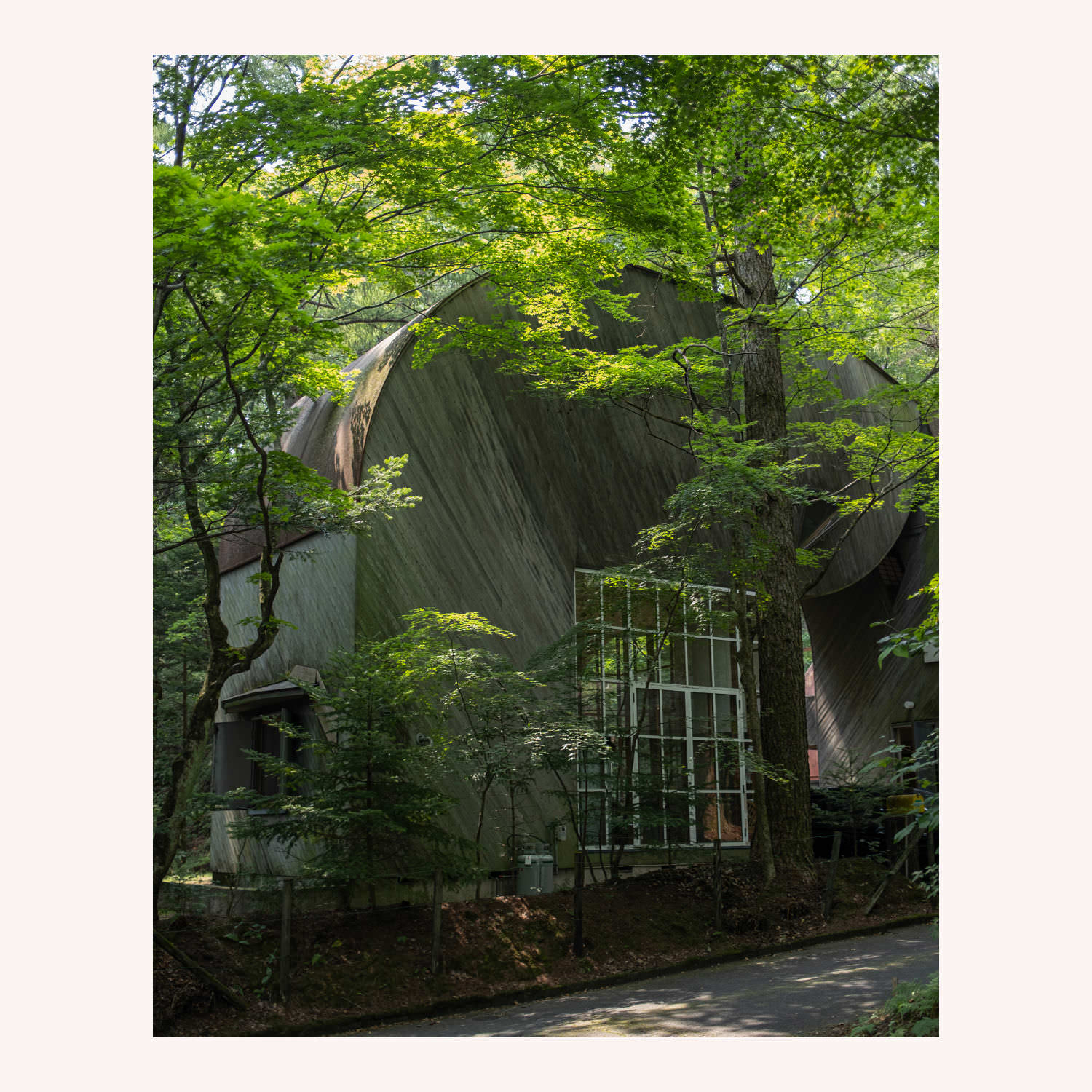 ---
Fellow Walkers
"Walking alone in a city like London, or Tokyo, makes me feel deeply there in time and in space, and appreciative of the rhythm of life. I think existence is probably a deterministic whole in many layered dimensions, and time is just a way for us mere human minds to make sense of it all, through a unidirectional and logical progression."
---
("Fellow Walkers" are short bios of the other folks subscribed to this newsletter. In Ridgeline 001 I asked: "What shell were you torn from?" and got hundreds of responses. We're working our way through them over the year. You're an amazing, diverse crew. Grateful to be walking with you all. Feel free to send one in if you haven't already.)
---
Not subscribed to Ridgeline?

(A weekly letter on walking in Japan)