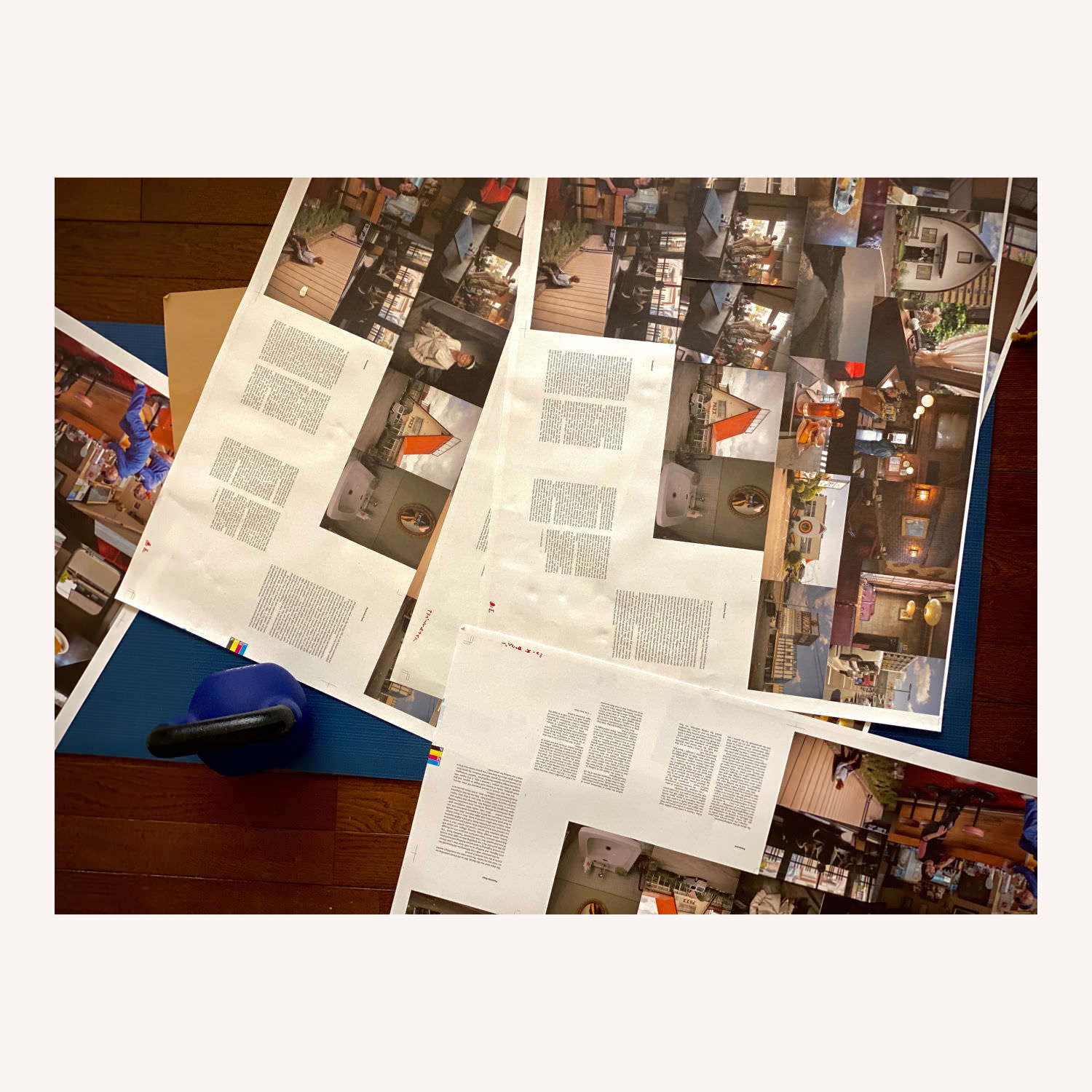 A Book About Kissa — Part 5
Hello walkers —
This is Ridgeline newsletter on walking in Japan and I'm Craig Mod, and we're in the middle of making a book.
I believe the book now has a "real" name — Kissa by Kissa. For as much as it's about pizza toast, the binding agents and stars of the book are the kissaten that dot the 1,000 km walk. Maybe there will be a subtitle with "toast" in it (or maybe not), but for the last ten days I've been operating under Kissa by Kissa and it feels pretty good. It's certainly Google Unique, and it's weird, which I think is helpful. Who knows, though. You'd be surprised by the number of changes made twelve seconds before going to print.
---
The floor of my studio is covered in honshikousei tests — "body paper rectification" — 900mm x 600mm prints of collections of photographs and some text from the book. You make a file full of as many varied images as you can slam in there. The goal is to compare ink saturation levels — we're looking at blacks and whites, contrast, shadow definition — paper texture, feel in hand, smell, and general vibe the papers give to the images. It's crazy how different they look. They're all marvelous papers in their own rights, but not all of them make sense for this book.
Depending on paper stock the images are rendered from pillow-soft to tack-sharp. This is not a book meant for tack-sharp images. Kissa have nothing to do with sharpness, and my photographs don't either. Nor does the text. The reason I added text to the honshikousei was to check readability. I can report that the body type (Klim's Untitled Serif) looks marvelous, but it looks more marvelous on certain papers than others. The sharpest paper we tested could be used for reproducing photographs of contemporary art, or for an exacting architect's monograph. The text on that paper looks like knife points, or bullet holes. The softest paper adds an etherial, misty quality to the images, and the text becomes inviting, warm, almost rubbed in.
Does the softest paper make sense? I don't know. But I do know the sharpest definitely doesn't work. I've looked at these papers for an hour or so each day for the last week, in varying lights, in varying states of elation and exhaustion and while I have a general direction I'm leaning in, I'm still not 100% convinced.
This is where making a book and planning a walk converge — because while you can test and anticipate as much as possible, the final thing — the object, the walk itself — will invariably be more or less than imagined. Hopefully more in good ways, a compounding of smart decisions into something much greater than the sum of its individual pages.
---
I'm writing from the train en route to the printers. My seat: Seat 18D. Nearly empty car. Four hours of back and forth. 10,000 steps through a few raunchy back alleys of north western Tokyo. The goal today is final decision on paper and cover cloth. I commissioned something for the cover and I think that if it's silk-screened on the right cloth in the right color it will be … wonderful. The goal today is to check my impulses with reality. And then place an order for a dummy book to be made (a book of all the final materials with nothing printed on the pages) in the next week and to run silk screen color tests on the right cloth.
I had hoped to launch by end of June but that's impossible. I mean, I could. I could setup some pre-sale thing and invite you all in. But I want to have the dummy in hand, to feel its heft. The content has expanded from 96 to 128 pages — a little bit of additional text but more just an opening up of the content; letting it breathe. I am so excited about this book. So I want to feel the dummy in hand and see with my eyes the cover silk screened on the very cloth we're going to use. Once I've seen that and am sure it works, then we can launch.
We'll launch with a 10 day pre-sale period with some goodies. Sort of like Kickstarter but not. I'm building my own pseudo Kickstarter over on Shopify — Craigstarter, Dorkstarter, Bookstarter. Something like that.
---
Thanks for following along and putting up with these not-so-walk-related updates. I'm jonesing hard for a good jaunt. Hoping to do something in September, and hoping to include you all in the process.
Last Sunday John McBride gave a wonderful lecture on the Seto Inland Sea of Japan's art islands — Naoshima and the like — to Explorers Club members. We have that lecture (60 mins of lecture, 30 mins of Q&A) archived up on the special members page. If you join you get access to that plus a bunch of other videos, book PDFs, and more.
Until next week,
C
p.s., we're running a bit low on Fellow Walker bios — if you'd like to submit (just a sentence or two works best), just reply to this email.
---
Fellow Walkers
"I was torn from my mother too early, or rather, she was torn from me. Learning to live without and – happily, sadly – always searching for the next best thing."

"I've aimlessly wandered through medieval European towns, through Yokohama and Tokyo, with the gift of not having anywhere to be. How slow one can move and what little hidden treasures one stumbles upon tucked just out of sight. Parks, noble ruins, beautiful alleys and fences overgrown with green, bridges over canals and rivers, the empty yellow-lit streets of early morning."
---
("Fellow Walkers" are short bios of the other folks subscribed to this newsletter. In Ridgeline 001 I asked: "What shell were you torn from?" and got hundreds of responses. We're working our way through them over the year. You're an amazing, diverse crew. Grateful to be walking with you all. Feel free to send one in if you haven't already.)
Not subscribed to Ridgeline?

(A weekly letter on walking in Japan)