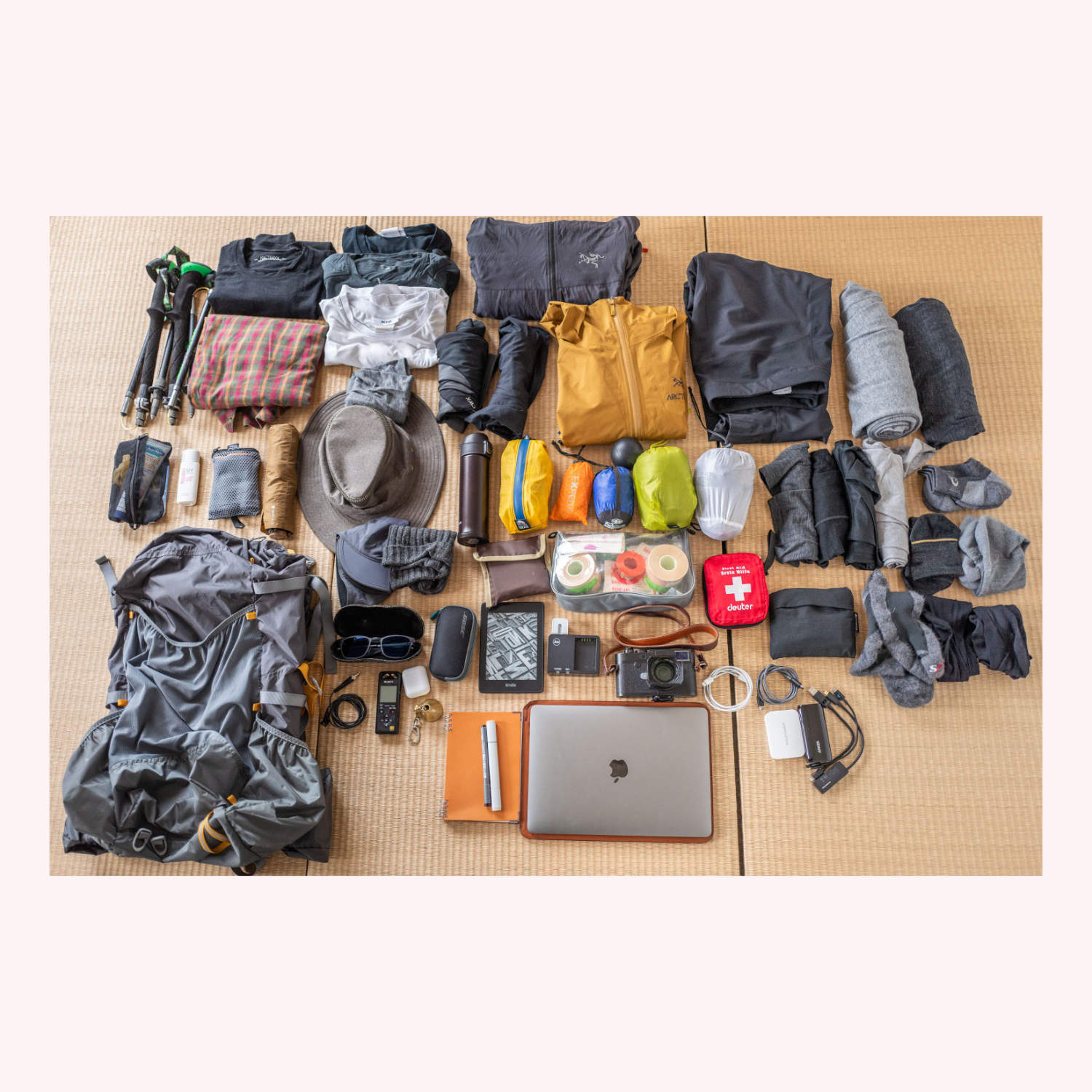 Last week I was largely in one place. And this week promises, too, to be largely, mercifully, static. On the writing docket: This Ridgeline, a Roden, and a huge edit / rewrite of a giant other hopefully soon-to-be-named piece. I also owe other pieces, drafts, bits of writing to folks, but I'm just working through my pile in order of impending deadlines.
Next week, off to Kazakstan with a blip of Kyrgyzstan. Have I been before? Nope. Never stepped foot in Central Asia. Do you have tips? Please share!
This is a trip I agreed to join sight unseen. I finally took a serious peek at the itinerary two days ago. Otherwise: Trust. Someone I trust is organizing it and so when invited I just booked the flights, double checked visas, and filed it away to look at later.
---
With an impending trip, my mind is on packing.
The photo above: What I brought on my six-week April / May Japan walk.
Let's dig into gear, shall we?
Since I can't directly link to Amazon items from this newsletter, I made a "store" — The Walk Shop — that points to most of what I reference below. If you buy stuff from that link, I get a few % back.
---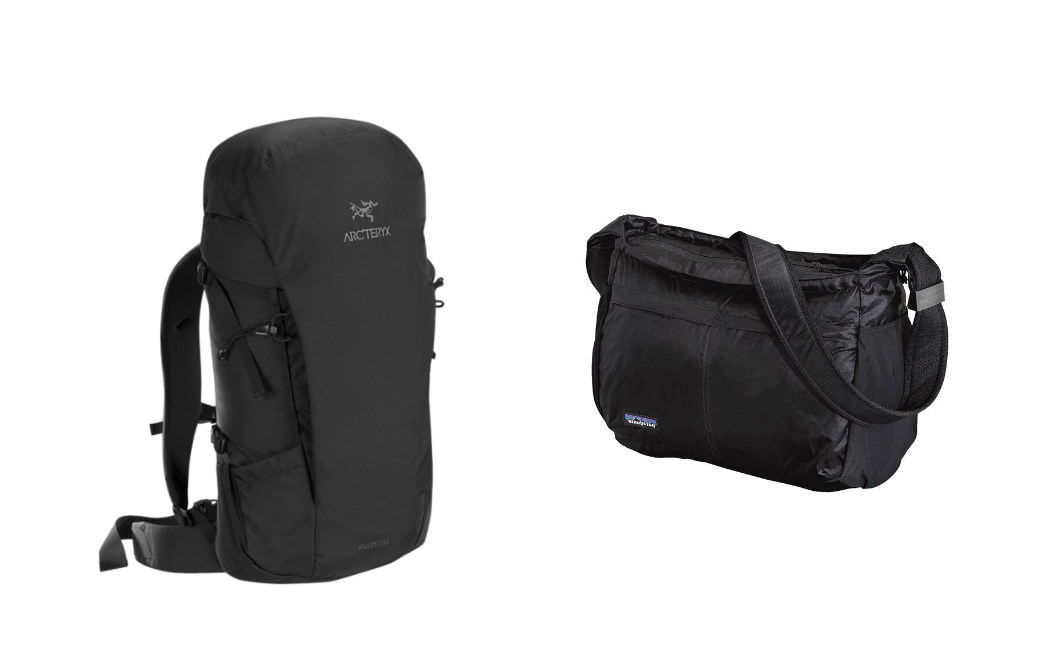 Bag: For this upcoming trip I'm leaning towards my Arc'teryx Brize 32L pack + Patagonia Lightweight Travel Courier. It's a good combo that I've travelled with before. Both bags are extremely low-key, stealthy when purchased in black. They don't draw attention to themselves and don't look like overtly "tourist" or "backpacker" gear. The Arc'teryx in particular is admirably simple. I mainly wish that I could remove the stitched logo. I may paint over it with a sharpie. The Patagonia Courier is one of my favorite city/field bags. It can easily hold two half- (or even full) liter sized bottles in its side pockets. And you can stuff it with a 13" MacBook Pro, Leica Q, notebook, and snacks. It never looks "full" and even when filled, certainly doesn't look like it has a laptop in it. Remove the Patagonia logo with a seam ripper and the whole thing becomes almost invisible.
The other bag I'd consider bringing is my SDR D3 (I was a beta tester; warning: it's VERY EXPENSIVE). A durable, simple, waterproof, tear-proof, probably bulletproof and, certainly, clandestine bag. (Although, the only time I was stopped at the border of the US and searched for carrying "large sums of cash" was the first time I traveled with this bag; wasn't even the Hauly!) I just prefer backpacks when I'm moving around a lot.
Were there more serious trekking on the docket, I'd consider my Gossamer Gear Gorilla, which is my favorite long-walk / hike pack. 40L, ultra-light, extremely durable and well-made, great customer service and support, hyper-functional, and reasonably priced. Downsides: Draws attention to itself, definitely looks like a hiking pack, and airlines might make you check it. I use this for almost every walk I do in Japan.
---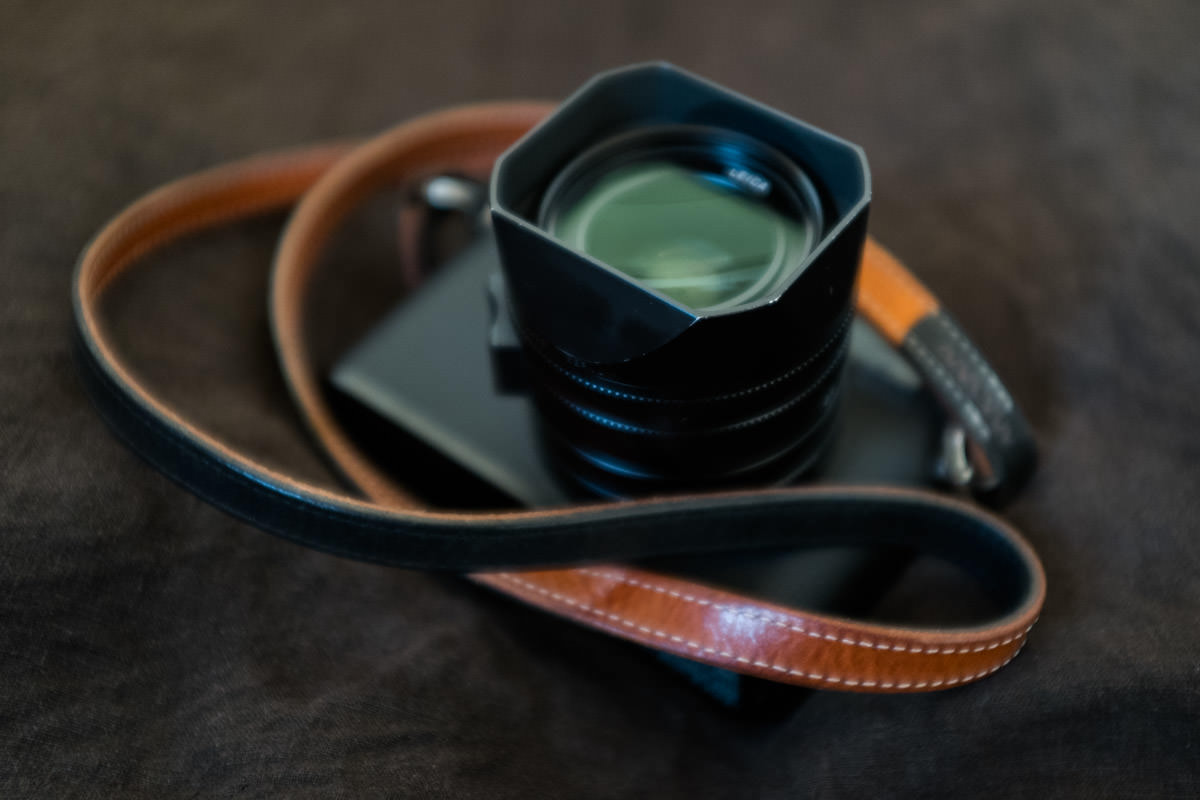 Camera: I was thinking about bringing a Leica M10 with 35MM Summilux, but I'm just going to take the Leica Q. It's such a solid, versatile machine, even four years on. (This is the Q1, not Q2. I haven't been able to justify the additional Q2 costs, though the weather sealing appeals.)
The benefits of the Q's 28MM lens: I can shoot wide-open, electronic-shutter'd landscapes (allowing for more DoF options in bright sunlight), and crop in to 35mm for street / city photography. The Q is also significantly lighter than the M10 + Summilux. The sensors in both cameras are (essentially) identical.
---
Watch: Garmin Instinct. I love this watch. It's "smart" but dumb enough to stay out of the way. Again: very nondescript. Black and white non-touch, memory-in-pixel screen. Battery lasts a week+ if you're not using GPS tracking. (With GPS, it lasts about a day.) Very tough – built to "MIL-STD-810 military standards for thermal, shock and water resistance, enabling it to operate at depths of up to 100 m (330 ft)." You can beat the hell out of this thing and not think twice about it. Constant heart rate monitoring. Nice "silent" vibrating alarm for waking yourself without waking others. The sleep tracking feels surprisingly accurate (all passive; "total sleep time" is estimated via a bit of algorithmic judo involving accelerometer and heart rate monitoring). Syncs with Garmin's decent iOS app. Worst part? The proprietary connector. I'm sure there's a good reason for it, but man, if this thing had USB-C it would be nearly perfect. I wore this watch essentially twenty-four hours a day during my six weeks of Japan walking earlier this year.
---
Pants: Arc'teryx' Gamma LT Pant is the best all-around hiking / walking pant I've found. It's stretchy, breathes well, and looks great if the fit matches your body type. It's cut a little slim, tapered, but is surprisingly generous around the butt (which is rare and welcome). You can easily wear the black pair out in the city to a fancy restaurant and nobody would look twice, and yet you can crawl up rocks in them and not worry about tearing. They're expensive, but they look, feel, and function superbly.
---
Underwear: I've switched entirely to Icebreaker merino wool underwear and it's excellent. I've tried a few other merino wool brands and Icebreaker (despite the somewhat disheartening / embarrassingly large branding on the waist band) is by far the best: Most comfy, toughest, quick to dry, no chafing.
---
Shirts: I usual travel with a few MXP t-shirts. I think they're only available in Japan. They fit the bill: Fast drying, sweat wicking, no ironing, good looking, simple activewear. I've purchased merino wool t-shirts in the past but have gotten holes / snags / rips in almost all of them. They often cost double the price of the MXPs with significantly shorter lifespan.
---
Boots: Over the last two years I've switched to Danner's lighter (though less serviceable, sadly) series of boots. I used to wear a several-times-resoled "Danner Light" (which is in no way light) for all my walks and hikes. I switched to a South Rim 600 (which definitely has a "dad shoe" vibe going on) last year for the Camino walk and used the same shoes on the recent Japan walk. Super comfy. No break-in period. Downside? Once the sole is done they're dead. I eked about 2,000 km out of mine.
My day-to-day boot is the Tramline 917 which is perhaps my all-time favorite piece of footwear. It's one of the best looking, most comfortable "boots" (borderline sneaker) I've ever worn. Waterproof, but breathes well. Comfortable from the first step. It's not great for "serious hiking" (the soles aren't grippy enough) but it'll do for 90% of travel. I recently grabbed a pair of Mountain 600s when my South Rims died. Definitely a more "serious" boot (and less "dad"-esque) but with an almost identical fit to the South Rims. More ankle support, and hardly any increase in weight. I'll be wearing these on my trip next week.
---
Computer: iPad-only this time. I've setup a system allowing me to write, test, render, and publish newsletters all on the iPad. (My system is weirdly more complicated than just hitting send in Campaign Monitor / MailChimp.) I'm running the iPad OS Beta. It's pretty good, if shaky. Now that SD cards appear as drives, photo management should be simpler. It's also a much more rugged machine — iPad + Smart Keyboard — than the MacBook Pro, and I have greater faith in it surviving the chaos of travel.
---
Audio: I'm going to bring the same binaural setup – Sony Hi-Res recorder + OKM binaural mics – I had on my Japan walk. I used this to record SW945. The setup is so compact, and so high-quality that it seems silly not to throw it in a bag. Who knows what might be worth recording along the way.
---
Misc: I'll add in a random fleece, merino wool base layer, and an old Muji knit hat for chilly mountain nights (supposed to drop to near 0C). I have an Icebreaker merino wool neck gaiter that I wear constantly — hot or cold — while traveling. It makes me look like an insane, but comfy, cowboy. I'll bring my beloved Tilly hat for exposed walking days. My charger of choice is RavPower's 45W USB Type C brick. I've been using it daily for four months. It strikes the best balance between light and powerful and freakishly tiny. I'll also throw in a lightweight Goretex shell. Socks – some miscellaneous assortment of Mont Bell compression socks, merino wool blend. Shove it all in some Exped stuff/compression/dry sacks, and that's that.
---
As I said, I'm linking most of this stuff up at ye 'ole Walk Shop. Mainly because I'm intrigued about how much engagement something like an "Amazon Influencer" page can get. It sounds dystopian because it is dystopian.
BTW — Want to see what all the stuff in the top image compresses into? Here it is in stuff sacks and then loaded into the much beloved Gossamer Gear Gorilla pack: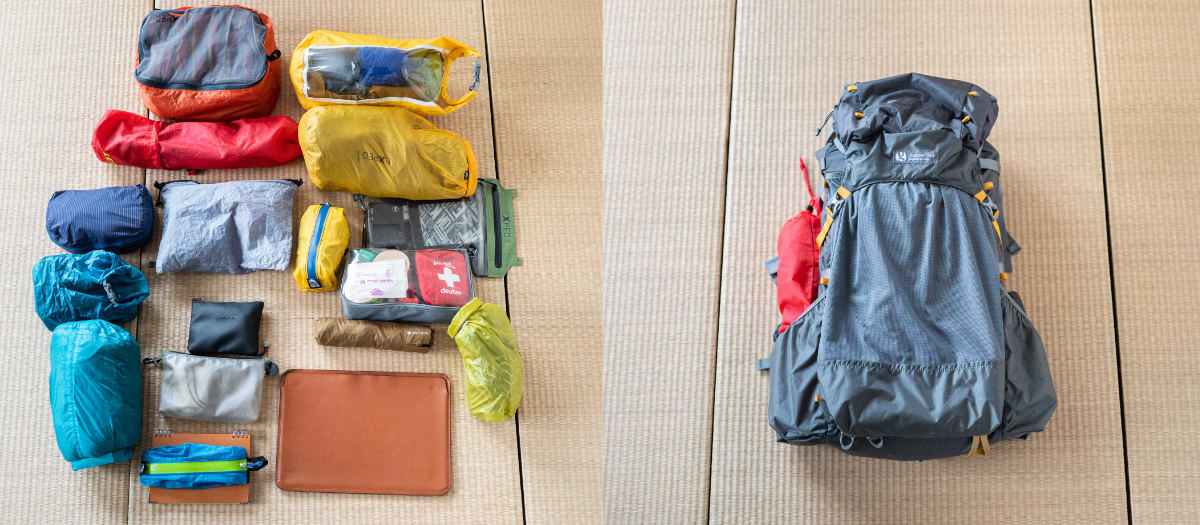 ---
I had originally planned on writing up an even more detailed account of all my gear. Do you want to hear more of the nitty-gritty? Let me know.
Until next week,
C
---
Your gentle weekly reminder: This newsletter is made possible by members of SPECIAL PROJECTS. If you're enjoying it, consider joining. Thanks.

---
Fellow Walkers
"I was an expat kid in the Middle-East where I was free to roam deserts, chasing scorpions and sidewinder snakes. Now I live in the European country that matches my passport and plot my escape back to nature."
"I was born in Canada, and though I was only there for a couple years I've always preferred cold to hot. That makes my move south, from California to Utah to Texas, all the more strange. California, Utah, Texas: A path through America which suggests a certain political persuasion. But quite the opposite is true, thanks not to any particular dogma I was raised with, but two gifts from my parents: A recognition of how lucky I am and a love of learning."
"I caught a glimpse of the shell in 1994, when my six-year-old daughter and I were exploring the tidal rock pools at Isshiki beach in Hayama. As I stuck a toy net under some seaweed that looked like bladderwrack, I said to my daughter in Japanese: "In Devon, I'd expect to find a prawn under seaweed like that." I pulled out the net, and in it was a prawn. "
---
("Fellow Walkers" are short bios of the other folks subscribed to this newsletter. In Ridgeline 001 I asked: "What shell were you torn from?" and got hundreds of responses. We're working our way through them over the year. You're an amazing, diverse crew. Grateful to be walking with you all. Feel free to send one in if you haven't already.)
Not subscribed to Ridgeline?

(A weekly letter on walking in Japan)