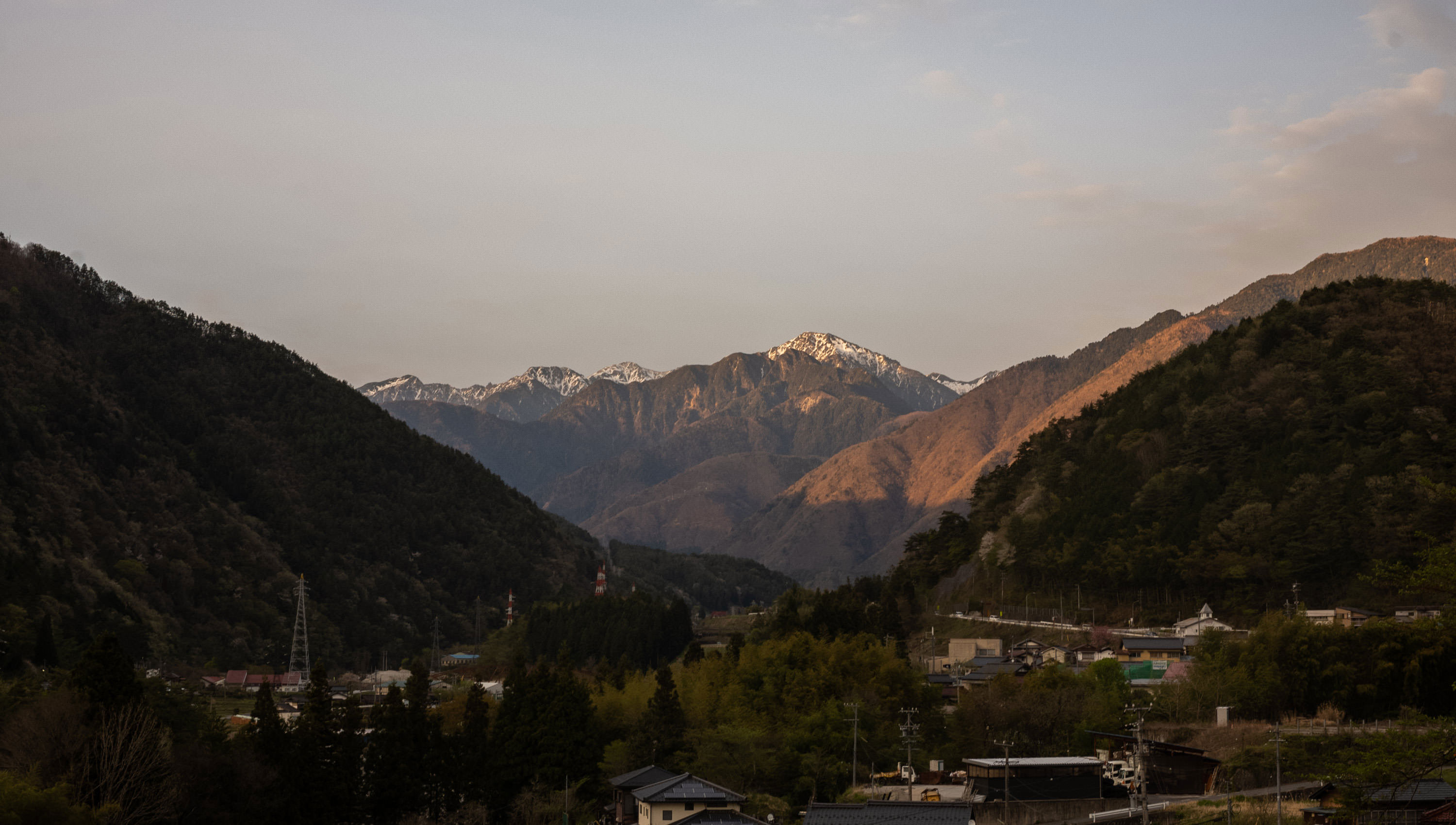 Things to Eat and Drink and Places to Stay Along the Kiso-Ji [Part 3]
The Kiso-ji is pretty easy to get to from Tokyo. You just need to hop a Shiojiri-bound Azusa express from Shinjuku, and from there you're at the start.
But! If you're going to walk the Kiso-ji, why not stay on that train for another stop, and head to Matsumoto? Consider spending at least a night there. Matsumoto is a fabulous mid-sized city, a little smaller and more provincial than Morioka, but an excellent place to spend at least a full day, if not two.
As for Matsumoto recommendations: Doon Shokudo is a freakishly delicious south Indian restaurant that knocked my socks off, straight out of nowhere, run by the nicest Indian husband and Japanese wife team you'll ever find. Stay at the lovely Kagtesu. Have a coffee and cheesecake at Kouhiya 3. And then cap it all off with a bit of chicken broth ramen at the football obsessed Menshu Takenaka. (And then, heck, why not, grab a cigar at Brora.)
---
With our Matsumoto warmup done, we head on into the Kiso Valley. We're brave, we're foolish, we walk in from Shiojiri. Day one should get us to Narai. The walk in can feel a bit desolate. But we appreciate these stretches of somewhat desolate road. By walking in we'll experience the literal entering into the valley, the slow closing in of the mountain ranges on either side, the narrowing of the sky, the sense of inhabiting another kind of space on this earth, one governed by a slightly different tempo.
In Narai, we'll nab some coffee served by a well-coifed white-haired man with a three-legged dog: Matsuya Chabo. Sometimes he's open. Many times, not. I make no explicit claims that the dog is still with us. (I haven't actually been since 2019 despite two recent trips; his schedule seems governed by the same principles as improv jazz.) If you manage to book a room at Iseya, go for it. In my many years of traveling to Narai, I've never once managed to get a booking, but it looks great and has good reviews. Instead, I've stayed up in a little mountain home with an old widowed man, who handed me a roll of tape to "deal with the stink bugs" when I arrived, and teared up when I left. He had beer, beer, and more beer. I drank tap water and was served heaping piles of udon.
As for the other shops in Narai, I haven't found any particularly noteworthy. Lots of soba. Soba for miles in this valley. All fine. If you can, walk over Torii Pass and get into Yabuhara for lunch. Oginoya is great (soba, natch), but, like many shops in these kinds of towns, it's run with a bit of an air of hobby. Sometimes it's open, sometimes not. I called the other day to check. Closing early today, they said. Why? Just because.
---
Our second day in the valley might just be walking from Narai / Yabuhara to Kiso-Fukushima. Again, a somewhat desolate (but not all desolate; little villages, signs of life, shrines, women and men working their land, caring for their small nooks of earth) but meditative stretch. A few harrowing tunnels. We might meet some monkeys. A few months ago, my friends and I saw a whole simian crew crossing the road, weaving between tractor trailers. Impressive Darwinian selection at play.
There's a 7-11. Fullhouse looks like a funny little kissa but I've never been. More soba.
We follow the river, Kiso-Fukushima eventually materializes. Easily the biggest town we'll find in the valley. Iwaya is a good place to stay, as I recommended in Part II of this three-part series. Kumata, the kissa from Kissa by Kissa (the last one in the book) is across the street. The husband is no longer with us but the wife keeps it going. The little historical block up on the tiny plateau before Iwaya is a neat bit to stroll, even if you can cover all of it in ten minutes or so.
If you're not being too strict about the linearity of the walk, Kiso-Fukushima is a great base from which to get taxis, or even to just drop your luggage off and venture north or south for the day. Book a couple nights at Iwaya and walk out, catching the train back late in the afternoon (another nicety of the Kiso-ji — a train line parallels most of the route).
Me, I'm curious about Kiso-Fukushima. I'd like to spend more time there. A few days is all you'd need. But I'm always passing through, arriving at night, leaving early in the morning. It is not a thriving town, per se. Is it down and out? A bit. The end feels near-ish. Unlike, say, Morioka, there are few signs of "youth returning" to the cityscape. Kissa and others shops are closing each year, not replaced by much. It reminds me of Owase on the Ise-ji, although much smaller. Still, a couple days to see what remains, to listen to the stories by the folks who are left. A tiny worthwhile adventure, and probably something that should be done sooner than later.
---
As I've written previously (in Part I), one of my favorite days of walking in all of Japan, the day that really got me "hooked," is from Nojiri up to the Ne-no-ue Pass, and then down through undulating farms and villages into, eventually, Tsumago. There's nothing much up along the way. You need to fortify yourself with goods from Daily Yamazaki at Nojiri. I like to stop by Donguri and have coffee and toast in the morning. I get the owner to fill my thermos up with coffee, too. They're usually open by nine. Along the way you'll pass Hostel Yui-an (on the way into Nagiso). I've never stayed, but it looks lovely and seems beloved.
---
Tsumago and Magome are pleasing, and are what most folks talk about when they talk about the Nakasendō. They were deemed of historical import after the war, registered in certain cultural ledgers, and now look a bit like they probably looked in the Edo era. Power lines are underground. My main piece of advice: Do not visit on the weekend or public holidays when crowds descend and Disney vibes ramp up.
In Tsumago stay at Fujioto — the owner of which lived in Italy for, I believe, decades, and so the English that comes out of his delightful head sounds like that of a Tuscan farmer. This dissonance is worth the price of admission alone. He is beloved by thousands around the world. The entrance is covered in postcards and thank you letters. His inn is simple and beautiful, the food delicious. It is booked up for months, if not years, in advance.
Matsushiroya is another cute inn down the road. I believe scenes from Zato Ichi were filmed nearby. The ice cream at Kojitsu is pretty yummy. The Kansai Electric Power Plant on the edge of town is pleasingly retro.
If you can't find a place to stay in Tsumago (likely), then you can stay a bit up the road at Hanaya or one of the other nearby inns. If you're willing to go even farther, Hotel Kisoji is a strange and wonderful option. A fairly giant hotel with a huge buffet serving every kind of food imaginable, and baths large enough to fit fifty people. Also, a sauna and cold plunge. What's not to love? Truth be told, Hotel Kisoji has become my go-to place on this stretch. You can catch a taxi from Tsumago for ¥1500 or take the hotel bus if timing works out.
---
The walk between Tsumago and Magome is easy if you're in decent shape. A very doable itinerary: a slow morning at Tsumago, walk over, and a slow afternoon at Magome. Of the two, Magome is, in my opinion, the more interesting village. Stay here if you can only visit one. Magome sits on a steep incline, and in this way has the advantage of topographic fascination. It's near the mouth of the valley, so you can see beyond from the windows of many shops, Mt. Ena looming snow-capped in the distance.
As for food, surprise surprise, lots of soba. Mikazukian is one of the newest, run by a young guy who renovated his family home into a modernist soba shop. Delicious noodles, crisp tempura, sweet staff. But if you're like me, and powered no less than 30% by good espresso, then for days, if not a week, you'll have been dreaming of, thinking of, lusting after HillBilly Coffee, the best coffee on the entirety of the Nakasendō (Tokyo to Kyoto, all the way, not just the Kiso-ji). Run by brothers, buddies with Mikazukian, they serve up the good stuff. I've spent rainy afternoons just clacking away in their window.
The mom of those brothers runs Guest House Motomiya, which is truly one of the best simple places I've stayed in all of Japan. The food is astoundingly good (especially considering the price), the rooms simple, clean, the showers strong and warm, the location great. The mom, fabulous. It's also the only location I've ever seen on Google Maps with five stars and more than twenty reviews. If Motomiya is booked up (likely), you can stay at the old Shinchaya, another excellent option, further out towards the hinterlands of town. They finally began accepting credit cards as of March 2023. They serve up a mean fried cricket. And there's a nice Basho monument right in front of the inn. Generally speaking, the stretch between the edge of Magome proper and Shinchaya, is glistening riceland, a true pleasure to walk.
---
Now all that's left is to stroll out of the valley down into Nakatsugawa (or possibly Ena and beyond). Upon entering Magome, we had entered Gifu Prefecture (having started in Nagano Prefecture at Shiojiri), and one of the defining features of Gifu's Nakasendō is that they paved the official route with speckled asphalt. This makes wayfinding trivial and delightful. Just follow the seemingly cherry-blossom-petal-dotted road.
On the way out of the valley beyond Shinchaya: Kawaraya is a nice cafe with a patio. An old home was renovated and turned into another cafe: Tachiba Chaya, though its operating hours are scant. There's a cute ichiri-zuka mile marker along the way. Kissa Kotori-ya was also featured in Kissa by Kissa and is as fine place to take a break as any. And there's also a Showa era kissa in Nakatsugawa Station proper: Coffee Stand serving toast thicker than a sandwich.
Depending on your schedule, you can keep trudging onward to Ena. The big draw being the Hiroshige woodblock museum. But even if you stop at Nakatsugawa — you've walked the valley, done the whole thing. You slid into the Kiso-ji by walking from Shiojiri to Narai. And then followed its river-cut spine onward to Kiso-fukushima, to Nojiri up to Ne-no-ue Pass, down to Tsumago, over to Magome, and out of the valley entirely.
I dunno, I love it. The delights are many. You can spend a day, two, five walking this valley depending on your goals and schedule. More, even, if you are in no rush. Little hamlets like this one back behind Ōkuwa station are gems of the highest order. I like to stand in them taking deep lungfuls of that crisp valley air. A friend bought a home in this valley, she loved it so much. Now she weeds her garden, knocks down walls, is rebuilding the old house into something fresh and new. Her old neighbors are delighted. Life, in the form of a single person has returned, gives them hope. Who knows, maybe you'll be inspired to do the same.
C
Not subscribed to Ridgeline?

(A weekly letter on walking in Japan)