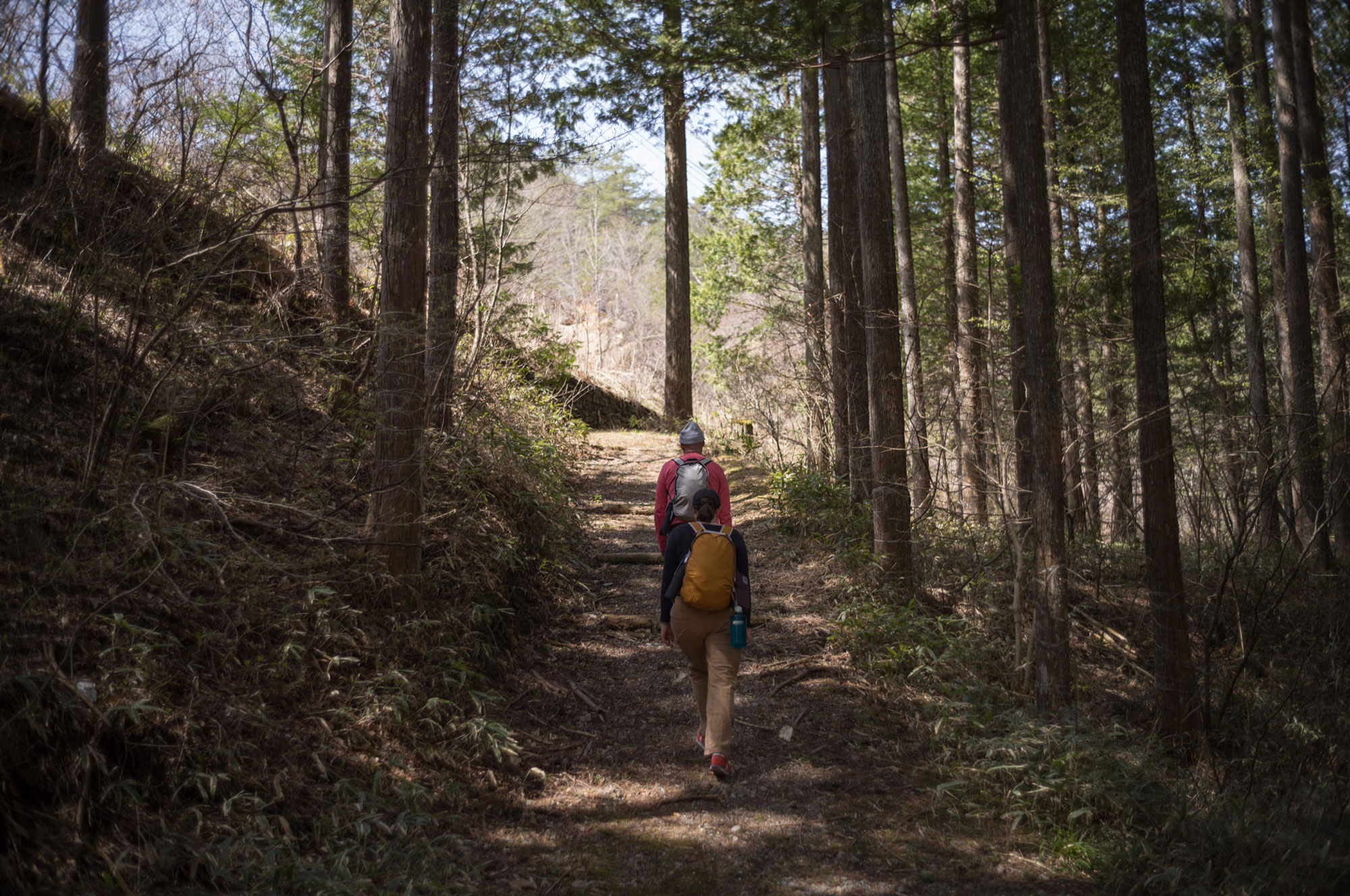 Walking the Kiso-ji [Part 1]
---
The Kiso-ji road runs from the edge of Shiojiri in Nagano, in a northeast-southwest direction through a thin valley shunted between stretches of the Japan Alps: the Kiso Mountains, Mount Utsugi, Mount Anbeiji, Mount Surikogi, Mount Okusangi, and more. Down the road slips — through Japan's rippling middle-earth range of crumpled central peaks. The Kiso-ji largely follows the Narai River as it turns into the Kiso River, as it leads towards the plains of Nakatsugawa and Ena, en route to the larger Gifu Plain, continuing on as the Nakasendō towards the old blood-spattered grounds of Sekigahara, where, after much formal murder, Japan basically chilled out on the whole in 1600, the Shogunate took root, and things were pretty relaxed until Commodore Perry came knocking in 1854.
The Kiso-ji was one of the first bits of Japan I "walk walked" back in 2014. I took Kevin Kelly on a four day trip. This was my first time "taking someone." Kevin is kind, and therefore a good test subject. I didn't really know where we were going — I mean, I knew the general direction but not the explicit path. We bumbled around. The days were fun. One day in particular — walking south from Nojiri up to the Ne-no-ue Pass, then undulating down towards Tsumago — unlocked what became a defining obsession for me for this last decade: village to village walks, walks that mix nature and village, working villages, working farmland. Past fields tilled or soon-to-be-tilled, past rice fields freshly planted, freshly harvested, freshly flooded, bone-dry. Everything shifting with the seasons.
I don't care much about the "historic" towns of this route, although there are several. Notably: Narai, Tsumago, and Magome. They're preserved (or reconstructed) like mosquitoes in amber, power lines underground (it's amazing how distinct a view without power lines becomes in Japan, a country with most of its electric wires on display like a Yangon back alley (a feature, which, BTW, I love and have come to love more and more over the years, those jumbled sinusoids cutting the sky into ribbons)), main street storefronts similar to how they were in the Edo-era. It's a fun thing to see, these towns. If you had to pick only one for a peek, it's Magome, the gem of the Kiso-ji, the town's main street running up and down a steep slope (slopes, hills, elevation gain and loss, all significantly increasing the "interestingness" of a town), water rushing alongside the road powering waterwheels, views of the ranges off to the sides.
But I tend to blast through those towns. They're tiny things to begin with, and anyway, my goal for walking isn't to bask in a honjin or wakihonjin where the Daimyo once slept (though, of course, these places are of interest, and worth peeking into). Ninety-five percent of the Kiso-ji is not these towns.
The Kiso-ji is technically part of the Nakasendō, but it's nice to call it out as its own thing. The corridor through which it moves feels distinct enough to warrant a name all its own. That said, when folks say they "walked the Nakasendō," they often mean they visited Magome or Tsumago, or maybe walked between the two — a relatively easy two hour forest stroll. Technically this is the Nakasendō, but it would be like saying you "walked New York City" by walking from the south edge of Central Park to Grand Street.
I walked the full Nakasendō back in 2019, and the Kiso-ji portion was only about four of the 28 days it took me to walk from Tokyo to Kyoto. But that's splitting hairs, about which most folks don't care. I make the point just to emphasize how much more of the Nakasendō exists out there, weird and pachinko-filled, always interesting, even when it's not.
If you only had a couple days, and wanted to do a walk in Japan, I'd plop the Kiso-ji high on the list (the Ise-ji, too, is one I'm obviously fond of, but it's a bit harder to get to, and more strenuous for sure).
Over the next few posts, I'm going to dig deeper into the Kiso-ji, breaking down where to stay and which shops to stick your nose into between Shiojiri and Nakatsugawa.
More soon,
C
Not subscribed to Ridgeline?

(A weekly letter on walking in Japan)