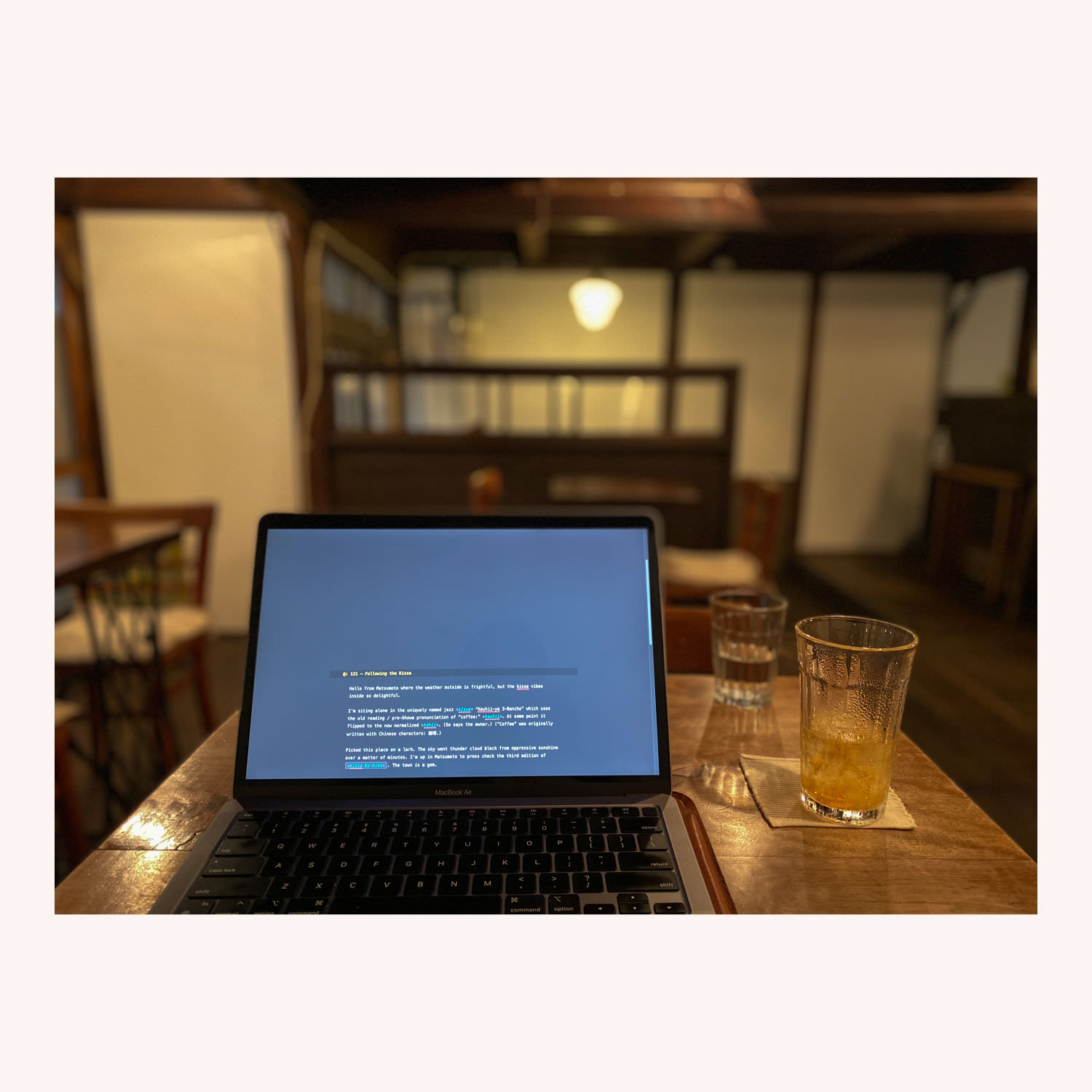 Hello Ridgeliners from Matsumoto where the weather outside is frightful, but the kissa vibes inside so delightful.
I'm siting alone in the uniquely named jazz kissa "Kauhii-ya 3-Bancho" which uses the old reading / pre-Showa pronunciation of "coffee:" kauhii. At some point it flipped to the now normalized kōhii, so says the owner. ("Coffee" was originally (and still, sometimes) written with Chinese characters: 珈琲.)
Picked this place on a lark. The sky went thunder cloud black from oppressive sunshine over a matter of minutes. I'm up in Matsumoto to press check the third edition of Kissa by Kissa. The town is a gem.
In a way this is my favorite kind of Japanese town — small but accessible (good train service; 2.5 hours direct from Shinjuku on an express) with hints of life and a well-defined local community of fresh-faced young folk amongst the old. These towns are usually tourism-buoyed, and Matsumoto follows that trend with its history and castle and museums. It's also Kusama Yayoi's hometown and she has a little gallery here.
I came close to Matsumoto on my Nakasendō walk, passing just a few kilometers south through the town of Shiojiri on my way into the Kiso Valley. This is right where the Nakasendō got really good, and the walk from here down to Gifu was the highlight of the whole trip. Knowing Matsumoto is here is great because now I can say: Go, stay in Matsumoto and consider it a base before embarking on the Kiso-ji. Or maybe, walk north from Tsumago and make Matsumoto your end goal.
Anyway, I popped in Kauhii 3-Bancho and immediately dug it. The master (in his 80s?) came out from the kitchen with a neatly rolled up beanie, white t-shirt with rolled up sleeves, stylishly baggy jeans and converse sneakers — firmly in the style of many a jazz kissa owner — and was happy to chat.
Open long?, I asked and he said, Here? Nah, just a couple years.
And before that?
Tokyo, he said, ran this same shop in Tokyo for forty years, over in Kichijoji.
I told the master I may have visited twenty years ago when I was a college kid and spending misguided weekends at the music clubs in Kichijoji, drinking too much and nursing hangovers in jazz cafes, "smoking" (I don't think I ever inhaled properly) unfiltered cigarettes like a dingdong and reading novels trying evoke some kind of cool from my hopelessly uncool natural state. When I said I now lived in Kamakura, he said, Oh! My shop was there, too, for about three years. Turns out he ran it just a few hundred meters from my studio, but closed a few years before I moved down.
We were both delighted by the thought of: an unlikely chase across space and time over the last few decades. Here we were now, in Matsumoto, (re?)united as customer and kissa. Destiny!
Cheap, he said, Matsumoto, that is — easy to find good space. And it was true, the space is great. The location may change but the furniture has stayed the same — sturdy hardwood tables, a great collection of jazz records and CDs, a tube amp, a couple good speakers, and a simple menu of coffee and cake.
Outside, cats and dogs. Inside, Wes Montgomery, Solitude, Live in Paris. Tomorrow, a press check.
C
p.s., As you can see in the photo, like a heretic I ordered iced tea, which turned out to be a wonderful mint blend; and then the rain hit hard and I added a roll cake to my tab, and that was so good it demanded an American-style coffee, which turned out to be perfectly yumtastic.
Not subscribed to Ridgeline?

(A weekly letter on walking in Japan)