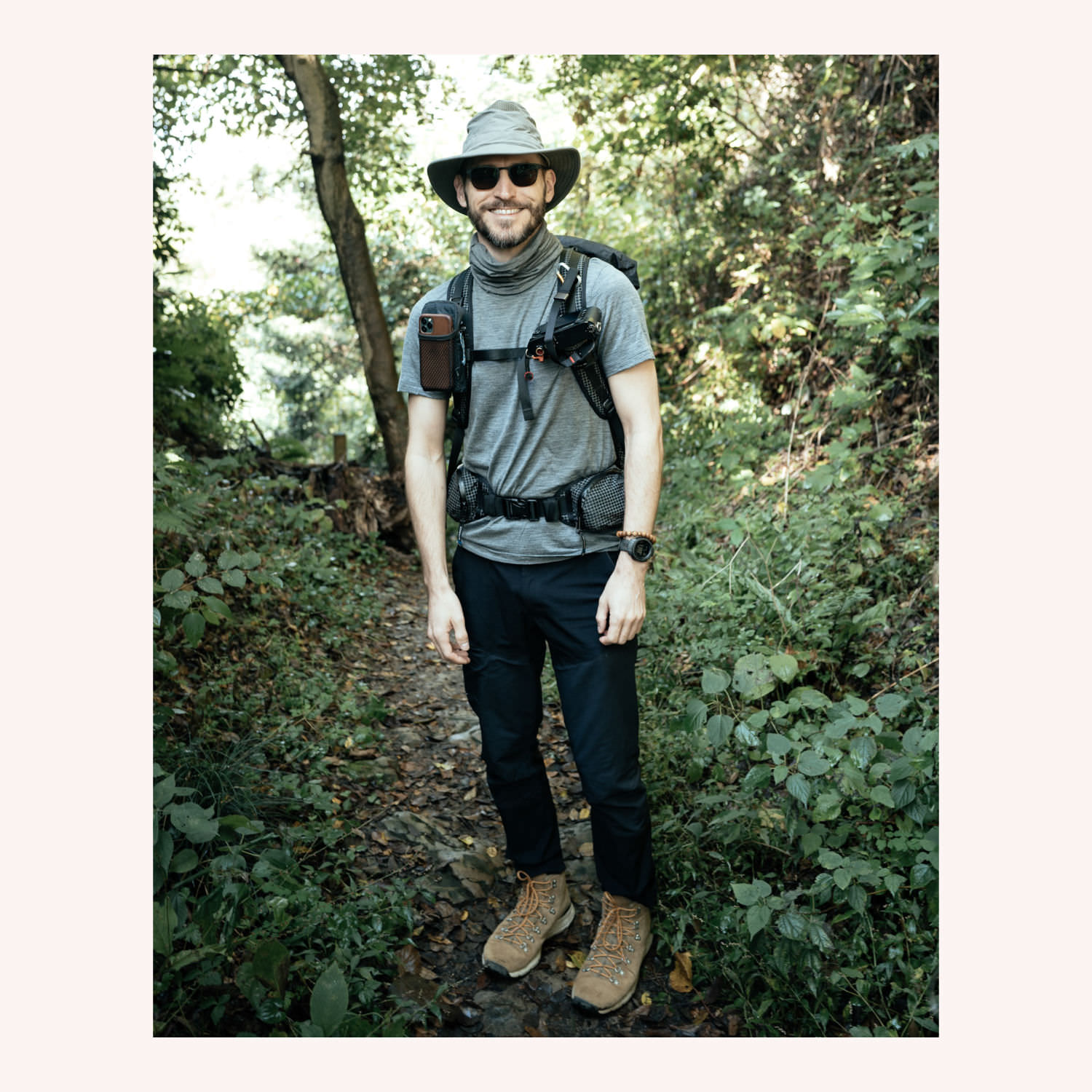 Ridgeliners —
Wow. Hello there. This is your official walking dork, Craig Mod, coming to you from Okitsu Village in Shizuoka Prefecture.
That's me — above, eight days ago — on day one of my Tōkaidō walk in some final-form of walk-doofiness. My buddy Alex joined for the first few kilometers and took some photos and that smile on my face is the chemical high from having just bolted up thirty flights of stairs carrying a fourteen kilogram pack over the Daibutsu Kiridoshi leading out of Kamakura towards Totsuka. (The pack is much lighter now.)
Presently: I am 199.52 kilometers and 212,575 steps further away from my home since the last time I wrote to you. And I very deliberately mean from my home.
As a friend wrote to me: "One of the things I love most about this – it seems truly magical – is that you step off from your own front door. When, in the 21st century, does an adventure ever begin at your own front door?? Never! It's great."
I love that about these walks and it's why I'm so maniacal about walk-strictness. No trains, cabs, bikes, wingsuits until Kyoto. There's something about the unbroken line of steps — just steps! — leading from a home to somewhere far, far away that delights me to no end.
---
The Pachinko Road newsletter is going really well, I think. Though, I have proven to be completely incapable of following my own rules. It is NOT a "blip." In fact, it's turned into a kind of daily Ridgeline. It is what it is!
Readership is increasing by the hundreds each day. And so far, as part of the response system, we've gotten over 2,000 responses, 50%+ with photos attached. (As per the agreement, I won't actually look at any of them until I get to Kyoto.) Thank you to everyone who has written in so far.
If you aren't subscribed, hop on. We've got about twenty days left in the walk.
---
I've been posting 4k, binaural videos up on my YouTube channel each day. Single-shot snippets of life along the Tōkaidō today. Inspired by Hiroshige's The Fifty-Three Stations of the Tōkaidō (1833). Banalities exalted. A boat floats over Ashinoko Lake with Fuji in the background. I walk through a pine grove in the late afternoon sun. We look up at the tree tops at a shrine in Mishima. A barber on the Tōkaidō shaves my head. And on and on. Put on headphones, go full screen, make sure it's in 4k, and spend a few minutes on the road with me each day. That's the pitch.
---
For now, that's all I got! I'm zonked. Aside from walking 6-8 hours a day, I'm spending 3-6 hours a day on shooting video, seducing barbers into letting me photograph them, processing photos, importing media, organizing video clips, setting descriptions, publishing SW945 episodes, writing Pachinko Road and responding to emails. Kissa by Kissa's second edition just started shipping on Monday, so I'm making sure that's running smoothly as well.
Each night, my body is grateful to enter Futon Mode. In fact, a futon is laid out right next to me at this very moment. I'm going to send this out, and then say goodbye to the world. Tomorrow morning, the walking starts early.
C
---
Fellow Walkers
Growing up in the shadow of Walmart headquarters and hating 'the man', I tried to rip out of my shell at 18 and wasn't ready, aka had a nervous breakdown. I tried again at 25 and succeeded in finding a home in Ithaca, NY where I ripped myself out of a marriage and started walking, first to explore the gorges and then to exercise my dog Boogie. Now we are walking the pandemic streets of our new home in St. Louis.
I wouldn't have thought of myself as a walker. Now we have a puppy, (coincidental timing, not a pandemic decision). And we've walked the neighborhood, getting to know the dogs, and gardens. But when I look back, there was that job surveying Bureau of Land Management (the other BLM) land in Wyoming. Walking the sagebrush dotted desert 8+ miles a day looking for Indian artifacts. Chips here, fire pits there, the occasional arrowhead. The daily life remnants from thousands of years ago. And there was the internship in NYC, where my true love was walking the city. Every waking moment, evening, and weekend was spent pounding the pavement. Learning every neighborhood, often coffee shop to coffee shop. It was glorious.
---
("Fellow Walkers" are short bios of the other folks subscribed to this newsletter. In Ridgeline 001 I asked: "What shell were you torn from?" and got hundreds of responses. We're working our way through them over the year. You're an amazing, diverse crew. Grateful to be walking with you all. Feel free to send one in if you haven't already.)
---
Not subscribed to Ridgeline?

(A weekly letter on walking in Japan)