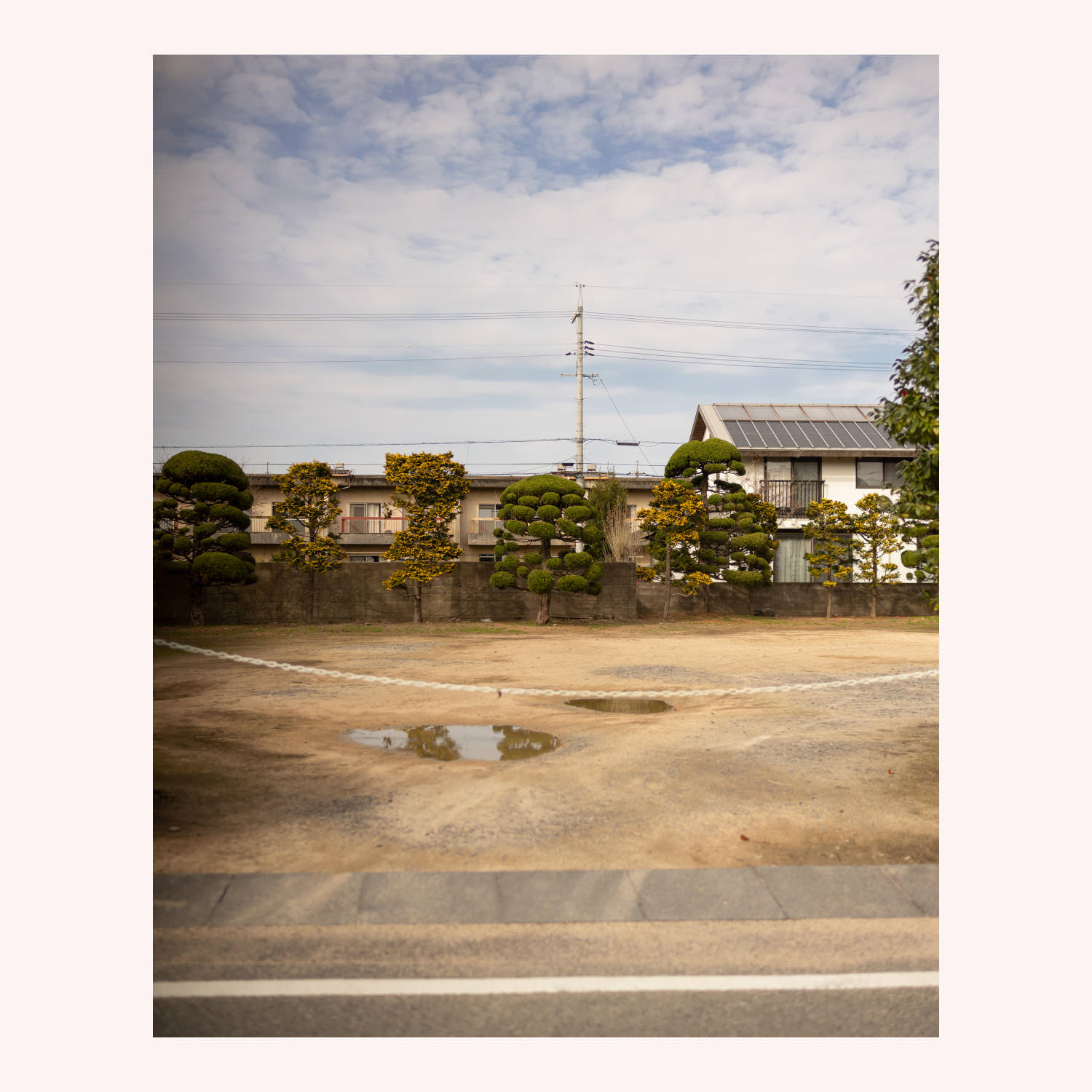 The Silver Mine with the Dog
The onsen town had a weird vibe, a kinda down-and-out, last-legs vibe. No food, really. No humans, really. So we decided to stay up in the mining town instead. Booked a last minute room. When the world thinks Japan is zombie-land, it turns out it's pretty easy to get a room.
Why is it so exciting to change your plans on a dime? It's as if you remember: Oh, right, this is all made up. What kind of day do you want to live?
---
The silver mining town was like a palinode to the onsen town. We had no expectations so the delight was infinite. The vending machines were encased in wooden boxes. The power lines underground. The mining town received a UNESCO World Heritage designation in 2007. The vibe was healthy, up and forward. If you walk the right street you'll see a little architecture office with a curved glass corner window so clear and perfect it looks like water frozen mid-pour.
---
The mining town museum was everything you'd want it to be. It had twenty staff and two visitors. We were the visitors. The staff followed us like a train. They were bored out of their minds, these silver mining cognoscenti. They pointed to everything, explained everything. They nearly drove us insane. But insane with kindness. They couldn't believe we spoke Japanese. They nearly fell over.
For hundreds of years the Japanese silver coins looked less like "coin" and more like ingot. They were rough, and you cut off pieces to use them. Like using scissors to cut pieces off of a hundred dollar bill to pay for gum. And so: There aren't many original, fully intact coins left. But a few are on display in the museum. Lumpy, I'd say. They look lumpy. In fact: I said so much to one of the staff. Lumpy, right? Funny, no? Hundreds of years of lumpy ingots with rough stamps and then, suddenly, Meiji, a perfect circle, precise, detailed. What happened? Perry came with his ships. Ships full of precise, tiny coins. It's funny how you can be doing one thing for centuries and out of the blue some "authority" shows you a twist, and suddenly that's the new normal.
I think the lumpy ones are fine, she said in a huff, and walked off.
I was tempted to run after her and explain that "lumpy" wasn't meant to be pejorative; it was the pattern and swiftness of its breakage that I thought was intriguing. But I was also happy to finally be left alone.
---
That night a priest cooked us dinner. Next to us sat a group of farmers laughing and laughing.
---
Our guide the next day was as good as the priest had told us he'd be. Oh you hired that guy? He's tops, the priest had said. And he was. A tiny man but tough as nails. A quick walker with a beat-up hiking pack. No bullshit. Carried a small sickle to bushwhack as needed. His daughter is an opera singer of great repute but when we brought that up (the priest had told us) he shied away, said Yep, she's good. And that was that.
---
Here's a trail, our guide said, pointing with his sickle. And another, unofficial, if you go up that way. I love them all. I love these mountains.
He named them all. I remember none of the names.
We were doing an official trail. The "Yunotsu-Okidomari" trail. Walking from the silver mine back to the down-and-out onsen town. 14.5km, 451m of elevation gain. Easy stuff.
The morning was freezing, I was wearing every piece of gear I owned. And then the sun crested the surrounding mountains and made its way into the valley, the fog lifted, and by late morning we were walking in just thin sweaters in the sunlight. Sunlight as hosanna as we walked above the rice fields.
---
To purify the silver it had to be separated from lead. The whole process was as complicated as you'd imagine, and it involved a lot of heat. And fumes that you shouldn't breathe. The mining town people lived what seemed to be rich but short lives.
---
Along the path we met a dog as big as our guide. It was so full of love we almost gave up on the walking and sat playing with it in the street forever. I think it was a Siren. Our guide was far ahead, looking back at us suckers.
---
We passed a home, falling apart with its earthen sides revealed. Into them were carved the most beautiful repeating patterns. I took a picture and posted it somewhere and a stranger wrote to me: WHAT'S THAT??
---
The guide told us many things, but I was getting sick. A cold was coming on and it felt like my head was stuffed full of cotton. So I floated alongside, listening to John and the guide talk. Every now and then I'd attempt to speak, but it was useless. So I gave up. I was disembodied, simply enjoyed being where I was, when I was there, knowing sometime in the future I'd think back to this day and wish I had been even more present than I was being.
---
We eventually made it down to the onsen town, past the giant climbing kiln, and celebrated with curry and cake in a cafe in a hundred year old building. There was one other patron, a businessman in a suit, also eating cake and drinking what looked to be herbal tea out of a very fancy cup.
I asked the guide what his previous life was like, before he retired and became a well-regarded guide. The guide told us that he used to be an elementary school teacher. I said that his kids must have loved him. Why do you think so? he asked. Because everyone bullshits kids. And when you don't, they respond positively. And you seem like a no bullshit kind of guy.
In precisely the manner of a man who spat no bullshit, the guide didn't agree or disagree. But we all agreed the cake was good.
---
That night the headcold came down on me like altitude sickness, like a lead apron at the dentist's office. I slept for 11 hours and skipped out on everything the next day. I got up, finally, to eat lunch. The 300 meters to the restaurant required more effort than the big walk the previous day. Worth it though: Excellent food. More cake. Strong coffee. Back to the hotel. I slept all afternoon and by evening was feeling much better. Another 10 hours of sleep. By the next morning I was revived. This happens to me once every 18 months or so: the one-day knock-down. A day where my body just says, Hey buddy, can you just stay put for a second? So I do.
---
Anyway, you should add Iwami Ginzan to your list of off-the-beaten-path places. You could stake out a little perch at the most excellent Yuzuriha Inn, and you could easily spend two or three days exploring all the historical mountain paths nearby.
Make sure to eat with the priest across the road from the inn, and be sure to hire the guide with the sickle, the no bullshit feller.
Until next week,
C
---
This newsletter is made possible by members of SPECIAL PROJECTS. If you enjoy Ridgeline, consider joining. Thanks.

---
Fellow Walkers
"As a child I walked up and down the fells of northern England and I'm not sure whether I cared for it or not. Now I occasionally run up and down them, instead."
"I walked looking for holes in the ground to play in under the rolling fields behind my childhood home. But looked forward to the hills of Yorkshire each summer with my grandparents, Pendle Hill, the three peaks, tales of witches and wartime hijinks. The Scouts taught me how to walk on my own, and cities wear my feet today. My shell moves with me, it's pretty lightweight. "
---
("Fellow Walkers" are short bios of the other folks subscribed to this newsletter. In Ridgeline 001 I asked: "What shell were you torn from?" and got hundreds of responses. We're working our way through them over the year. You're an amazing, diverse crew. Grateful to be walking with you all. Feel free to send one in if you haven't already.)
Not subscribed to Ridgeline?

(A weekly letter on walking in Japan)