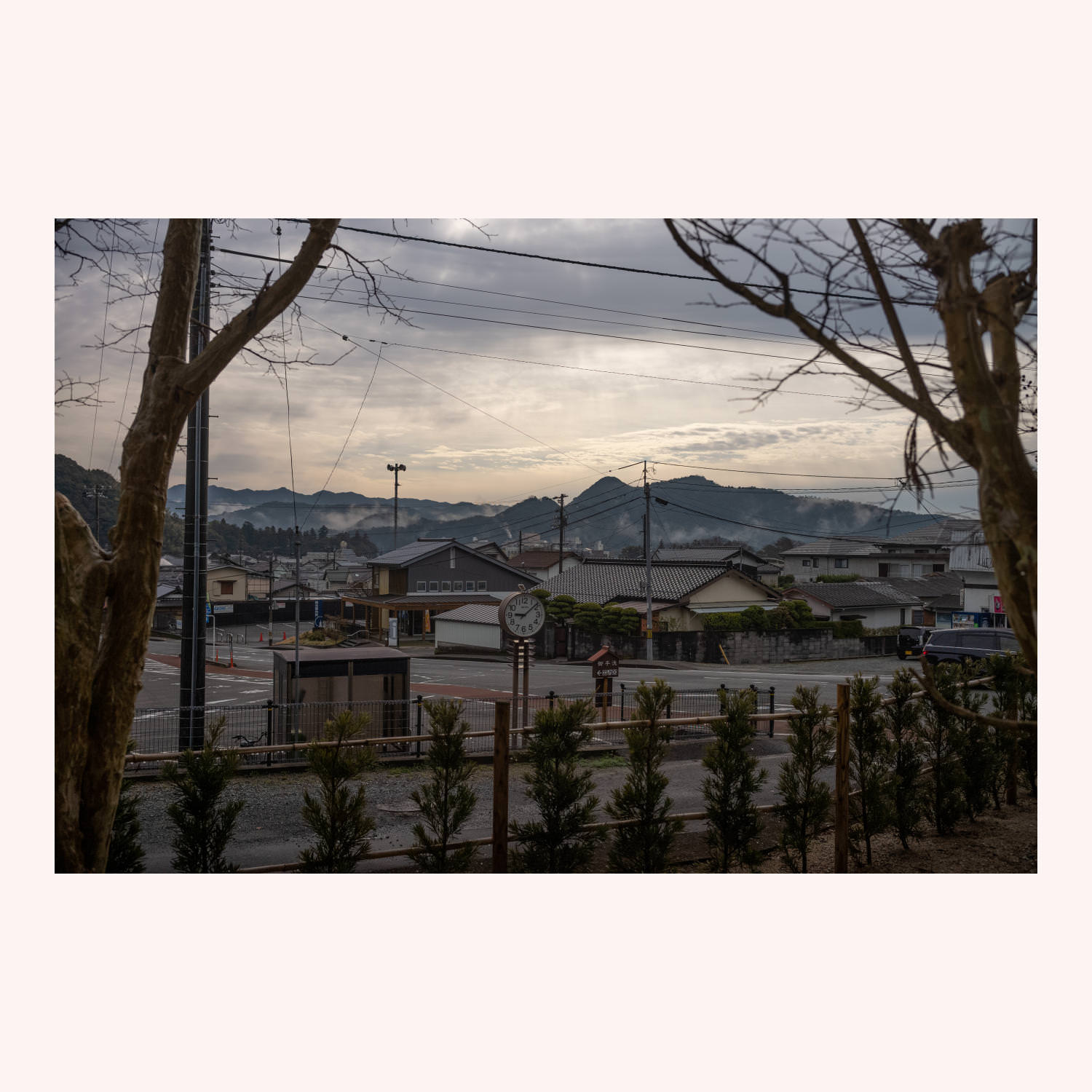 Hello! from Yamaguchi Prefecture, a prefecture to which I had never been except in quick passing on the Shinkansen, darting from Fukuoka towards Kyoto. This is Ridgeline, a weekly newsletter, and I'm here with my walking buddy John, as we investigate some routes for a tour he's running next year.
---
Yamaguchi City has been our base for the last three nights and has proven weirdly delightful; I came with no expectations, and while its tagline: "The Kyoto of the West" seems perhaps a notch or two overly grandiose, this small town is charming and far more cosmopolitan than expected. There's the sakura-lined Ichinosaka River with a superb ice cream / tea shop, solid pour-over coffee stands, and a general humming of youth and energy about town. There's the impressive Ruriko-ji five story, original 15th century (1442, Muromachi era) wooden pagoda with cypress shingles and beautiful roof lines. There's even a Shigemori Mirei garden over at Jyoei-ji (though the whole thing is in need of a little TLC).
Somewhat nearby is Nagato Onsen, where Putin and Abe bathed together. And now knowing a bit more about the history of Yamaguchi — especially its role in the overthrowing of the shogunate and installation of the Meiji Government — it makes a little more sense that this is where two self-styled political hot shots might share a bath. (Also, Abe's from the 'hood.)
But we ain't here to shadow Putin; we're here mainly for the walking, and that's what we've done these past three days. The focus of which has been on the Hagi Ōkan Highway, a path connecting Hagi City with Hofu via Yamaguchi. It's 53 kilometers long, and links the Japan Sea with the Inland Sea (Seto Naikai — home to Naoshima and various other art islands) and was used as part of the Edo era sankin-kōtai jaunts back and forth from the capital.
Aside from the bits where the old Hagi Ōkan route has been subsumed by the modern highway, the path is in very good shape. If you're looking for a two or three day mountain walk, and want to avoid any of the other obvious choices (like the Kumano Kodo), this might be the walk for you.
---
The first day we hiked from Yamaguchi City, out of town, through the almost instantly-rural surrounding area, up into the mountains. The path is clear, easy to follow, with much of it retaining either original Edo era (17th-19th century) stone paving (ishidatami) or Showa era (20th century) re-pavings, the purpose of which was and is mainly to slow the erosion of the route during heavy rains. We quickly hit the famous 42 switchbacks leading up to Itadō Pass. Along the way are the remains of the Rokken Tea Houses, with ample seating and shelter.
The next day we began a bit further north at the village of Sasanami, beside the roadside station of Asahi. From there we walked some 24 kilometers all the way to Hagi City. It was an absolute joy. The route cuts through farmland, skirts rice paddies, rises up enough to get your heart pumping, but not enough to make you think of soul-crushing stretches like Dogiri Zaka on the Nakahechi.
The only bad bit was a 15 minute chunk of roadside walking along Highway 262. Power through and you're rewarded with valley views out at Naka-no Pass (also covered, excellent benches), and then a gentle downhill into Issho Valley. This portion of the route is riverside, with electric-green moss-covered rocks and swooping Japanese Kites and just a general sense of oh-man-I'm-glad-I'm-out-here. I couldn't stop smiling. Also, because — Japan: There's a shiba pup who comes out to greet walkers, offering a paw for a shake.
After passing Machida Umenoshin's shocking suicide grave, you'll pop out in Akiragi Village, which has a beautifully maintained rest station — totally unexpected in such a sleepy town. In case you can't tell: Hagi and Yamaguchi cities are really into the Hagi Ōkan, they're super proud of its history, and have outfitted it with the most number of benches, toilets, and shelters I've ever seen on my walking in Japan.
From there, more gentle ambulations through farmland, up once again into the mountains for a final pass, past Japan's first stone-arched tunnel (built in the Meiji era), ejecting you out at the Hagi roadside station replete with two restaurants, a small museum, and a supermarket. Keep going. It's just another hour into Hagi City itself.
Spend the night in Hagi and then the next day exploring it's riches: Walk the funky original residences of its samurai district, grab a delicious lunch with Ethiopian pour-over coffee at Hotoritei, eat a slice of "ny style" pizza at the utterly incongruous (but yummy!) pizza shop on Hagi's mostly-shuttered shopping street, hike up to the top of Japan's smallest volcano, visit some virgin camellia groves, and then — why not — get some more perfectly prepared coffee.
The point being — you can wack together a five day tour-de-Yamaguchi, involving 40 solid, excellently maintained kilometers of historical hiking (we didn't walk from Yamaguchi to Hofu, so I can't account for those 13 or so kilometers), great food, onsens, and nearly limitless coffee all the while seeing nary another tourist. Anyone who complains about the tourism crush in Japan just isn't looking hard enough. There's a whole universe of next-level-deep cities to explore.
---
Of course, the "beer virus" paranoia was peaking as we walked. Folks definitely side-eyed us as potential vectors. Yamaguchi Prefecture is still sans-virus. One inn tried to cancel on us but then suddenly "fixed" their "reservation mistake" once they found out we were based in Japan and spoke the language. The vibes have been a bit weird but most shops and inns are doubly grateful for our patronage. And, honestly, even if travel in the country wasn't a bit touch-and-go, I don't think there'd be many folks on the paths we walked.
Yamaguchi and Hagi are two little time-slip gems. Consider them for your next Japan visit.
Until next week,
C
p.s., Because there's nary a blip online in English about the Hagi Ōkan, John translated the Japanese Wikipedia entry into English one early morning. We have a draft up here awaiting "approval." Wikipedia is a strange beast indeed — what an interface! If you'd like to fix up the draft, help flesh it out, please — dive in.
---
---
This newsletter is made possible by members of SPECIAL PROJECTS. If you enjoy Ridgeline, consider joining. Thanks.

---
Fellow Walkers
"I wouldn't call myself a walker, but I'd like to become one. The solitude is what I'm after: I can probably count on one hand the times I've walked and not had a podcast playing in my ear. I'm trying to change that, seeking bits of quiet every day. I feel like I fail at it every day. I'll keep trying."
"Did I ever have a shell? We moved frequently when I was a kid, always the outsider at a new school just wanting to fit in. A latchkey kid, left to wander and explore neighborhoods and cities, learning about the world on my own. Now I embrace being an outsider, still wandering, exploring, learning."
---
("Fellow Walkers" are short bios of the other folks subscribed to this newsletter. In Ridgeline 001 I asked: "What shell were you torn from?" and got hundreds of responses. We're working our way through them over the year. You're an amazing, diverse crew. Grateful to be walking with you all. Feel free to send one in if you haven't already.)
Not subscribed to Ridgeline?

(A weekly letter on walking in Japan)