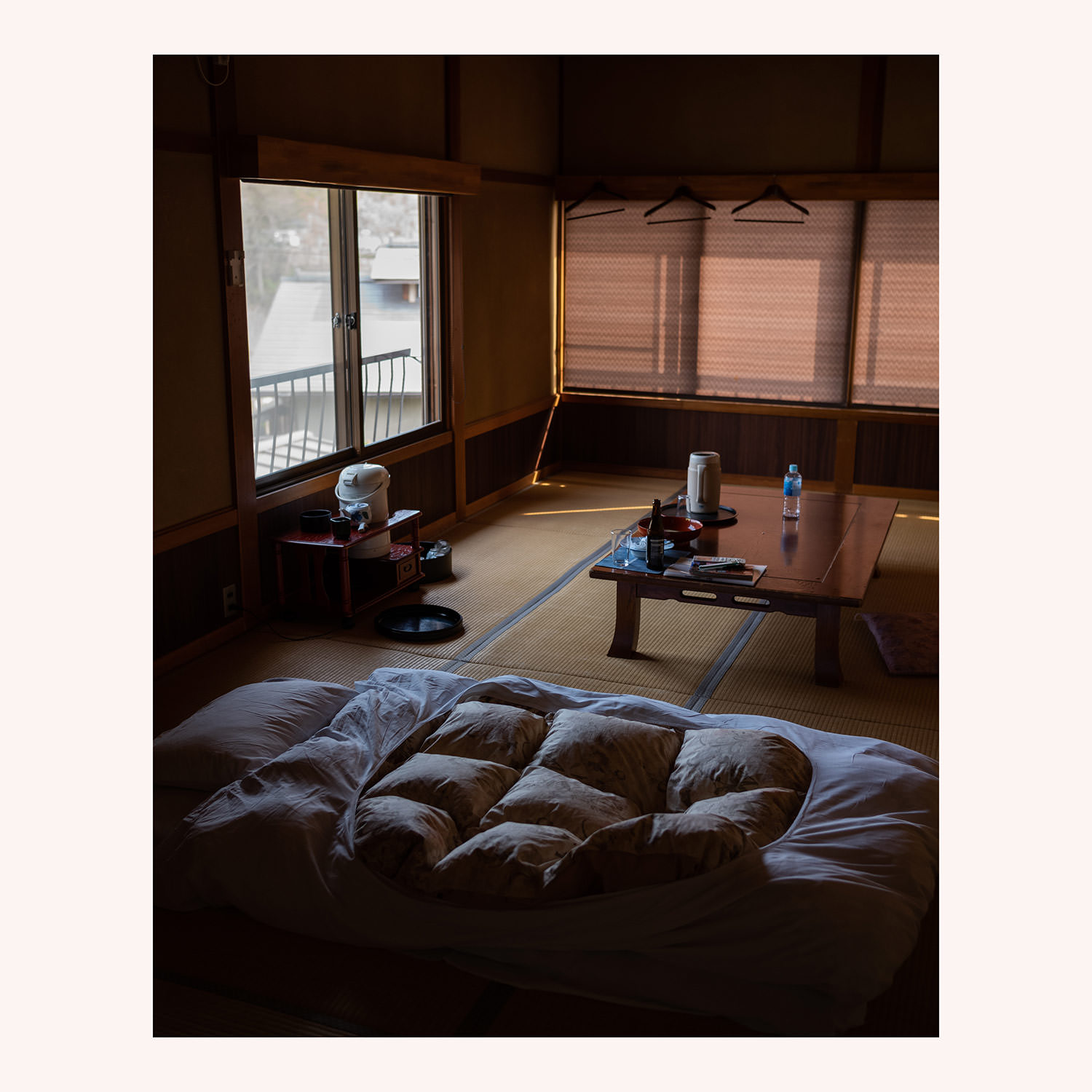 A Review of Beds — Part 1
On my long walk this past spring, I took photos of most of my beds. I'd wake, roll out of the (usually) futon, and snap a shot in the morning light. I featured these in a recent Roden and thought I'd further expound upon them as, you know, objects of necessity and tokens of rejuvenation.
Here are some of my walk beds:
---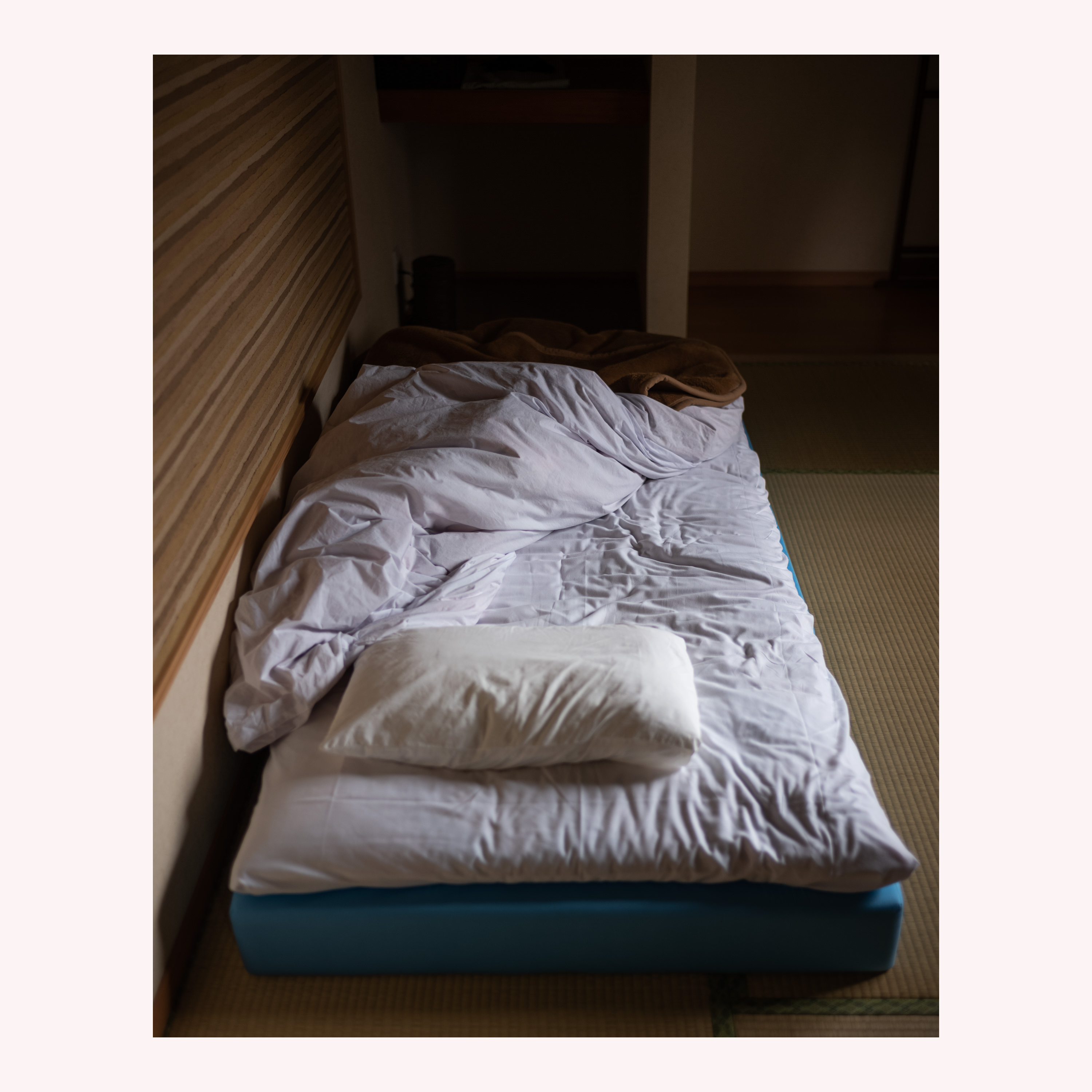 An excellent inn. A very good bed. A mattress and atop the mattress a sturdy futon. Clean, crisp sheets. Confident — that is what I felt in this bed. I felt confident. I believed in the goodness of the world and the possibility for pride in hard work. I believed in the ability for Homo sapiens to transcend our base impulses, to illuminate all recondite corners of the world. The room was clean, the entire wing, new. The overhead light dimmable and warm, not clinical like a surgeon's spotlight.
In fact, not an "inn" but a "guest house" although nicer than most "inns" on my trip. A guest house just outside of Magome called Motomiya. You must stay. And stay in the corner room on the second floor. Sleep in this bed. The dinner is just perfect: Refined Japanese without any pretense. The voluble and dazzling woman who runs the inn has excellent taste in all matters culinary and hospitality. Nota bene: They serve toast and eggs for breakfast. We appreciate the toast and eggs.
The son of the woman who runs the guest house also runs a nearby shop: HillyBilly Coffee Company — perhaps the only third-wave coffee shop on the Nakasendo. Go. Swill the brown nectar, etcetera.
Bed rating: A++
---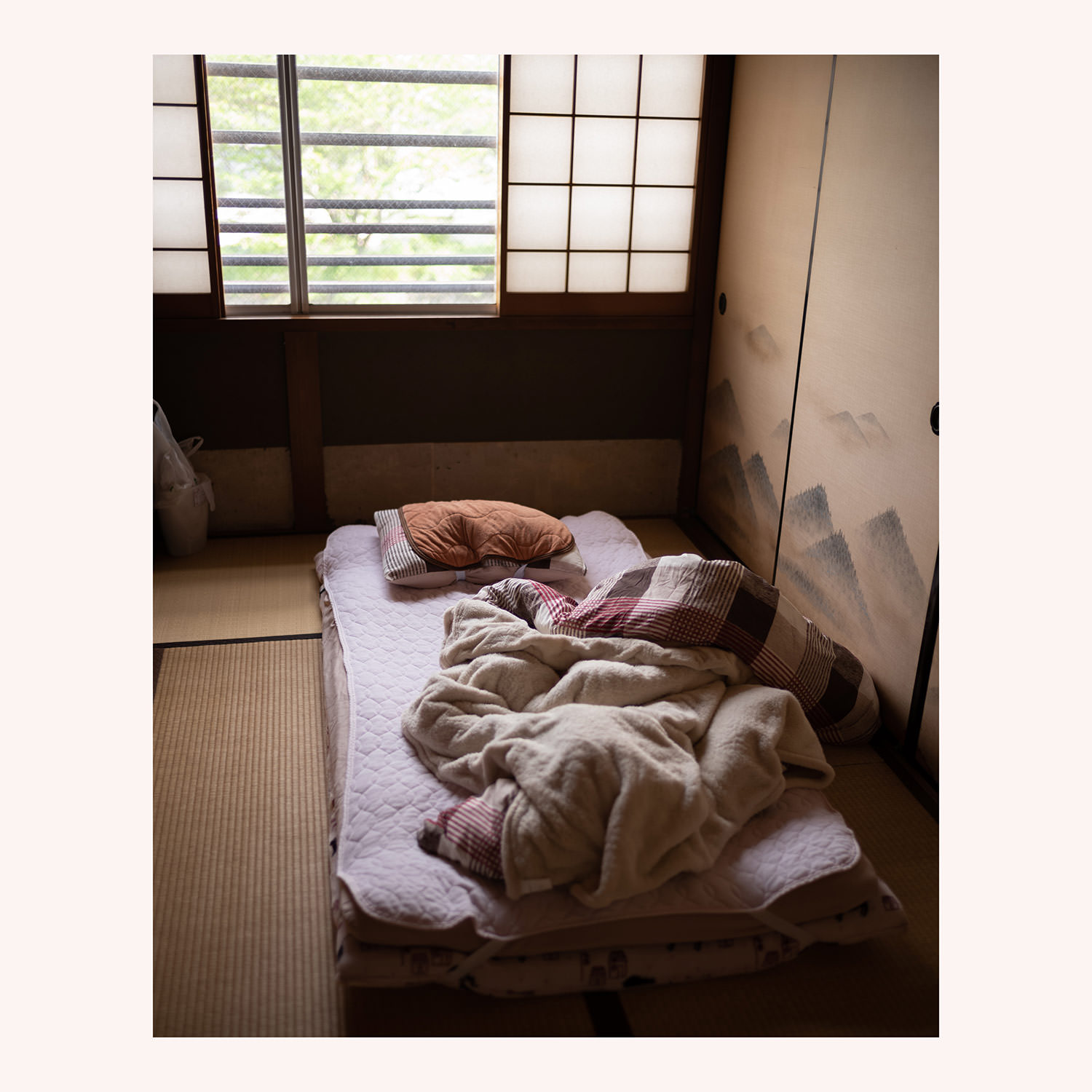 Another guest house. This one truly of the "guest house" spirit. The bed had no standard bedspread. Just that woven pad. Like for a baby or the elderly. "Am I missing a sheet?" you may think. No, you are not missing a sheet. This is simply how this guest house rolls. They are avant-garde in their bedding. Do not question their mysterious, hygiene-dubious ways. The room cozy. The walls, paper. The other guests that night: young rock climbers. Guzzling beers and noshing potato chips. Some collegiate hierarchy at play; certain young men having to drink more than other young men. All young. Me, the insane foreigner who walked from two hundred kilometers away. At night, a white noise machine to drown out the youthful joy.
Bed rating: C+
---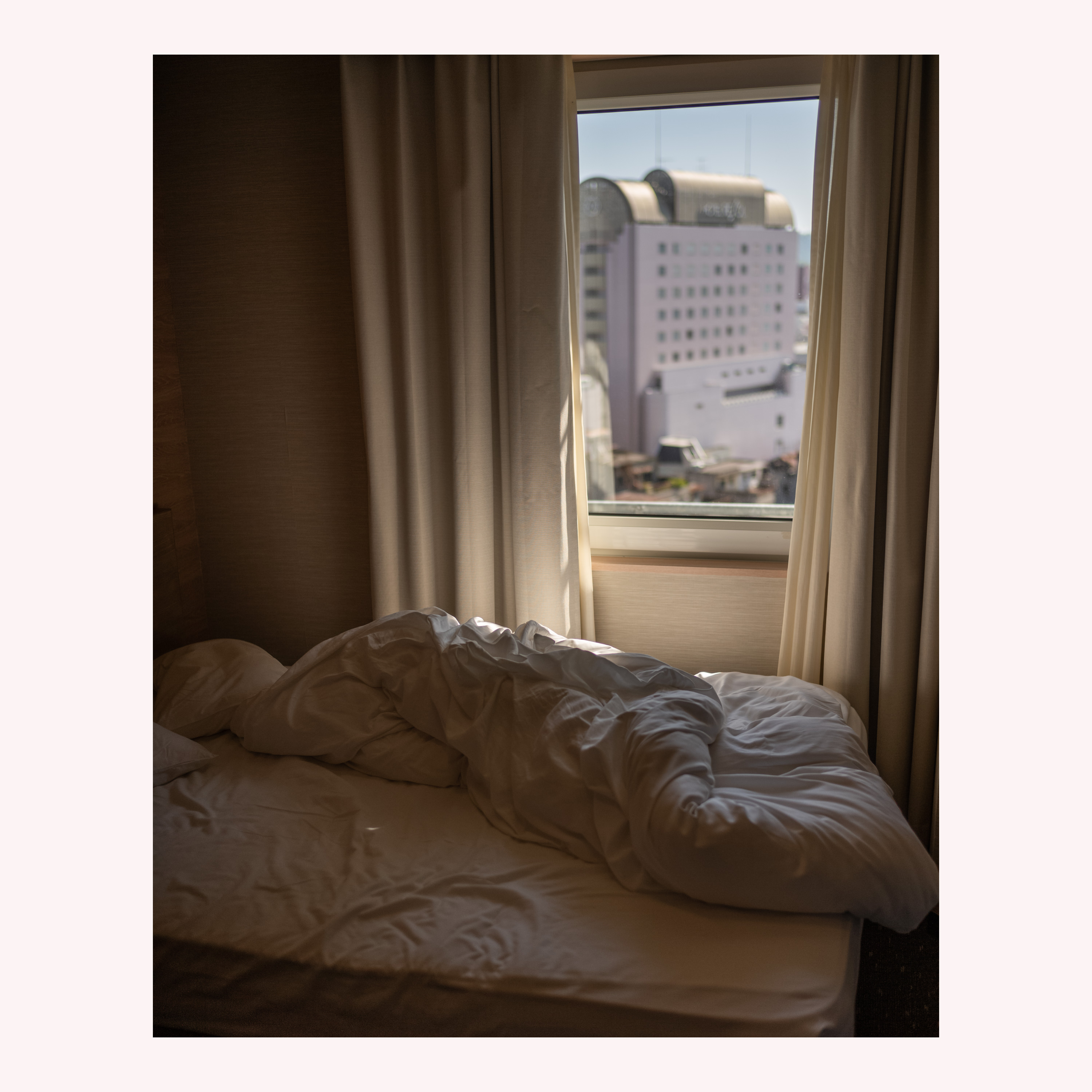 Dormy Inn. A so-called business hotel. This one in front of Gifu station. Opulent. Like a Ritz Carlton, made tiny. This was by far the best "business hotel" I stayed at, and this bed, the nicest of them all.
I came to love both the notion and reality of the "business hotel," admire it, revere it. The business hotel is dependable, stable, a rock. It is an always-there-when-needed partner.
A story:
On the fourth day of my walk I escaped a badly run "traditional inn" in the middle of the night. My room smelled of urine and was home to many small flies. Try as I might, easy sleep would not come given this configuration. But I was exhausted. Had walked 42 kilometers that day. When I first saw the room I simply resigned myself to it. I went to a nearby Denny's to work. The Denny's was full. I got the last seat and worked as the Denny's roared around me; the most hopping Denny's in the middle of nowhere.
But then I returned to the lodge, and when I opened the tiny door to my tiny room, the urine smell buckled my knees. I checked Google Maps. Nearby? A business hotel. I wrote the kidney-inspired inn a note, in Japanese: "My legs, they are so tired. I cannot possibly sleep atop tatami. I am going to find a bed." I placed the ¥6,000 payment and note on the lobby counter. Nobody was there. They had long since given up. Big pack slung over one shoulder, I slid open the wooden entryway doors and was suddenly filled with a strange electric excitement, a lightness to my step — like I had executed a cheat code. I giggled my way to the business hotel in the middle of the night, just five minutes walk away.
You may judge me and think: Why did you not admonish the stinky inn? Why did you not "chew them out" and "put them in their place." Because they were lost. They were done. They had no verve or gusto left. It was a sad situation, a sad family, a sad entryway, a sad bath, and a sad bed. Even the flies seemed sad. And laying into them would do one thing and one thing only: Leave negativity in my wake. That was not my intent. This was a walk of optimism. I chose my battles on the walk. And those battle were mostly hurling obscenities at reckless drivers. This inn of sadness was not an enemy, they were simply to be pitied.
And anyway, life was good: a business hotel awaited my arrival. It was exactly as expected. A tiny box, the configuration of which was certain: bed, desk, air filter / humidifier, mold-free unit-bath, Washlet, starched sleets, bleached towels, a single window that opens about six centimeters. I slept well, deeply, regenerated, partook in their simple breakfast buffet with the other Single Males in the middle of nowhere staying, for whatever varied and perhaps despairing reasons, in the cradle of the warmth and dependability that is the business hotel.
Dormy Inn, Gifu, bed rating: A
Most other business hotel beds: B+
Pee-pee Inn: F+
Until next week,
C
---
Your gentle weekly reminder: This newsletter is made possible by members of SPECIAL PROJECTS. If you're enjoying it, consider joining. Thanks.

---
Fellow Walkers
"I grew up in a small town in Portugal's hilly countryside. My bedroom window looked out to the Estrela mountains and scrawny pine trees. Each morning, as sunrays conquered the peak they filtered through a malfunctioning blinder and broke into my bedroom, messengers of chilly winter mornings or scorching summer days. I walked alone among the pine trees since I was four. The pines are long since gone, through fire and chainsaw. I left for Lisbon first, and then for Montréal. New forests and mountains beckon in Canada, but I do not walk alone anymore."
"i'm here, from this earth, a sum of parts from my momma and from the dirt i scoop and then let fall through my fingers. in trying to not blow off an unspeakably beautiful tahoe mountaintop on sunday, i knew… here. here is where i'm from, where i should be, and where i'll return."
"Cosmopolitan Los Angeles that felt strangely Japanese when I was young. Lots of Japanese stores in Japanese neighborhoods. Lots of Japanese restaurants to boot. My grandparents chattering in Japanese for atmosphere. Sad now. The vast majority of those places are all gone, swallowed up by 'progress.' There are a few remnants today but nothing like when I was a child."
---
("Fellow Walkers" are short bios of the other folks subscribed to this newsletter. In Ridgeline 001 I asked: "What shell were you torn from?" and got hundreds of responses. We're working our way through them over the year. You're an amazing, diverse crew. Grateful to be walking with you all. Feel free to send one in if you haven't already.)
Not subscribed to Ridgeline?

(A weekly letter on walking in Japan)