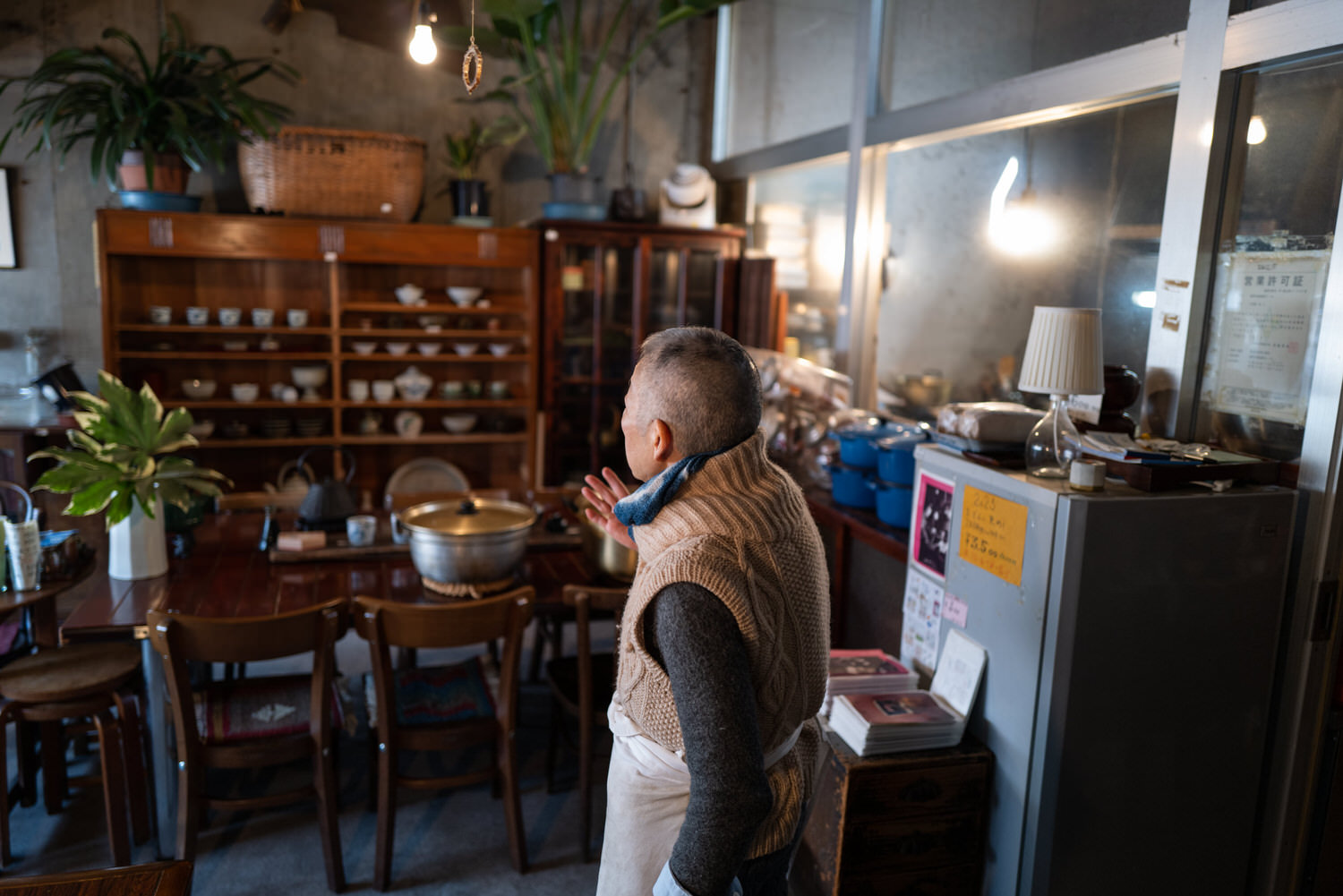 I have a new New York Times piece out. I also just published a big behind the scenes writeup over in Roden. Head over there for the breakdown on the events of the last month.
Here, on Ridgeline, I want to feature some of the wonderful people I met walking around Morioka two weeks ago. I recommend clicking through and reading this on the web, since the photos will look much better there.
---
Kufuya
First, there are the impossibly cool Kumiko Hirai and Yoji Odawara of Kufuya, a katei ryori restaurant in operation since 1984, making food using 95% local ingredients (olive oils, etc they get from elsewhere). Amazing lunches in a beautifully appointed, exposed concrete shop close to Booknerd and Clammbon. Fabulous energy, amazing space, delicious food, with views of Kami-no-hashi Bridge. I am a fan of it all.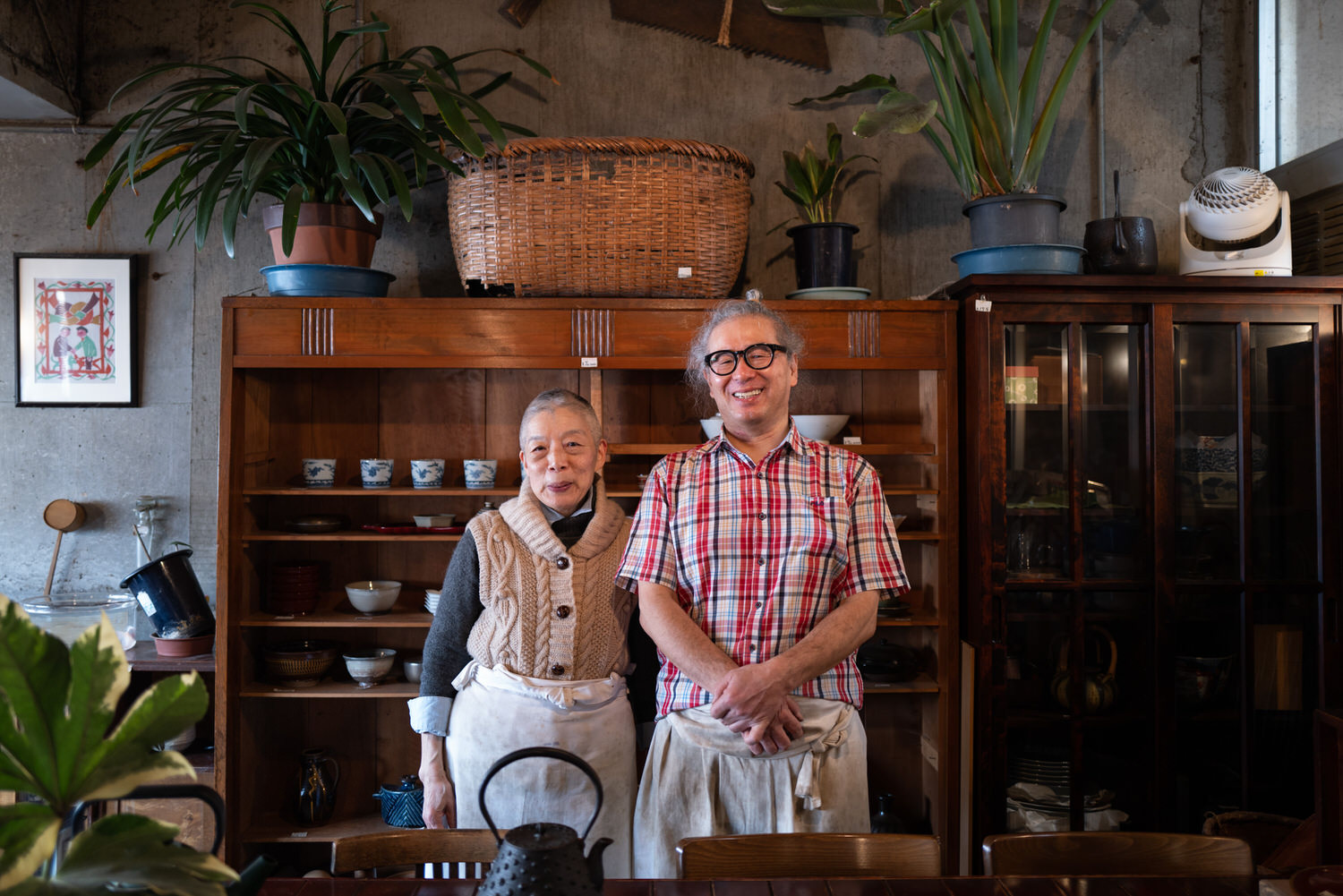 ---
Clammbon
Kissa Clammbon has been in its current location in Konyacho since 1986, but was in operation nearby for ten years before that. Founded by Masaaki Takahashi, the shop is now overseen by his daughter, Mana. Masaaki passed away in 2019 from cancer.
The walls of Clammbon are covered in coffee sacks, now pleasingly patina'd after nearly 40 years of roasting and tobacco smoke.
Clammbon was beloved by Japanese musician Hosono Haruomi of YMO and Happy End fame. He used to stop by whenever he was in town. Loved Masaaki. Made sure to come back to say goodbye when he found out he was dying of cancer.
Mana, as I quote in the Times article, told me: "I want you to come back in 30 years. You'll see me as an old woman hand roasting beans in the corner."
Here she is holding a photo of her father: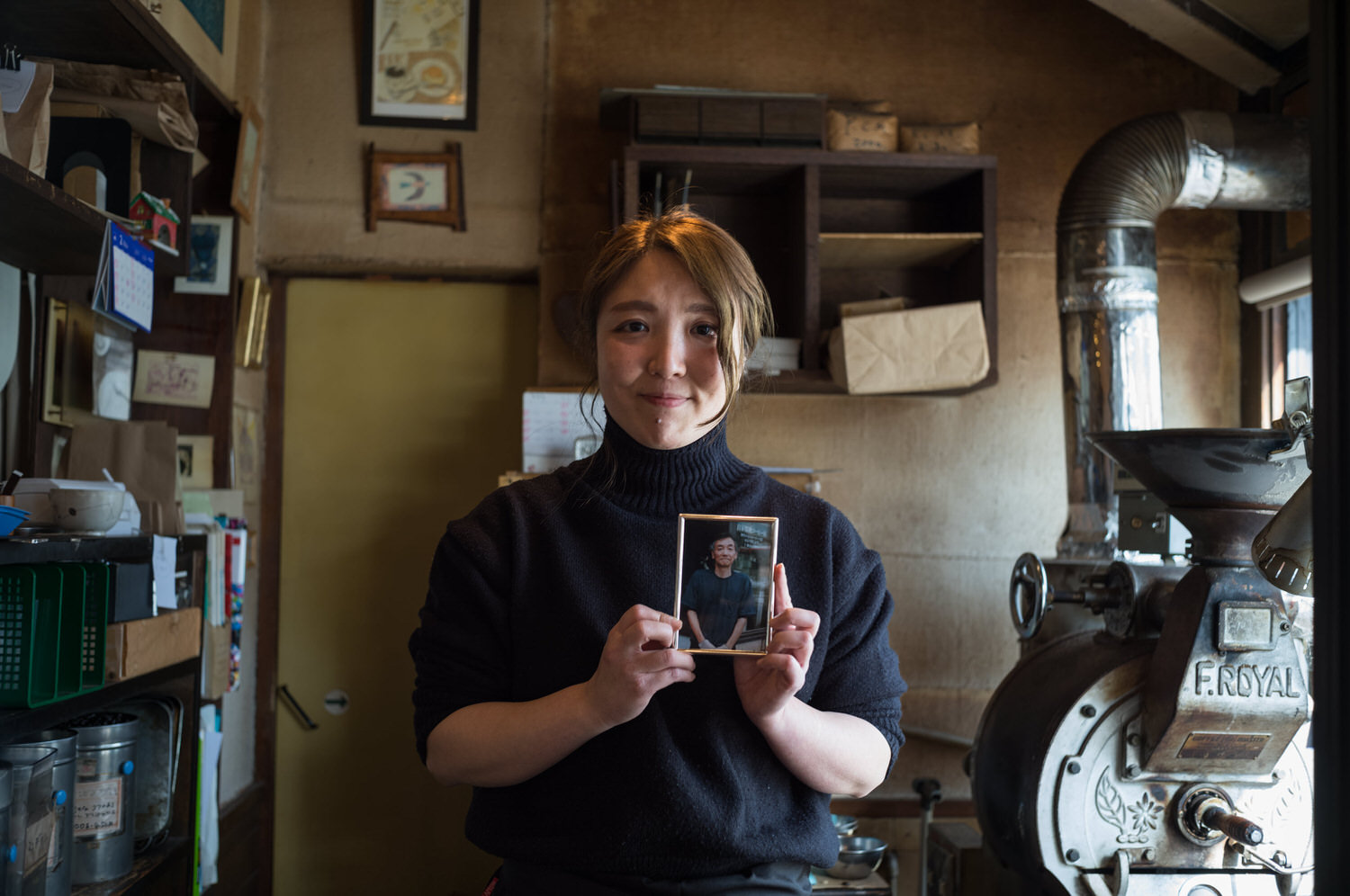 The love — for both her father and the shop — was palpable. She said she had planned on returning to Morioka since she first left for university down in Kanto. She loved the neighborhood, the river, the people. She knew she'd be back.
I passed by the shop one evening on my trip just after closing time. Appearing as soft shadows on golden drawn curtains, I heard Mana and one of her staff laughing up a storm. It sounded like as lovely a place to be as any.
Here's the shop's gorgeous window-side roasting setup: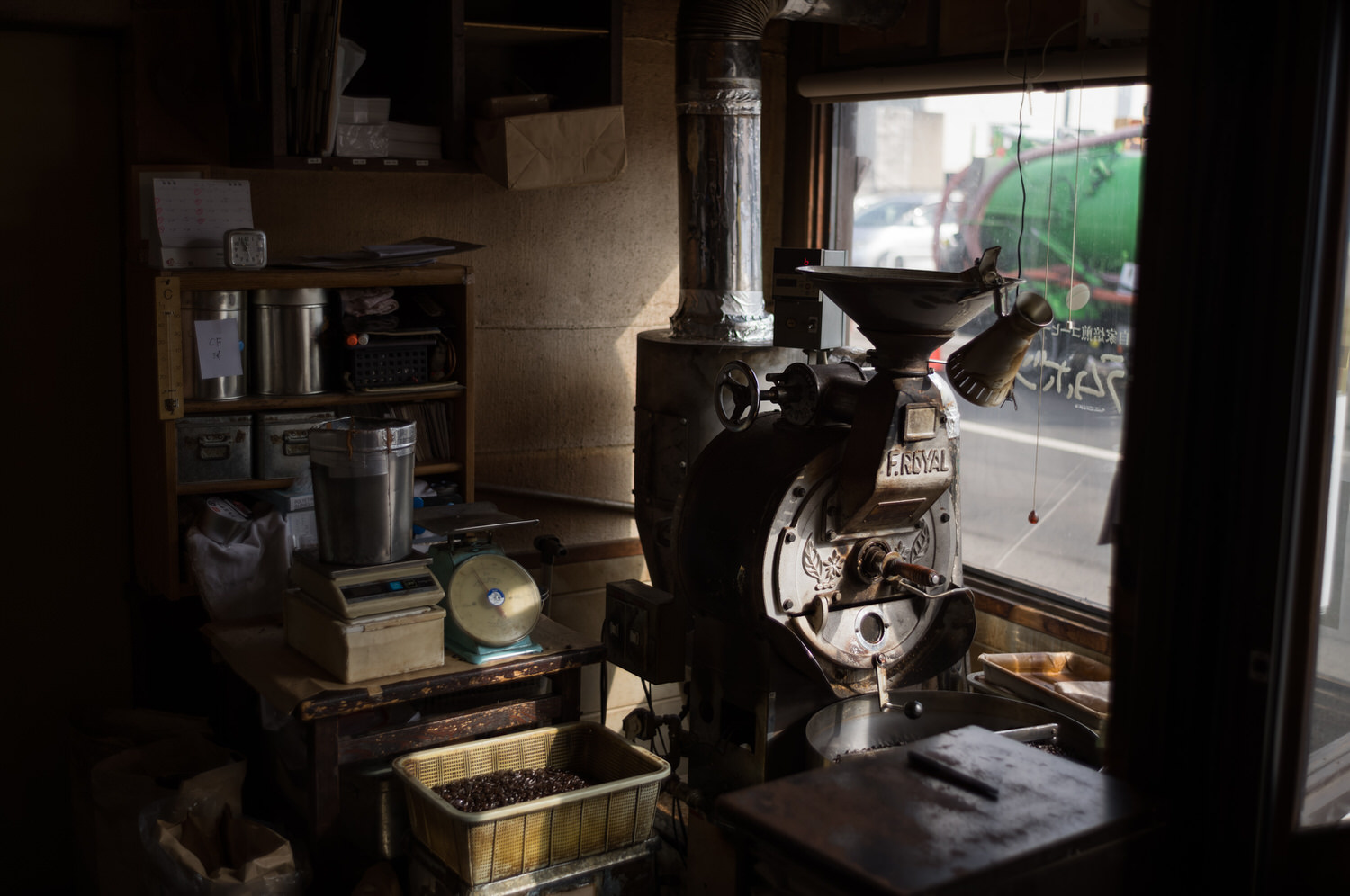 ---
Hataya
Continuing on in the pantheon of father-daughter kissaten, we have Hataya. From the Times piece:
Hataya, a stalwart Morioka kissaten — a midcentury Japanese-style coffee shop — thrummed with business. By chance, the owner Motohiro Seki's daughter, Yoshino, 25, was visiting. She currently works at Maruyama Coffee in Tokyo. I asked if she planned to move back to Morioka someday. "Absolutely," she said.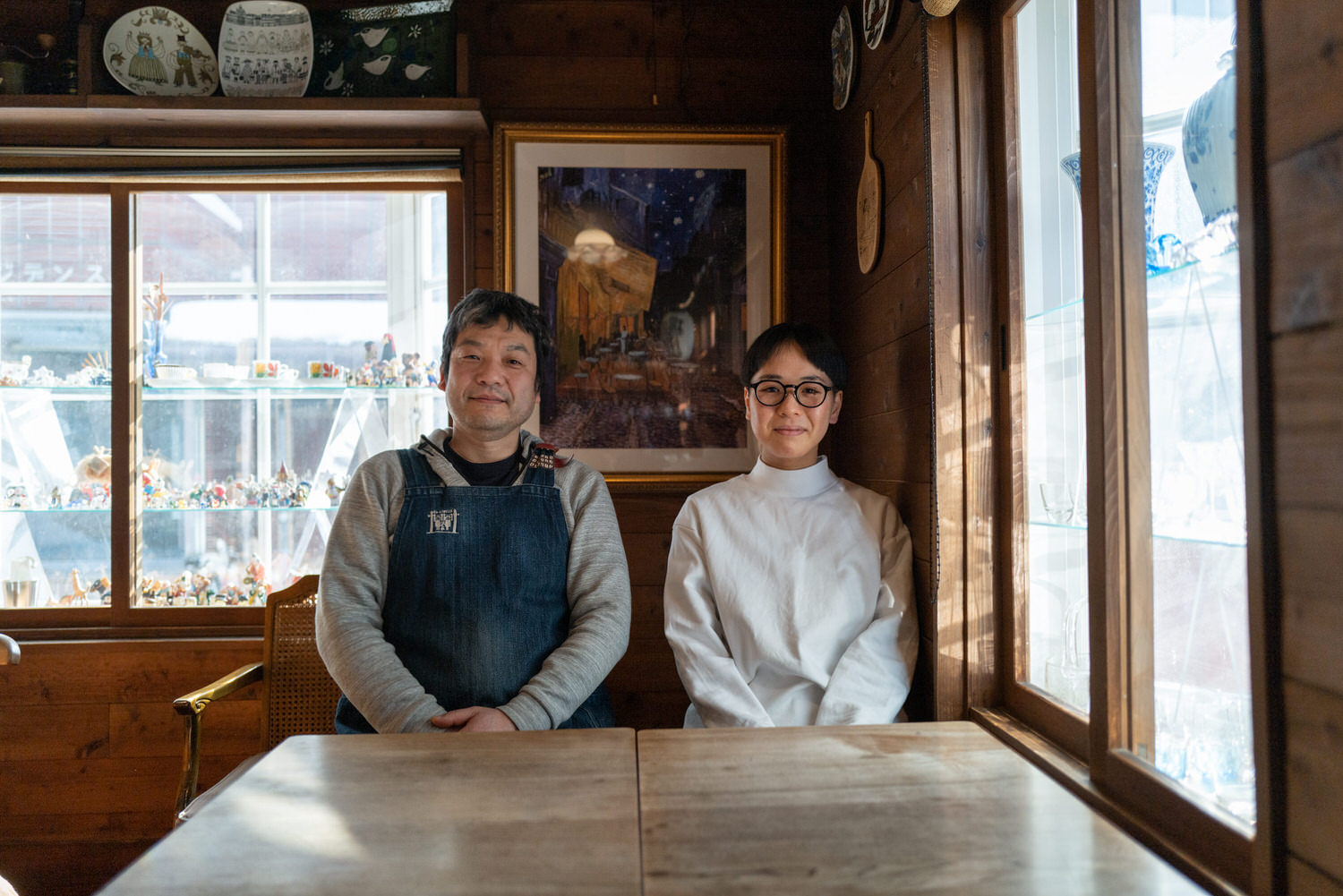 Yoshino possessed a truly impressive confidence and clarity. She was into coffee. She was going to master coffee. She was very much into espresso, but also respected her father's classic cloth-drip style. She said she wanted to keep Hataya as it was, but open another shop and experiment. I believed she would do all that and more.
I had some excellent scones and a cup of the house blend: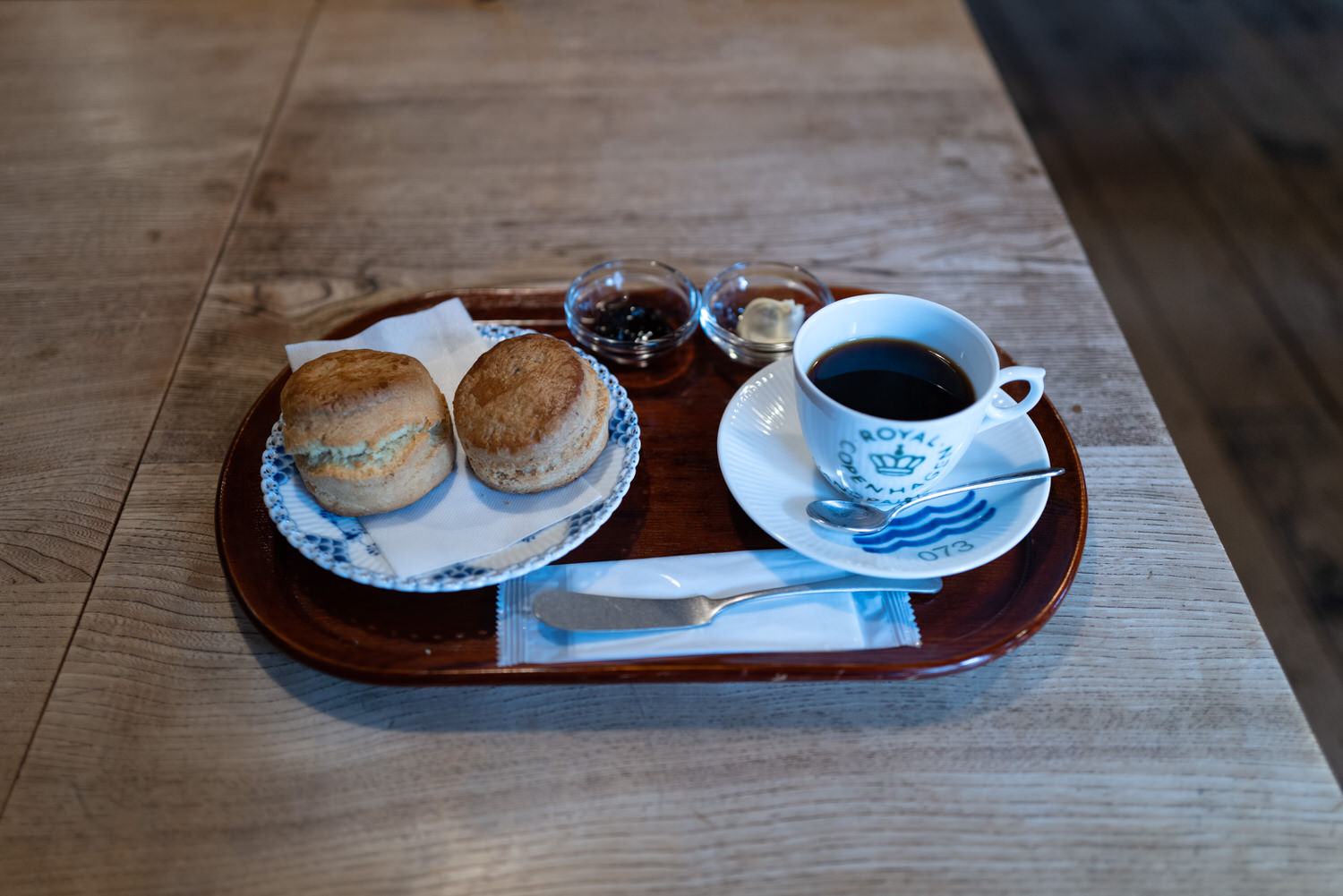 But then Seki-san and I got chatting. I noticed they had "old" beans on the menu. Like the 1948 Coffee de l'ambre shop in Ginza? Indeed. Fully inspired by l'ambre and the old kissa of Tokyo. In fact, Seki-san pulled out a kind of abbreviated map of the history / genealogy of cloth drip coffee in Japan: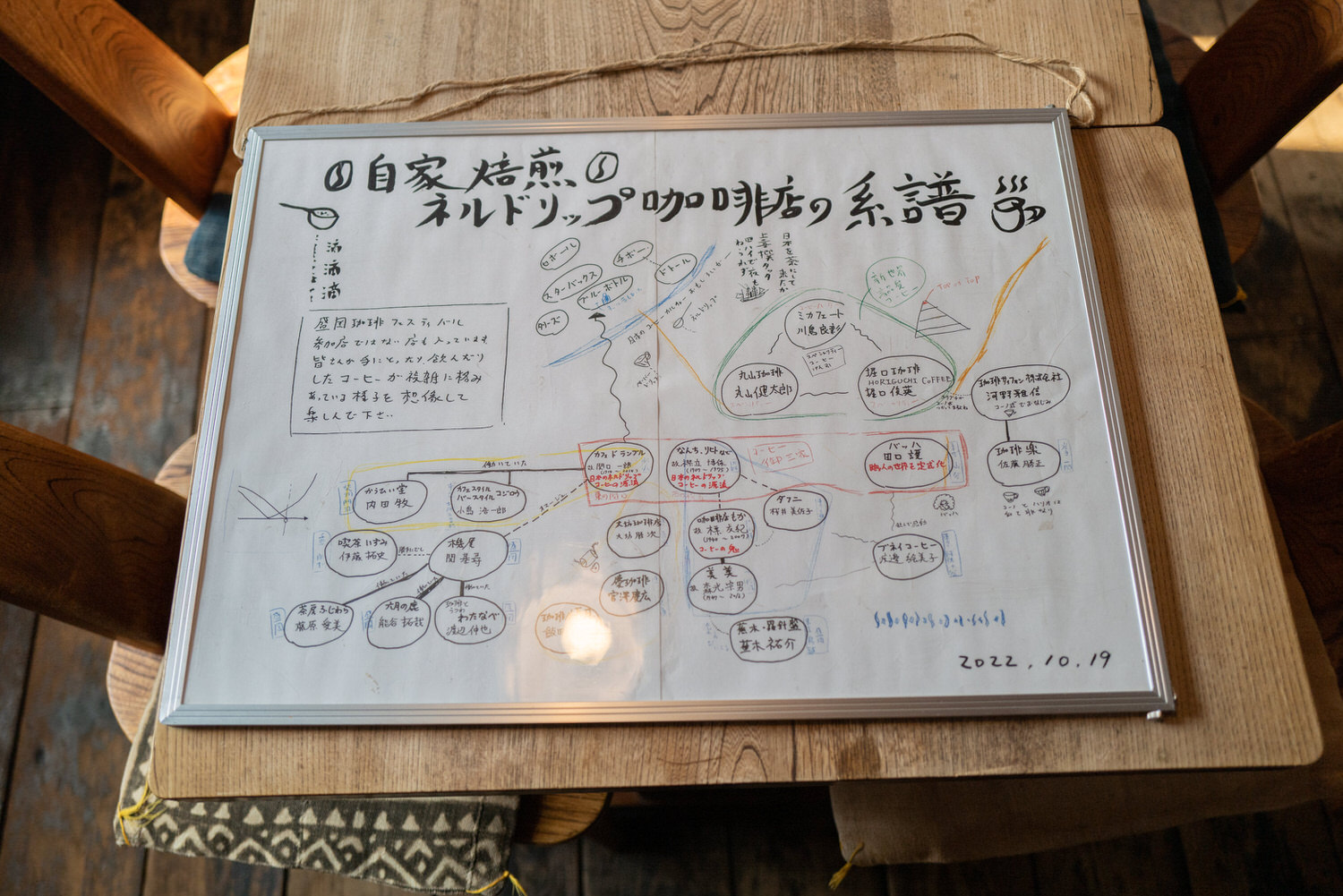 He was adamant to point out where he fit in, how many sets of shoulders his shop stood upon and next to and below. Hataya was not an island, it was a coffee shop in conversation with all these other coffee shops, and please, he implored, remember to write this if you write about Hataya. (This much history didn't fit into the Times piece, but I'm putting it here!)
I asked which old beans I should try. He said, Have you had Yemen from 1993? No, I had not had Yemen from 1993. This is my favorite coffee of all time, he said. We only open this jar once every five or ten years. Let me make you a cup from these beans.
How could I say no? He prepared the drink. 20 grams of coffee in a soaked cloth filter, hand held above a small copper (?) pan, dripped drop by drop, 80 grams out demitasse style (to compare: when I do coffee at home I do 15g in, 250g out), then reheated over a flame (the drip process takes so long it had gone cold), finally poured into some Danish porcelain.
Now, did I expect this coffee to be good? I expected it to be fine. I've had old beans at l'ambre and they've been OK, but I've never been an "old bean maniac." So when I took a sip and found a beautifully complex, thick, meaty, sweet, slightly floral liquid (with, sure, hints of fermentation) slosh over my tongue, my eyes went wide. I took another sip. Was this one of the best cups of coffee I had ever had? Possibly. (Also, it was also ¥1,200. (And yes, I gladly paid!))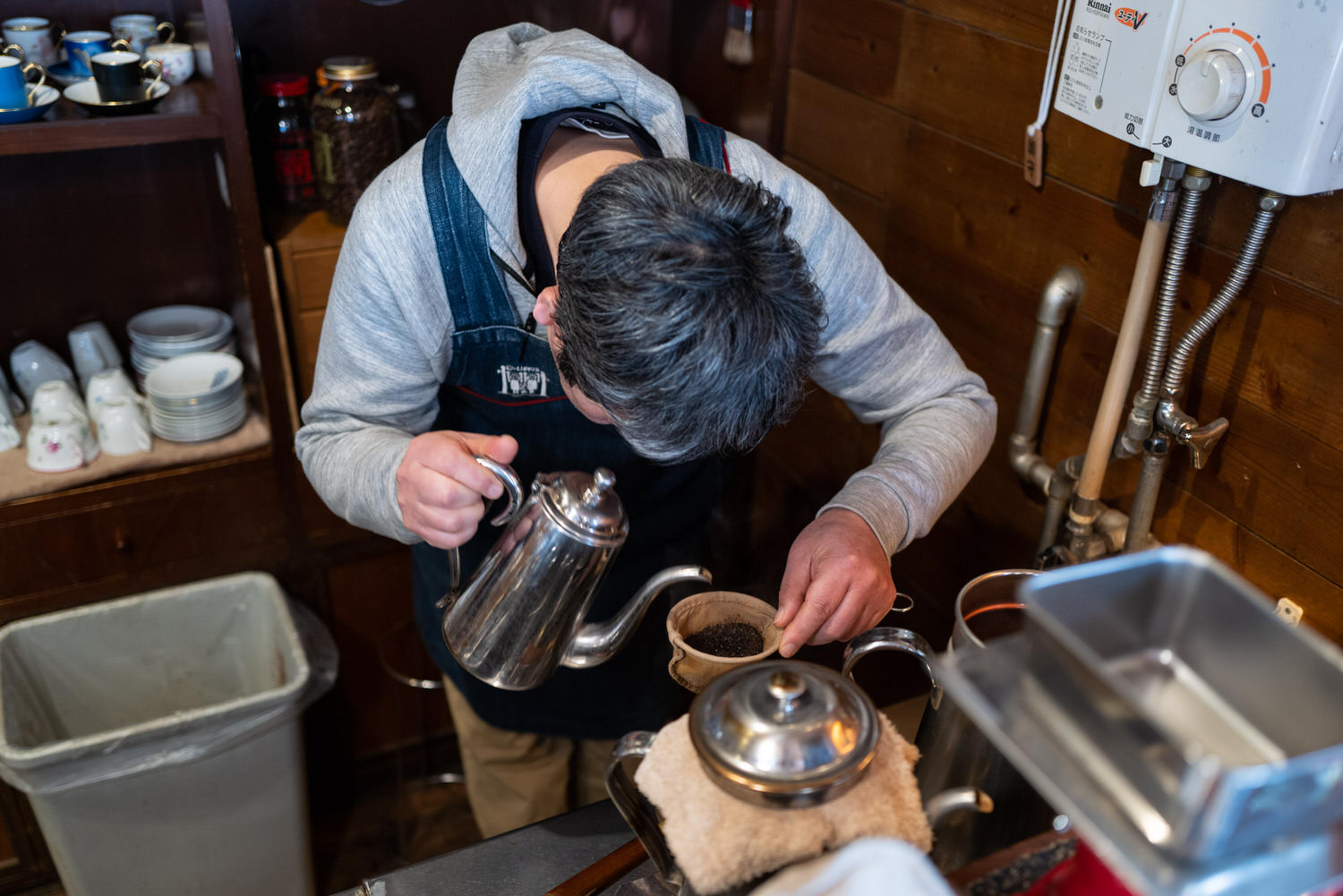 ---
Nagasawa Coffeee
I swung back to see how Kazuhiro Nagasawa of Nagasawa Coffee was doing. He was busy! Photo shoots and video shoots, and new collaborations with artists. He told me his online sales had shot up 10x since the original Times piece. His wife was behind the counter, pulling shots alongside the rest of the staff. A third wave shop through and through. The place teemed, I could barely sneak in a few photos with Nagasawa-san himself. As ever, he and his classic Probat looked great.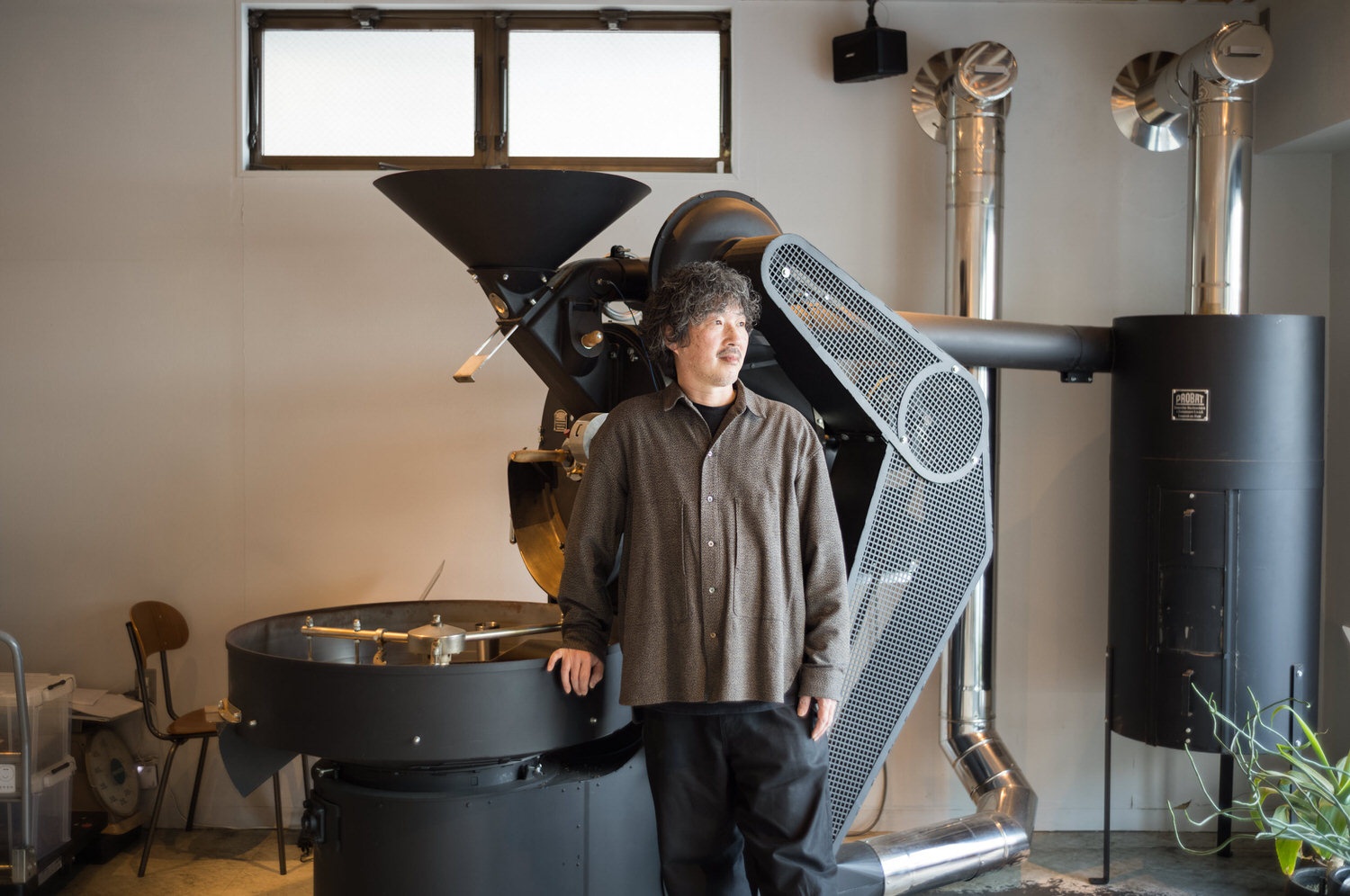 ---
Nakamura Tatami
I walked past Tadashi Nakamura's tatami studio and popped in to chat. He is a sixth-generation weaver (?), 89 years old, the last of his line. He gets up and starts working at four a.m. like his father and grandfather did. He was happy to chat. Loved the attention Morioka was getting but also didn't feel any real changes to his day-to-day life. He goes to a hospital nearby Nagasawa Coffee and walked past to check it out the other day. "Huh," he said, "I had never noticed that place before." He didn't go in. Just peeked from outside.
Tatami is a tough sell these days. Personally, I love tatami. But it is a "living" piece of the home and requires upkeep and maintenance (and vigilant work to keep from molding in the summer) and young folks see it, mainly, as a musty old relic. Apartment owners renting units dislike it because you have to switch them out when tenants change — a non-trivial cost. But it's sad. In my studio I have a tatami room, and it is easily the most beloved and versatile room in my home. It's the guest room, and meditation room. It's the stretching room. It's the lay around and read books room. It's the gaze out at the garden room.
I tried to convince Nakamura-san that tatami would see a resurgence soon. But he's 89, and he just laughed that notion off. Truly, though, it feels like it's primed to be "rediscovered."
I really would love to hear of thriving, young tatami makers out in the wild. (If you know of anyone, please send in their info!)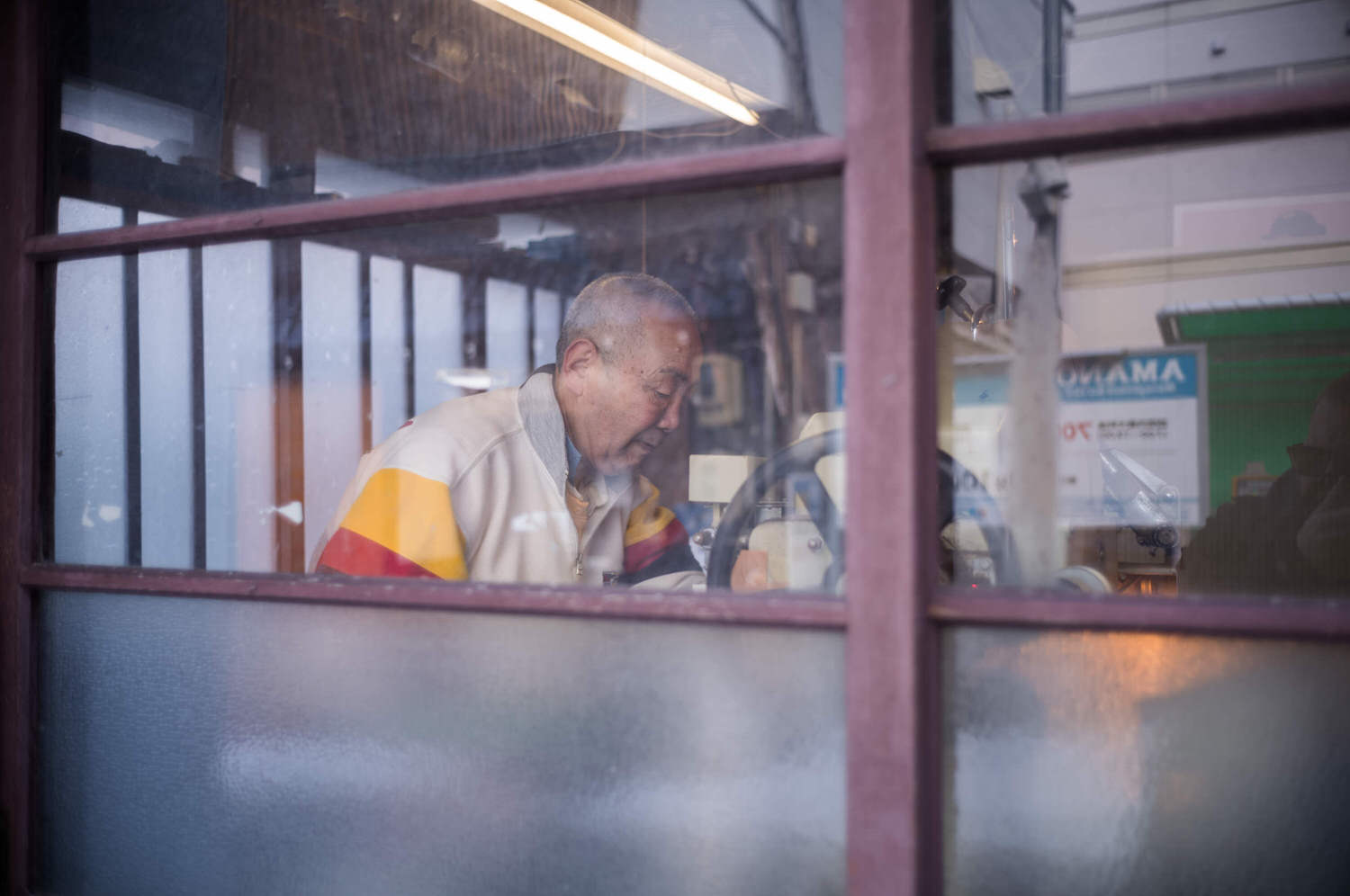 ---
Booknerd
I was grateful to spend a bit of time chatting with Booknerd owner Daisuke Hayasaka. We met up for a coffee and pudding breakfast at Clammbon on my last morning. He showed me a book he recently produced: Coffee, One More Cup (first edition of 500 already sold out). A beautiful little tome in honor of the coffee shops of Morioka. Daisuke was not just a bookshop owner, but also a small press publisher. He said about 40% of his revenue comes from online sales. I love this mix: Brick and mortar for doing events, congregating community, and online for a bit of a revenue boost.
It turned out Hayasaka-san and I had a few friends in common. Famed translator, Motoyuki Shibata has given readings there (is set to give another one at the end of March).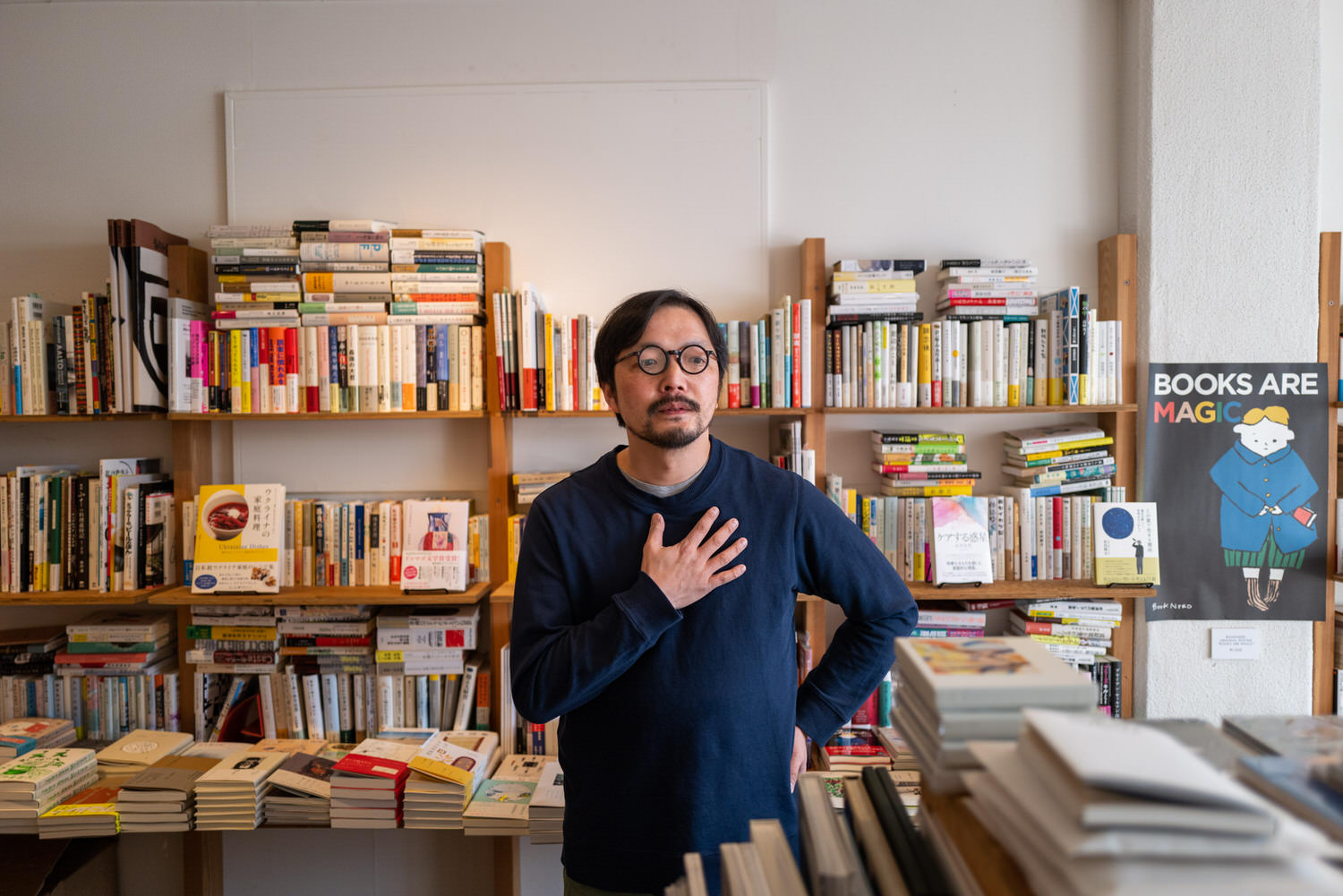 ---
Azumaya
Guiding me through so much of this Morioka adventure was Akihiko Baba, the scion and current managing director of wanko-style soba shop, Azumaya. Through various conversations with folks around town, it was revealed that his father was something of an impresario about Morioka, was deeply involved with youth and community building.
Baba-san himself lived in New York City for ten years from the early '90s to the early '00s. Came back after his father had a heart attack. Took over Azumaya and now runs it with his mother. Baba-san knows everyone, every shop, introduced me to designers and artisans and musicians. Helped me navigate the media frenzy that has typified this past month.
---
Rieber Tea House
I had pizza toast at Rieber Tea House. The downstairs was dark and moody, but the upstairs was awash in beautiful light streaming in from outside. When Chiyoko, the owner, found out who I was, she had me sign a signature panel — one of those big square boards you see in restaurants. She had been running the shop with her husband, who had recently passed. Now it was her and her son behind the counter. Regulars streamed in, thanked her. The location is fabulous. In the "Uchimaru" district of the old castle — a little low-rise neighborhood surrounded by a moat, packed with great shops like Rokugatsu no Shika, Flag Coffee, and jajamen dishing Pairon.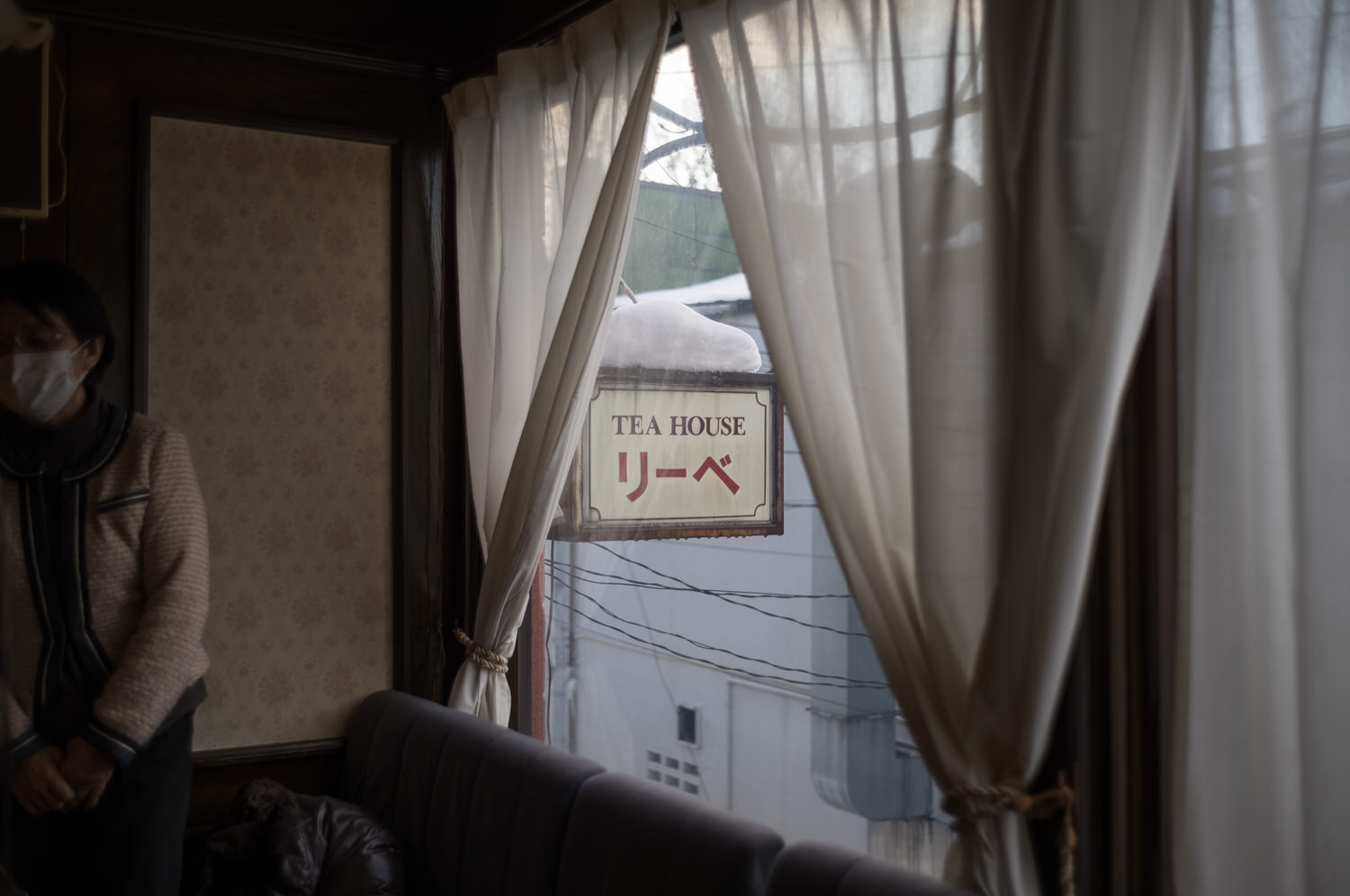 ---
Waltz Coffee
On this last trip to Morioka, I was desperately in need of an oasis, and Waltz Coffee became that very thing. Centrally located, just around the corner from Azumaya, Booknerd, Clammbon, Kufuya, and more, I'd pop in between interviews and meetings to catch my breath and down an espresso or homemade lemonade. Owners Mika and Yoshio Tanaka couldn't have been kinder. They are an analog cafe (no computers allowed), serving up delicious coffee, scones, and other treats. Roasting on site.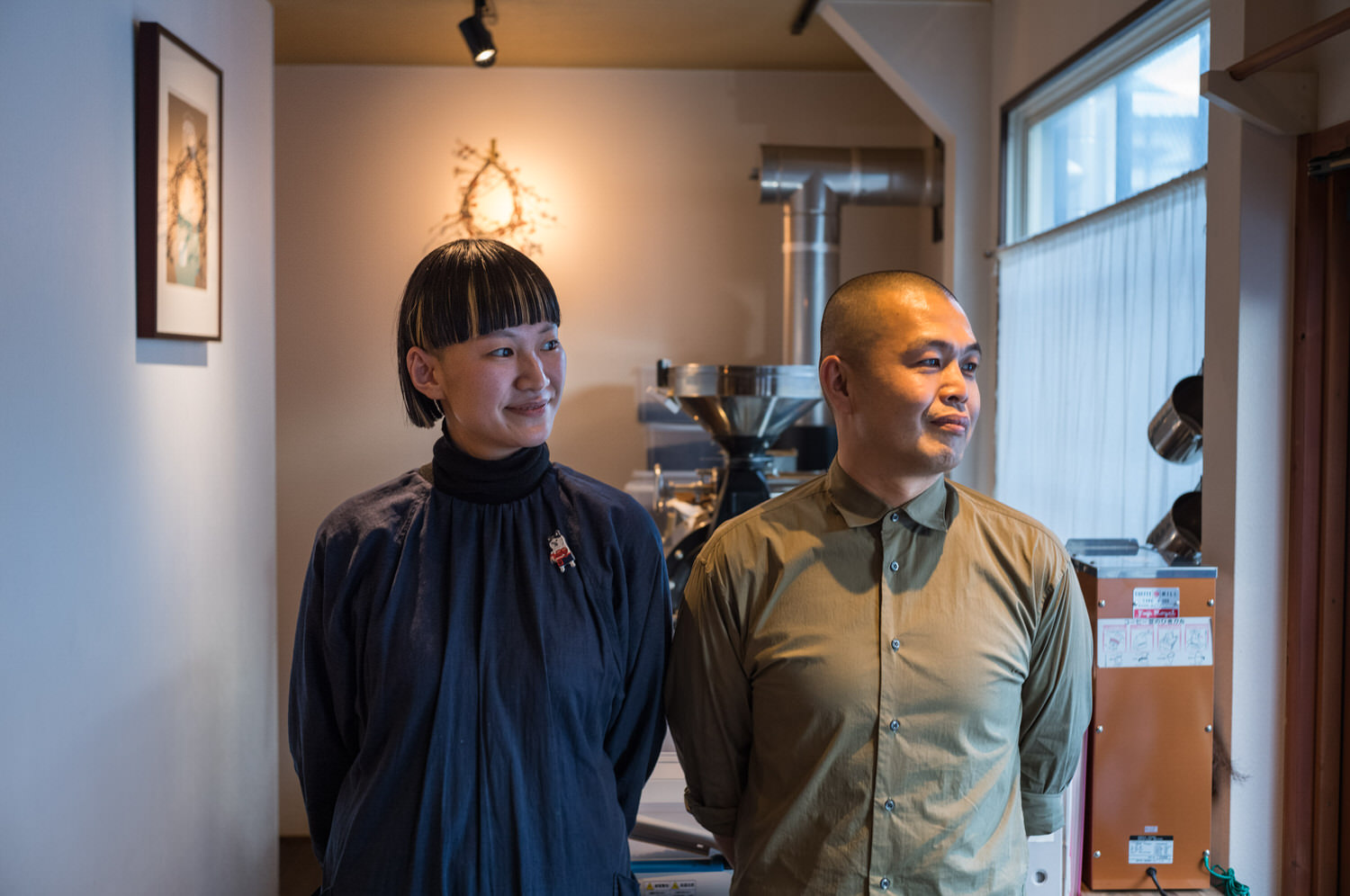 And here they are, back in November 2021 when I first really chatted with them (I had "met" them only in that I had a coffee at their shop on my first visit to Morioka on that afternoon in the spring of 2021):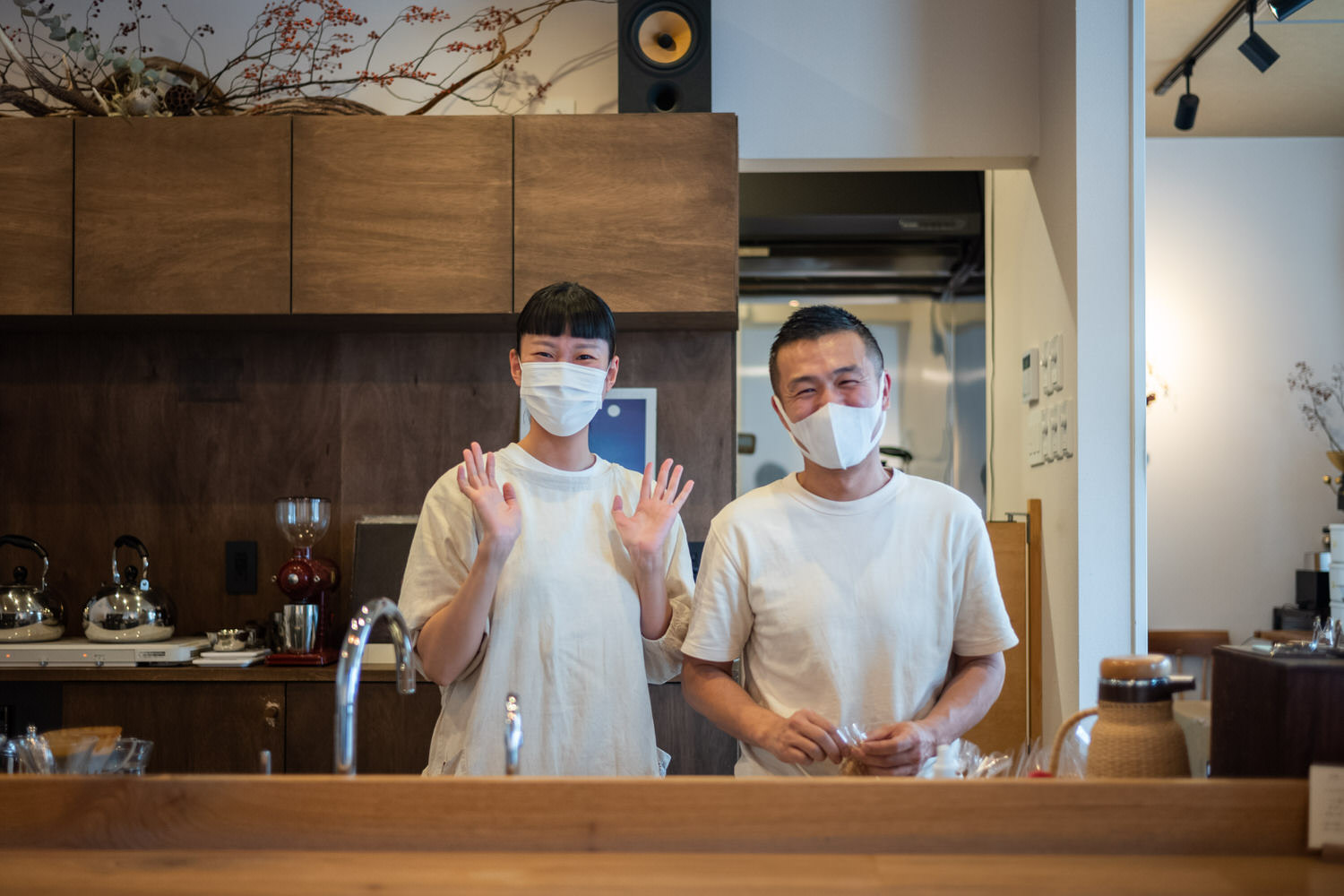 ---
Kaiunbashi no Johnny (aka, Johnny's)
I got the whole crew from "52 Places" together at Johnny's. Terui Ken, the owner, was over the moon: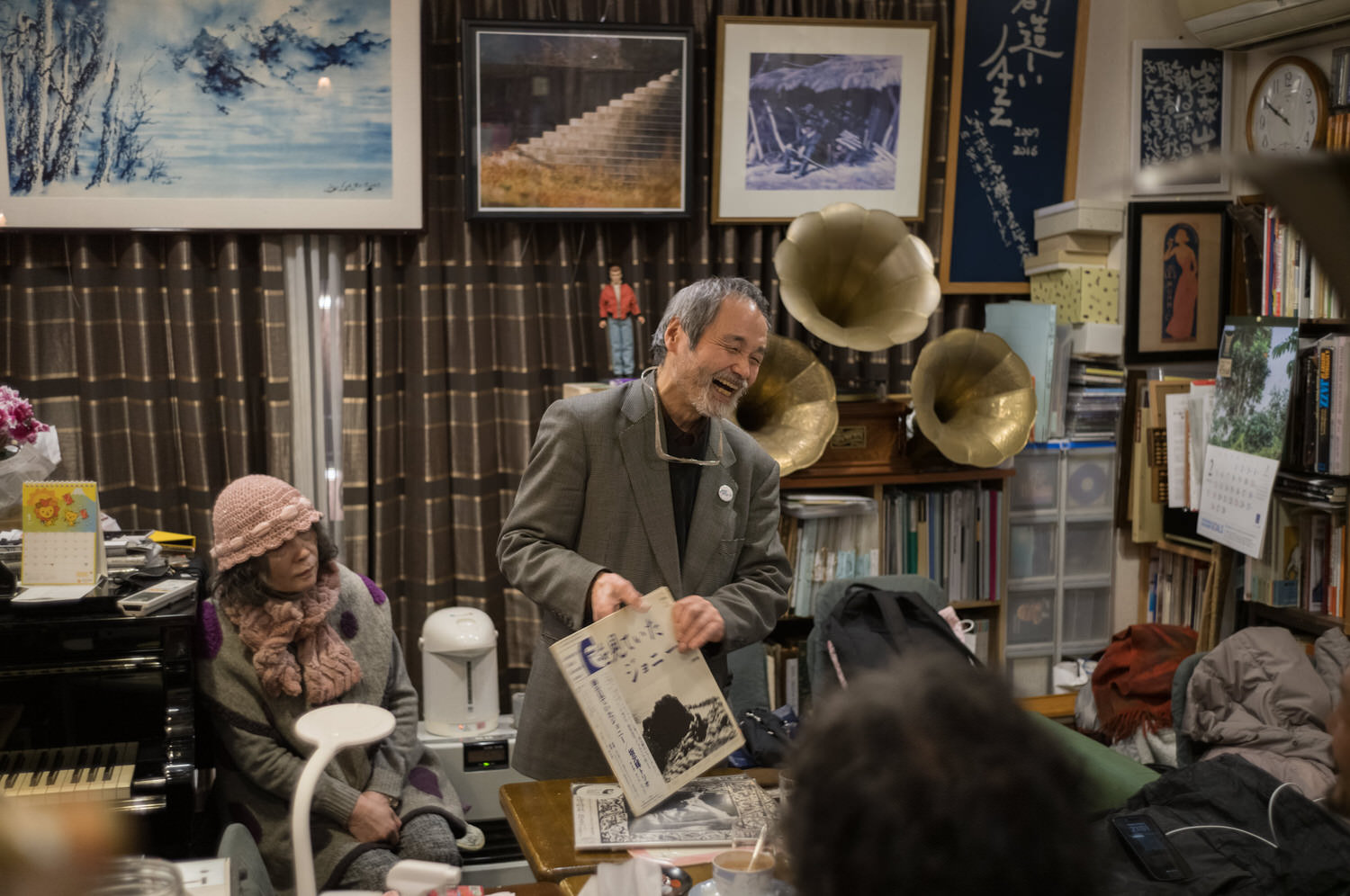 The atmosphere was one of incredulity, of having gone through some very strange journey, together, unexpectedly. Terui-san ran around, put on records, pulled records of the shelf, threw them onto the table and our laps. He had run an influential label in the '80s and told us stories of how this cover photo was shot, or this sequence of songs came to be.
Here we all are: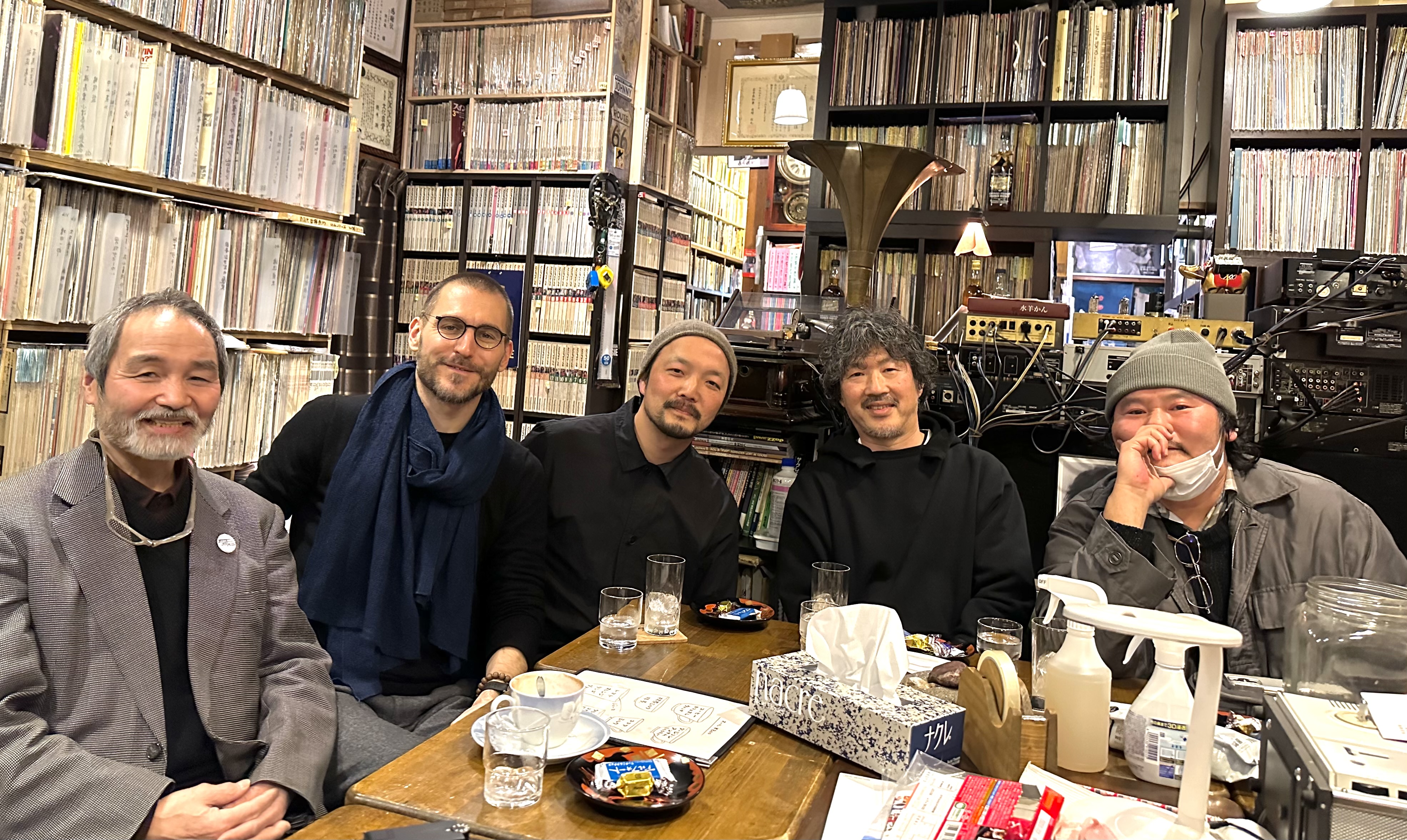 ---
The City, Morioka
On this previous trip I wanted to spend more time walking and photographing the city, but the schedule was unrelenting. That said, I did nab a few details. It's a great place to walk, and given a day or two, you should have a good feel for the overall layout.
I loved the little details and textures and light: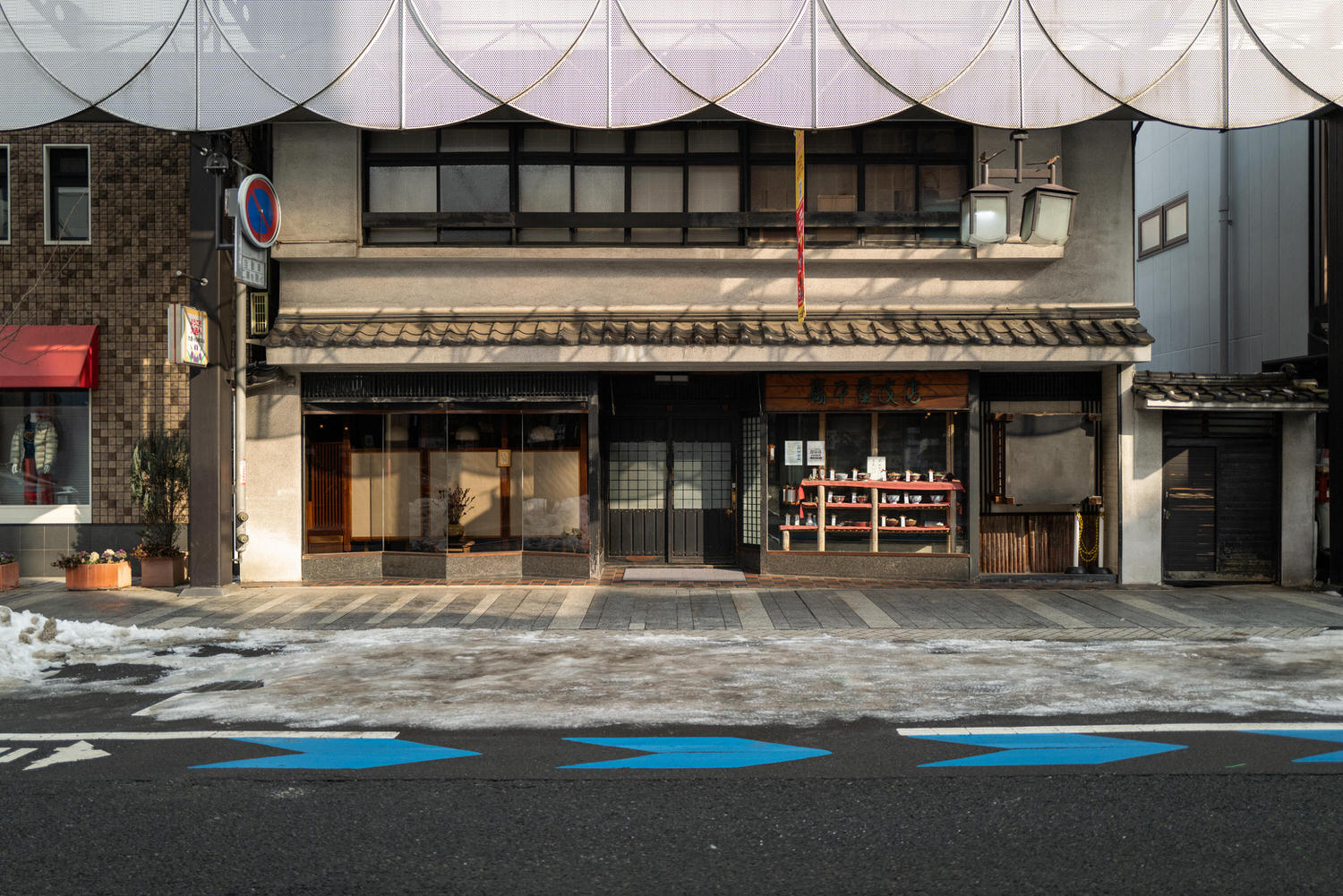 The lampposts by the river: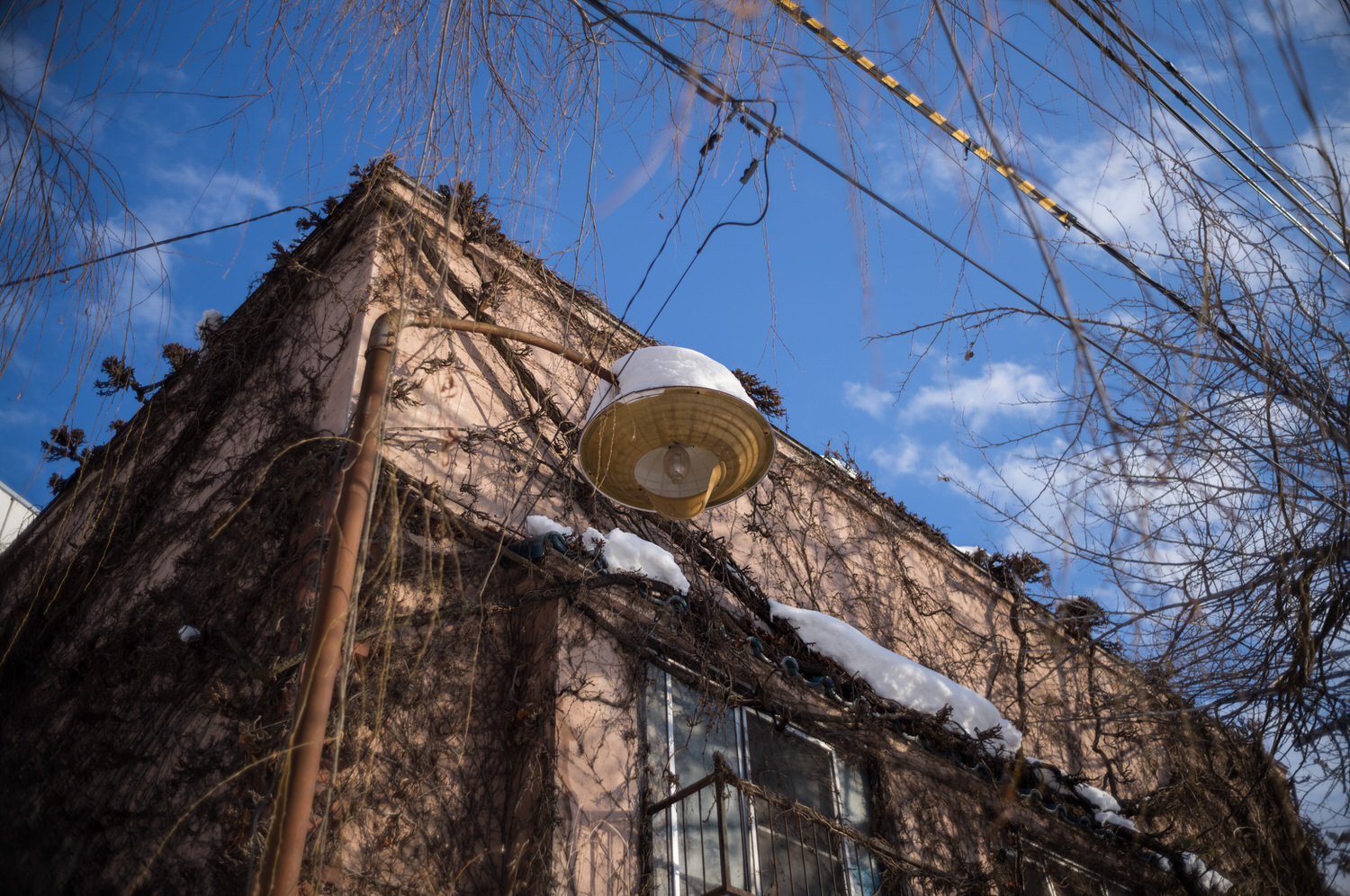 The reveal of buildings around corners, the cross-crossy chaos of the power lines: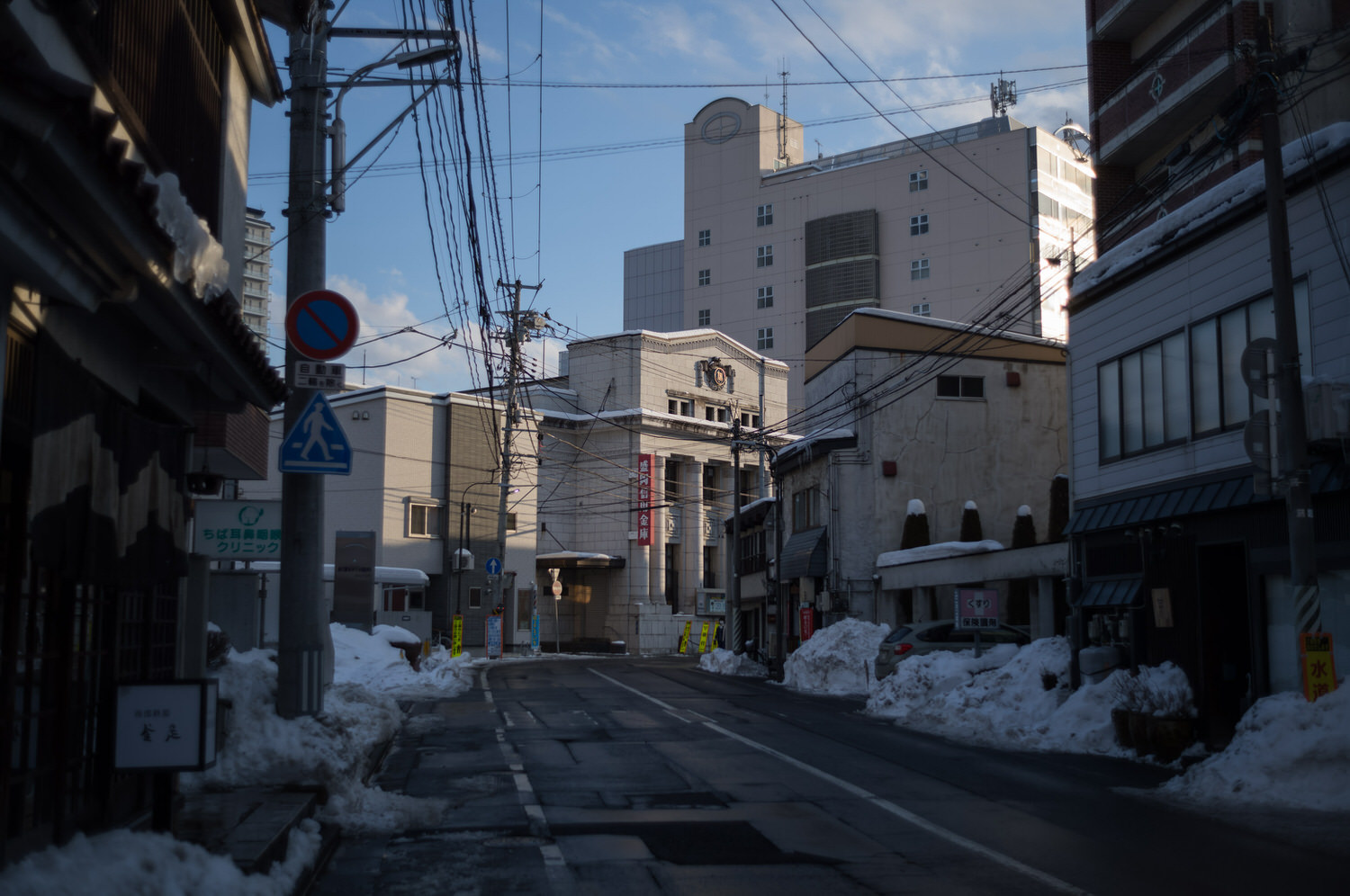 The way bushes and trees around town were bundled up against the snow: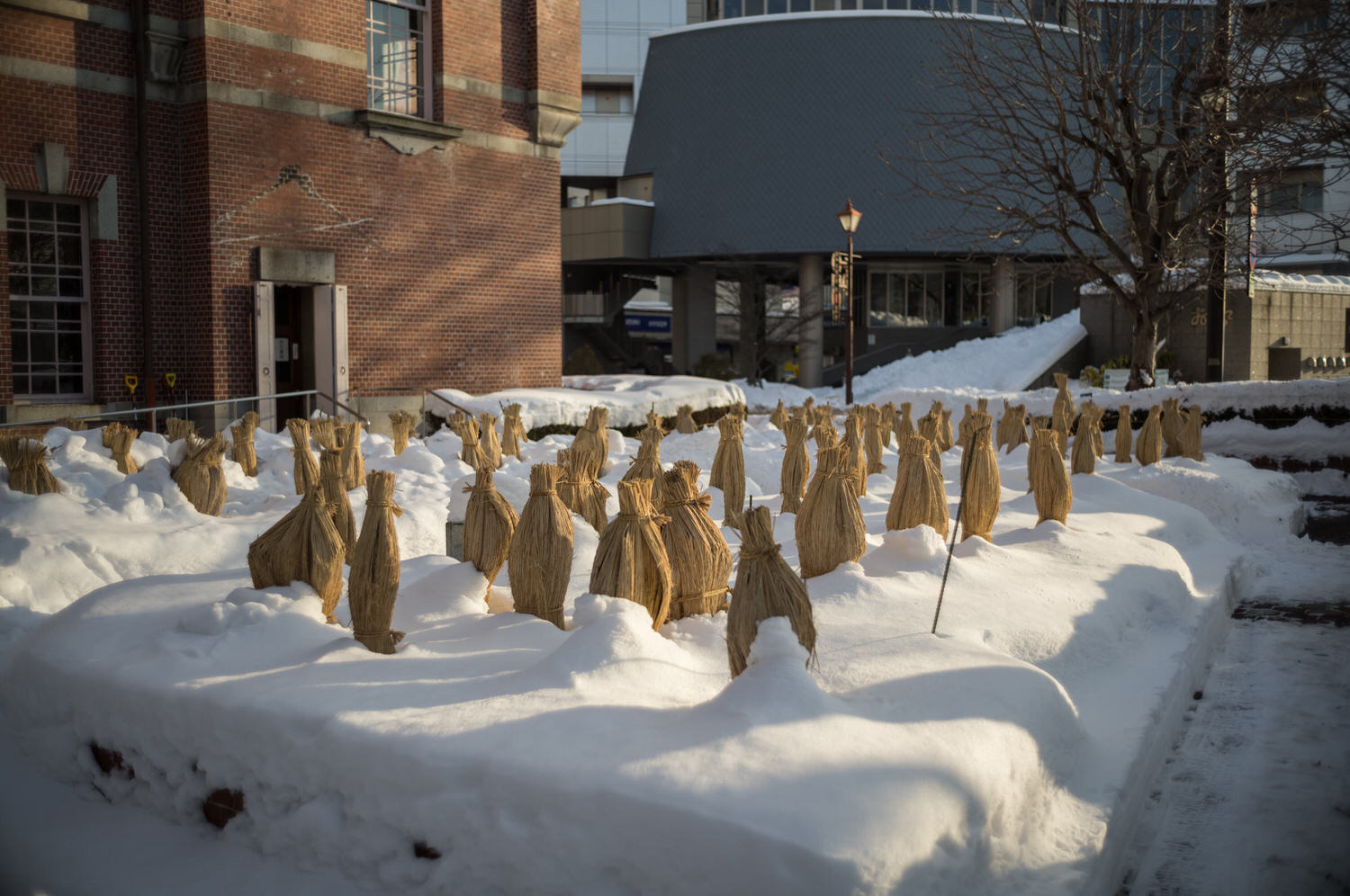 The contrast between utility trucks and snow: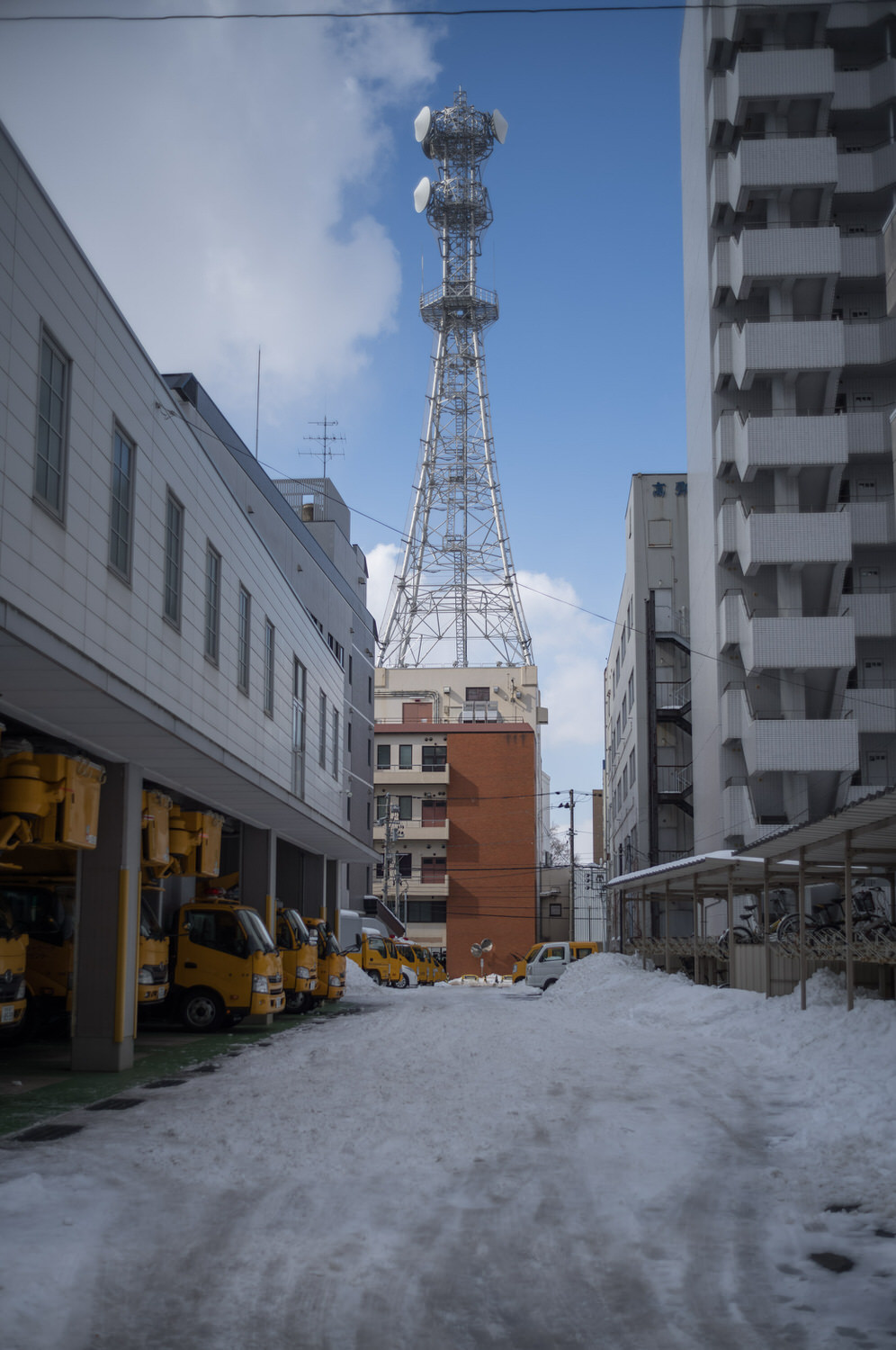 And so much more — so many details I didn't have the time or light to photograph.
---
Thanks
A huge thank you to the people and city of Morioka. Everyone was beyond gracious, especially in the face of so much sudden media attention. I am excited to see how the city leverages this. As I wrote in the Roden breakdown, Morioka has become an archetype, and an important one for me. I hope it becomes the same for many others.
This whole experience has been enabled by dint of SPECIAL PROJECTS. Thank you to all members — past and present — for your support. This Morioka adventure derailed my writeup about Year Four of running SPECIAL PROJECTS. Coming soon! I have a pile of my own work to get back to now. But I look forward to visiting Morioka again in the summer.
Thanks,
C
Not subscribed to Ridgeline?

(A weekly letter on walking in Japan)