Roden
Issue 020
June, 19, 2018
Japan Retreat, Walk & Talk, Culture + Identity
Over the past few months I've read a number of biographies of non- or half-Japanese men who lived in Japan during the post-war period. And I've noticed a commonality: A core part of their identities was forged in wrestling with what it means to live forever as an *outsider* or on the edge of a society.
---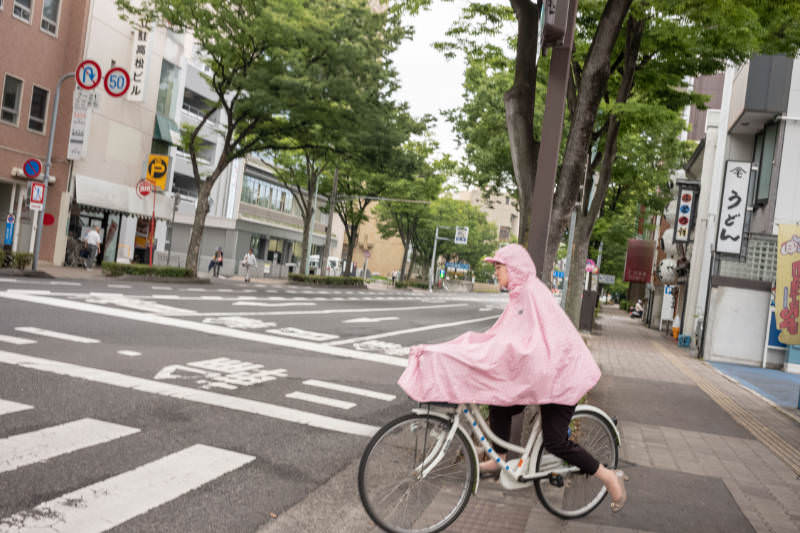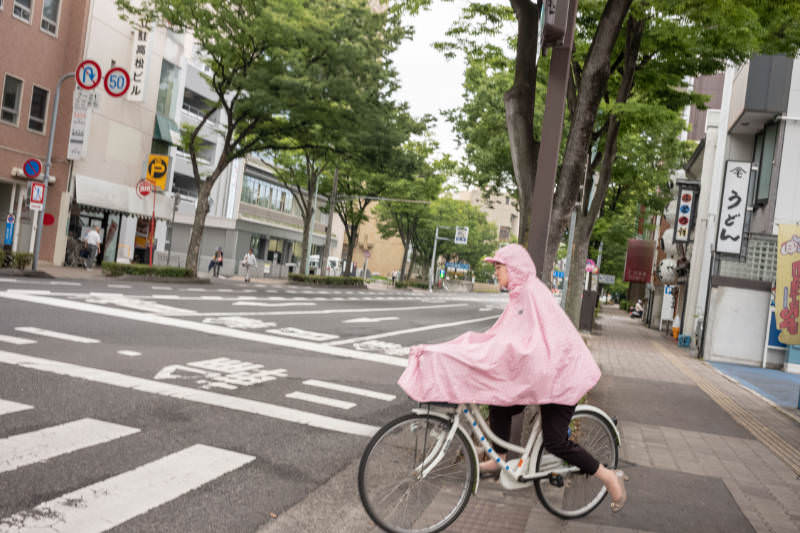 Kind Hearted Explorers —
Hello from rainy Takamatsu! I am stalking the ghosts of Isamu Noguchi, George Nakashima, and Donald Richie this week around the inland sea of Japan.
This svelte 3,000 word issue of Roden has some info on a retreat I'm running with Jan Chipchase, paying for Instagram impressions, a new episode of "On Margins," and a buncha notes on culture and identity.
But before we get to any of that, as always, if this kinda thing ain't your kinda thing, unsubscribing is always a single click away. No questions asked.
---
Japan Retreat — Focus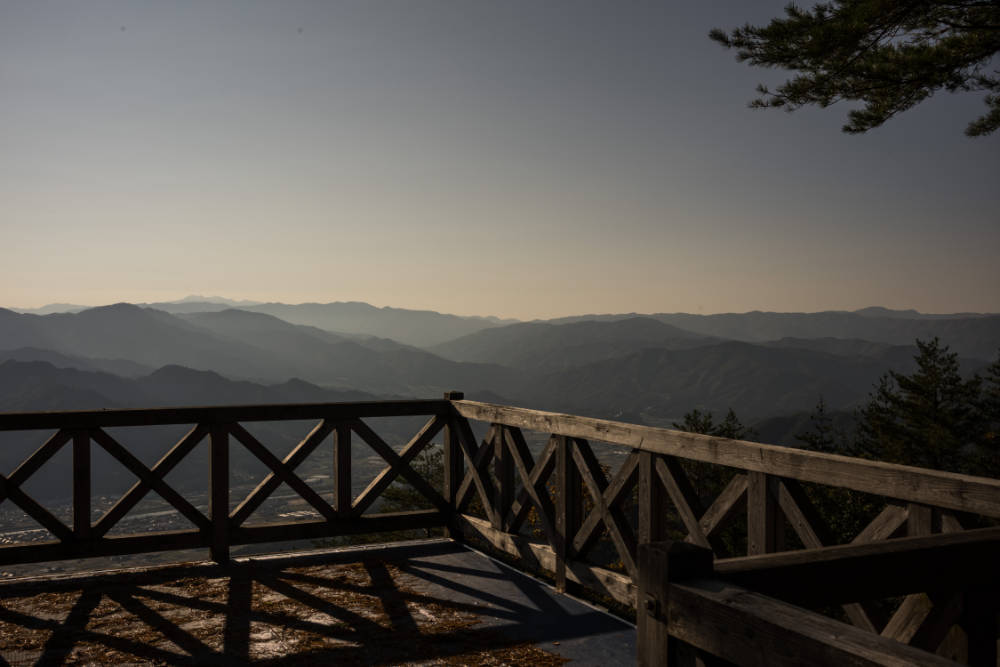 Last October Jan Chipchase and I ran a retreat called Focus. It took place in the rural village of Hida Furukawa.
This year we're running it a bit father north in a farmhouse near Kanazawa, in a town called Takigahara. Focus / Takigahara takes place September 3-6.
What is it — the retreat — precisely? God … It's sort of a … creative therapy session? That may sound totally unpalatable. But it works in practice. We hand pick as diverse a group as we can with a goal of stringing unstrung threads between disparate people and creative fields. The intent is collaboration and inspiration.
The retreat is three nights long (four-ish days). It's limited to 15 attendees. The cost to attend is $3,150 USD. (The problem with limiting the number of attendees is that it raises the price. But the price also subsidizes the attendance of two Japanese artists.) Cost includes lodging, food, a banquet with local chefs, drinks, and excursions. Last year we did a mountain hike, a village tour, and a hot spring trip. This year we'll do a similarly fun set of adventures. (The view above is from last year's hike.)
Almost all tickets are sold but we set aside four tickets for our mailing lists. If you would like to purchase a ticket, please apply using this form.
We'll pick four of you by the first week of July. You'll then have one week to buy your ticket before we offer the spot to someone else.
---
Parents in Japan
Just a quick update: The trip with the parents went really well. More on that in the future. Here they are in front of a giant Buddha: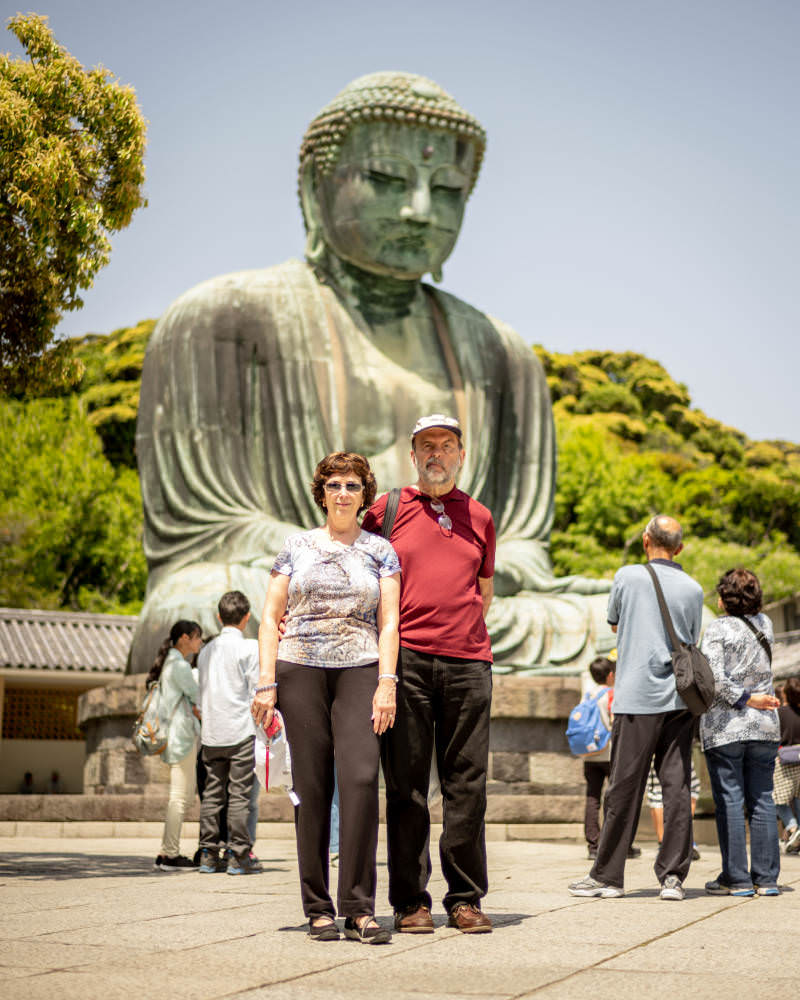 ---
The Walk and Talk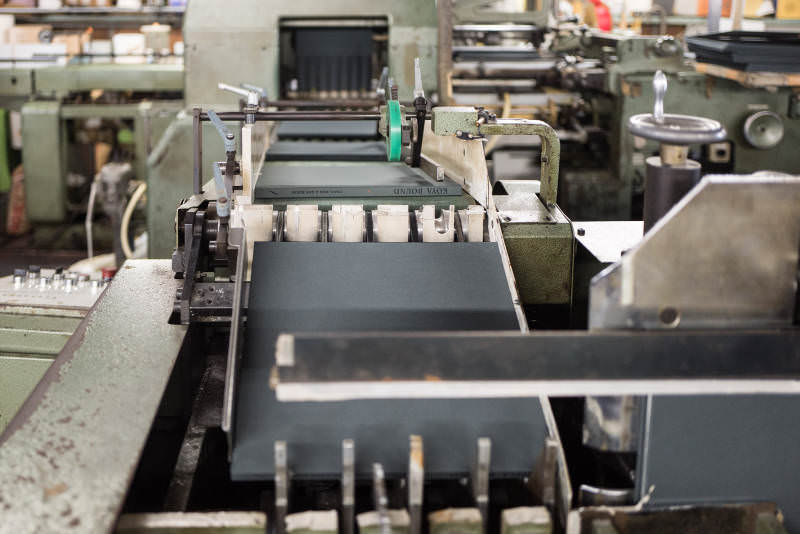 A new episode of On Margins up: 006 — A walk and talk with Craig Mod. It's a "new" format I've been meaning to mess with, and have plans to mess with more in the future. The episode is just me, walking through the woods in Wakayama, retelling the story of "Koya Bound" on the same path the book is about. I also published a short, related essay. You can subscribe to the podcast directly on iTunes.
From the essay, on making book-shaped objects:
Giving edges to an experience. Amplifying it. Allowing it to continue to grow in the world after you've completed it. You could call this the classic super power of books — you die, disappear, vanish, but the transmutation of whatever led to that book lives on in the world.
---
Share this?
I realize that this "newsletter" defies explicit categorization, convention, or even utility, but if you find yourself enjoying whatever this is, please consider spreading the word. Send folks to this page to sign up: https://craigmod.com/explorers/. Or forward this email along.
Whatever this (*waves hands furiously*) may be, it's one of my favorite places in networked publishing space — in large part because of all y'all. So thank you for that.
---
Upcoming Speaking
I'm lecturing and holding office hours for my eight year at the Yale Publishing Course from July 29 - August 3rd.
I'm speaking at Smashing Conf Frieburg, Sept 10-11.
I'll probably be doing at least one speaking event (in English, possibly more in Japanese) in Tokyo later in the year. More details to come.
---
Forever the Odd Person Out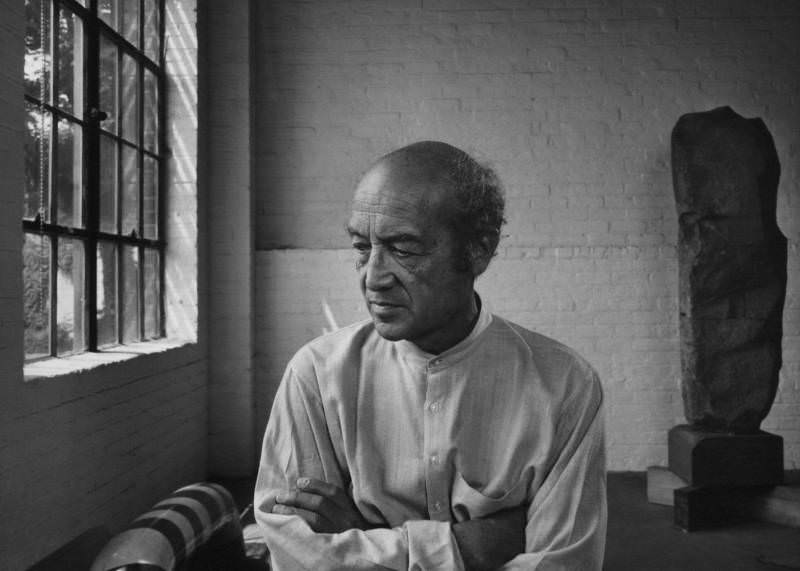 Over the past few months I've read a number of biographies of non- or half-Japanese men who lived in Japan during the post-war period. And I've noticed a commonality: A core part of their identities was forged in wrestling with what it means to live forever as an outsider or on the edge of a society.
---
If you've seen a Kurosawa or Ozu film, it's likely because of Donald Richie. He was a keystone cultural force in spreading the word about the treasure that is 1960s/1970s Japanese cinema.
Richie lived out his life in Japan until the very end, but it was always fraught with complexities. In Richie's "Inland Sea" — a novel (autobiographical, and in fact considered his "coming out" book) — his protagonist observes:
Japan … allows me to keep my freedom. It makes very few demands on me … and, consequently, I become free. I become a one-member society, consistent only to myself and forever different from those who surround me. Our basic agreement permits an amount of approval, some of it mutual; our basic differences allow me to apprehend finally that the only true responsibility a man has is toward himself.
Ian Buruma (now editor of the New York Review of Books), reinforced this sentiment in his recently published autobiography, "A Tokyo Romance: A Memoir," quoting Richie:
The great thing about Japan, he said, was that one was left alone. To be Japanese in Japan was to be caught in an almost intolerable web of rules and obligations. But the gaijin was exempt from all that. He could observe life with serene detachment, not being bound to anything or anyone. In Japan, Donald felt utterly, radically free.
Buruma struggled to find his place as well. And finally, one night in Japan, when confronting the leader of a theater group he had worked his way into, the leader responded in exasperation with: "So you are just an ordinary gaijin [foreigner, deeply pejorative in this context] after all!"
---
As a non-Japanese, Japan is a psychologically thorny place to live. But it also provided a kind of safe haven for gay foreign men of the 60s and 70s (when, for example, homosexuality was still illegal in countries like Australia). A not small part of the draw for someone like Richie.
Another Donald — Donald Keene, the preeminent English translator of Japanese literature, still alive, with Japanese citizenship, living in Tokyo — found it especially vexing to have his Japanese skills questioned no matter how much experience he racked up. From his autobiography:
I realized that today I am more likely to smile rather than protest when someone with an extremely common Japanese name such as Tanaka or Yamamoto hands me his card and expresses amazement that I, who have studied Japanese for only sixty years, can read the name, even if he fails to write the pronunciation in roman letters.
Can you imagine? A fellow physicist expressing shock that Stephen Hawking knew what a quark was?
Keene's biography is great — an example of a life well committed. And full of remarkable anecdotes. The first time Keene met Abe Kobo, Kobo brought an interpreter along:
I was annoyed by the inference that I needed an interpreter and paid no attention to the young woman. Only years later did I learn she was Ono Yōko.
---
Interestingly, Keene was also gay. And although Buruma flirted with his own bisexuality, in the end he gave up on the idea of settling in Japan and even decided to marry a woman:
When I told John Roderick, over lunch at the Foreign Correspondents' Club in Tokyo, that I was going to get married, he pulled a face of mild disgust. "How very, very boring," he said, as though I had finally sold out. He was wrong. It was never boring.
Roderick was an AP reporter who lived the second half of his life in Japan, perched up in the hills of Kamakura from the 1960s to early 2000s. He too was almost certainly gay. I keep bringing up sexuality simply because brilliant gay men being drawn to Japan seems to have been a pattern of that moment in time. And it's hard not to connect the liberation Richie talks about — "… consequently, I become free …" — as a kind of balm against the "outsider" status they must have felt in their own countries.
Roderick's biography arrives in the form of a Japanese farmhouse — "Minka: My Farmhouse in Japan." If this sounds vaguely familiar it's probably because you saw the very popular short documentary based off of the book. Yes, the film is about a "house" but … I mean, have you ever seen two people so in love?
In a way, all these men choosing Japan was a beautiful hack of a sad state of social affairs.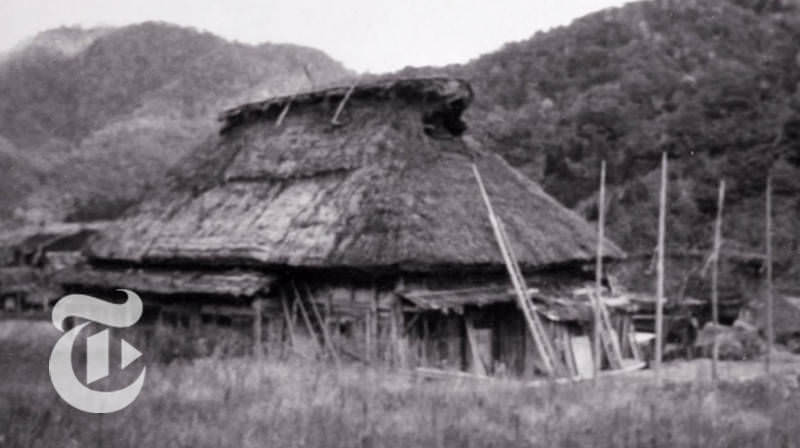 ---
I am grateful that my set of relationship archetypes has grown more diverse the older I've gotten. And with this exposure grows my own interest in boundaries. Especially: the fluidity of family boundaries, the definition a "proper" relationship, and how one can find home in a place that will never accept you as one of "their own." All of these topics are distinctly compelling to me as an adopted person, and therefore as a person who has only known life outside of implicit blood connection.
Which brings us to Isamu Noguchi. A man with quite complicated blood.
As I said at the top: Hello from Takamatsu. I'm here exploring a bit of the inland sea — which makes for fun parallel reading of the Richie novel. But I'm really here for Noguchi.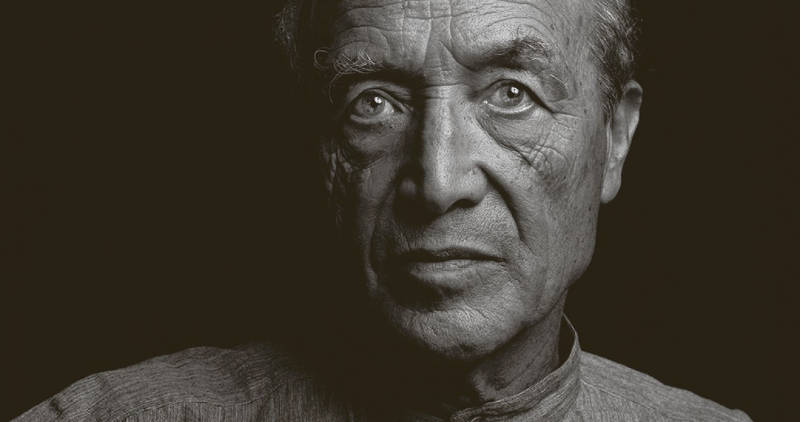 Noguchi was a modernist sculptor, born in 1904 in America to an American mother and Japanese father. His Japanese father ditched the family (knocked up the maid, ran off), although not before Isamu and his mother Leonie had taken a boat to and settled in Japan.
Isamu and Leonie lived in Japan together, alone, until he was about 12. Their house was burgled. She was ostracized. He was made fun of. But he harbored an obvious genius, and so was sent back to America to study. Soon after he began to establish himself as one of the most important sculptors of the 20th century.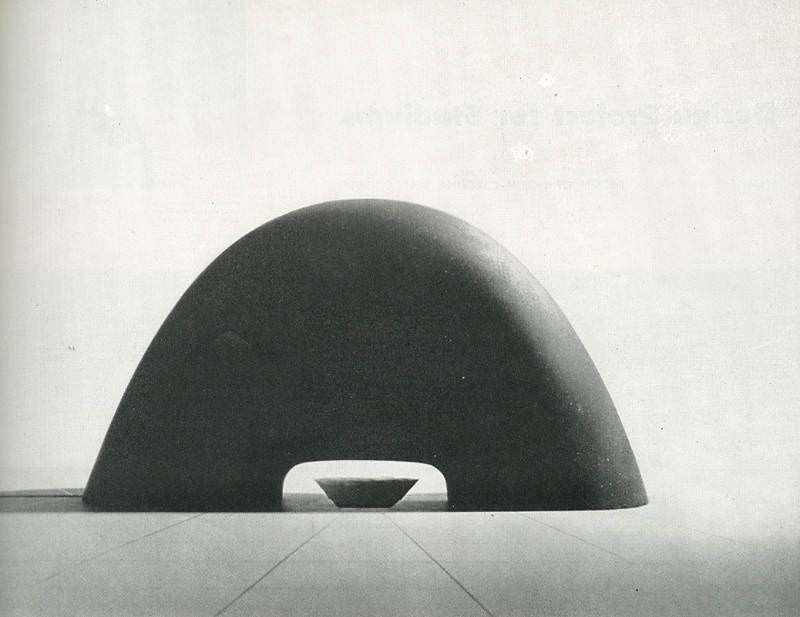 "Listening to Stone: The Art and Life of Isamu Noguchi" is his biography. Written with erudition and momentum by Hayden Herrera, the book is a catalog of attempts to define selfhood through rock — Noguchi spent his whole life wrestling with identity:
Noguchi told her: "When I'm in Japan, I think I should be in the United States, and when I'm there I want to be back in Japan."
You can imagine just how few archetypes a biracial kid like Noguchi would have had in the early 20th century?
And from a memory of childhood in Japan:
Noguchi recalled that Leonie had "decided that I had better become completely American, and took me to the American consul, who performed a ritual, mumbling over a Bible, which I believe was my renunciation of Japanese citizenship."
Again, boundaries. Incant some words and a bit flips, from non-American to American. No longer a "real" Japanese. The legal alchemy and mythology of state, citizenship.
---
Noguchi's studio sits about thirty minutes outside of Takamatsu — encircled by a massive wall of fitted stones. It was here he broke rock for the last twenty years of his life:
Starting in 1969 Noguchi made a home and studio on the island of Shikoku, spending half a year there, usually three months in the fall and three months in the spring. Out of fitted rocks he built the stone circle work space. Gradually the circle was populated by Noguchi's stone sculptures, each one quiet and still but emitting a mysterious energy. Since Noguchi was reluctant to part with his best works, the circle became not just a workplace, but a kind of outdoor museum.
It's an awe inspiring place, backdropped by a mountain cleaved free of so much of itself — a mountain scarred by the local masons for raw materials. On a back road leading to his studio: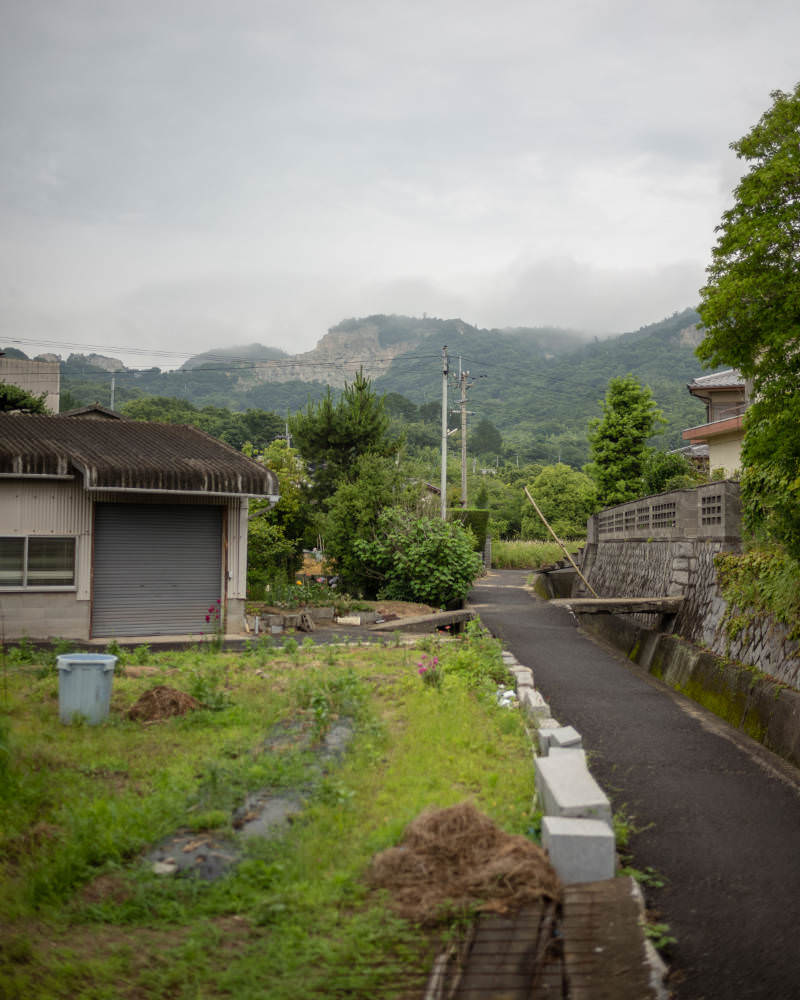 On the walk from the station you pass dozens of factories cutting, moving, polishing rock: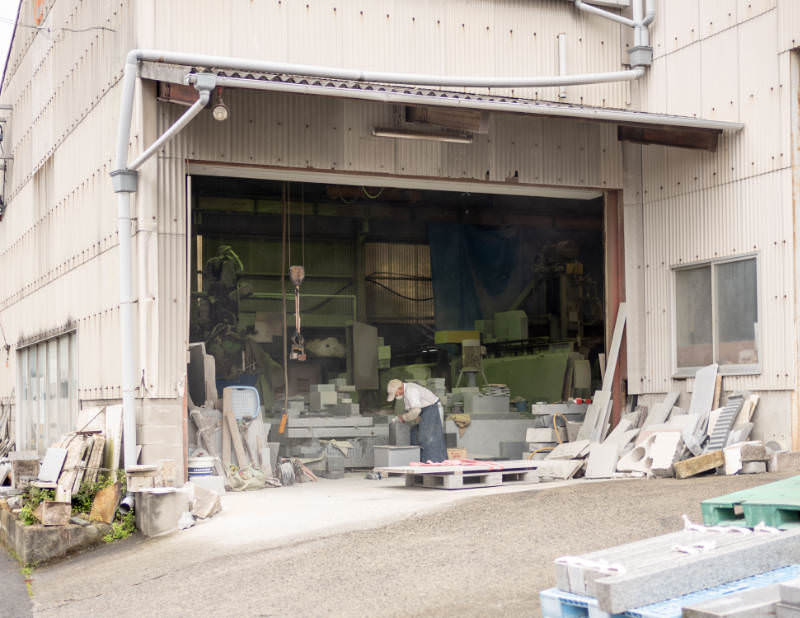 At Noguchi's studio his workspaces are largely as he left them: worn down rulers shoved willy-nilly into a hole in a beam in a warehouse, his diamond-edged cutting tools in a pile in the corner of a kura, raw half-finished pieces of granite and marble scattered out back. Wherever you look you feel the traces of a man who threw himself at stone with avidity.
And then there's his house. A reconstructed Edo-era merchant home, modified ever so slightly — some tatami mats raised, some lowered, creating "seats" — and outfitted with the most minimal of sculptures and lamps.
The framing of the studio / museum leans towards Noguchi as being Japanese, rather than biracial. In other words, it feels (me projecting? probably) like the museum is taking a certain ownership of the person as a Japanese person. I couldn't help but wonder if Japan would have "wanted" him had he used his mother's name. Or had he gotten more of his looks from his mother than father. Japan in the form of a biological father rejected him. As a country, here it seemed to accept him once he proved his cultural value.
When asked where he came from, Isamu replied, "From all over the world."
---
We're trite animals when whittled down. Appallingly simple pattern matchers, bio-machines. Tribalism by superficiality. In-groups based on skin color, eye shape, body proportions, sex and sexuality. Quick to place "the other" in cages.
Choose to live where you don't fit the majority phenotype and you either need to make peace with or divine permission from your outsiderness (as Richie purports to have done) or leave (as Buruma did) or blend into the background (as Roderick did) or … own it and all the complexity contained therein, as Noguchi did.
Noguchi's work is arguably only relevant because he was able to synthesize disparate philosophies of workmanship: The ideals he found in Paris under Brancusi, the minimalism and texture he found in Japan as a young child and again as an adult, and the brazen futurethink in New York with Buckminster Fuller and his crew.
It's tough sitting on the outside, but you have to believe it holds value. Hell, I believe it's most valuable seat in the house. Build up a thicker skin, make something beautiful, become an archetype for someone exhausted and worn down. Find energy and life in the maintenance (for living is nothing if not maintenance!) of being the eternal outsider.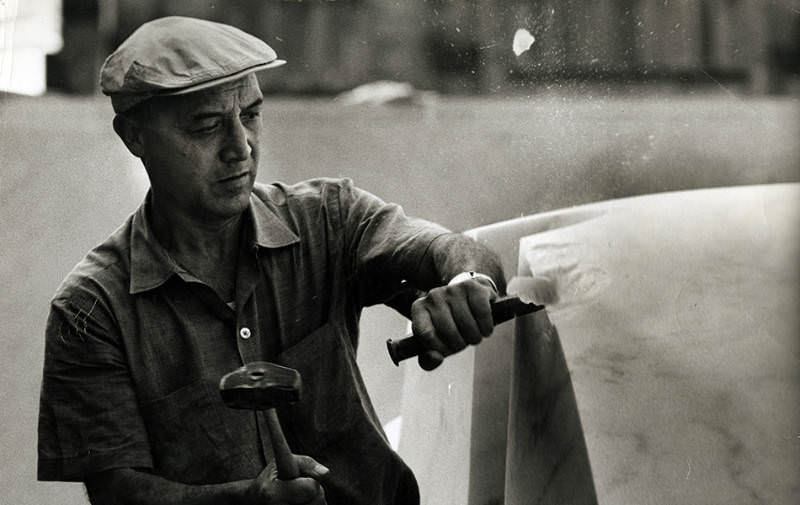 ---
Damn. This is way longer than intended. Sorry about that. A few hours ago I was sitting on a tiny island without internet, long since having left Takamatsu. Yesterday I watched old ladies walk and ride motorcycles up a hill all morning. I had but a trickle of cellular connectivity. Now I'm in a bath house turned cafe, sitting in, literally, a bathtub with a table and I'm going to try my best to get this out to you all. Hopping on another boat soon.
How do all of you feel these days? In? Out? Embraced by your community? Struggling? What of your work could be improved by making yourself less comfortable? What could be improved by finding your home?
As always, thanks for reading,
C